Where are the Non-IIM Top School Alumni?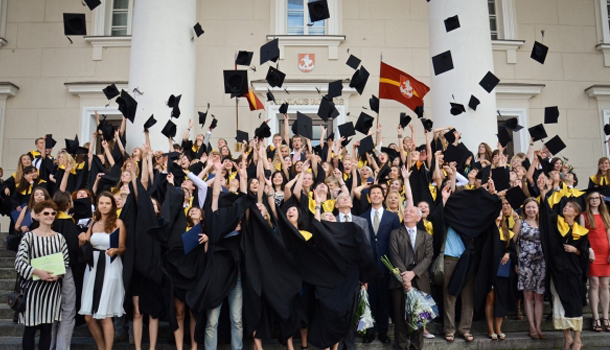 This is the second round of the 2014 Alumni reports. We focus on Top Indian B schools outside the six older IIMs. For coverage of the six older IIMs, read Part One here, Part  Two here and Part Three here. View the Tableau Visualizations here and here.
For Part one of the non-IIM Top MBA Alumni Report, we are focussing on eight leading non-IIM B schools: ISB Hyderabad, XLRI, FMS Delhi, SPJIMR, JBIMS, MDI, NITIE and IIFT. The methodology is similar to the earlier report, i.e. we are looking at a universe of people who have mentioned these eight B schools as part of their 'Education' between 1997 and 2014 on their LinkedIn profile. This report focuses on the top locations where they work, top companies where they work and main organizational functions. The time period for the study, 1997 to 2014 – includes 18 batches of the flagship program at these schools. This period has been divided into two equal parts – 1997-2005, and 2006-2014. In case of ISB, we have considered a single continuous time period from 2002 to 2014, which reflects the thirteen batches that have graduated since the B school began.
Disclaimers: It is user generated data. There may be fake profiles and we cannot vouch for 100% accuracy. We suggest you look at the general trend. The numbers below include professionals who could have done short courses. The numbers below do not include most Class of 2013 graduates as they have not started work/not updated their LinkedIn profiles yet. There may be a minor instance of double counting at the boundary (2004-2005) because of the way LinkedIn categorizes these alumni, but this is uniform to both data sets, and the trend is not affected as such.
Analysis
We start with the Tableau Dashboard for overseas MBA Alumni – Trends can be seen below
ISB: 2002 to 2014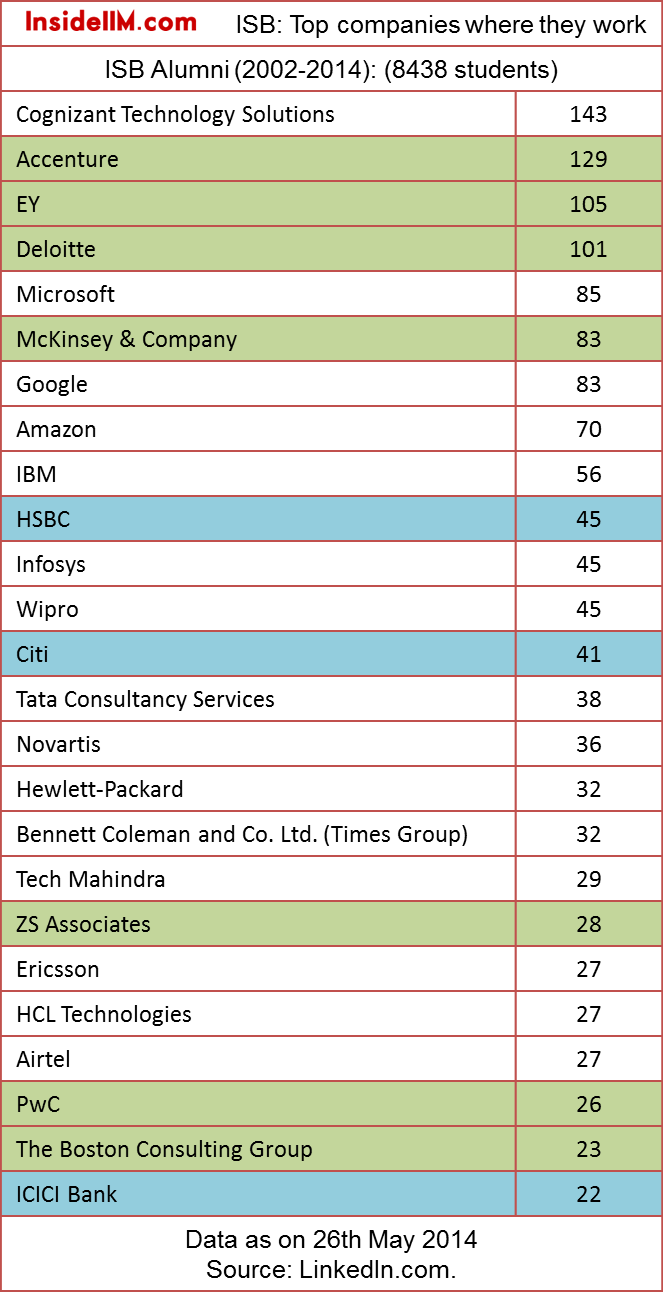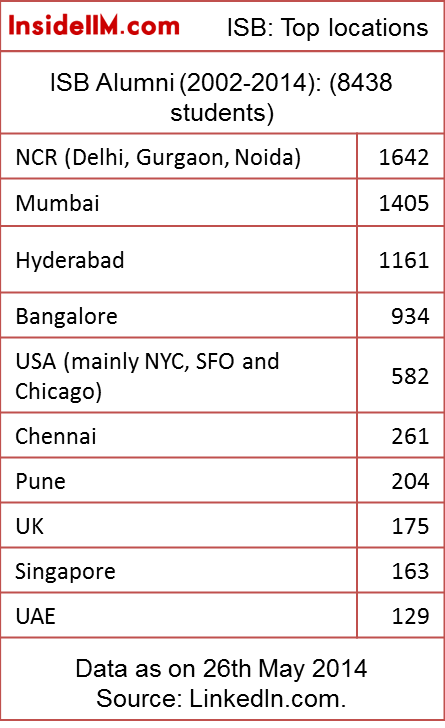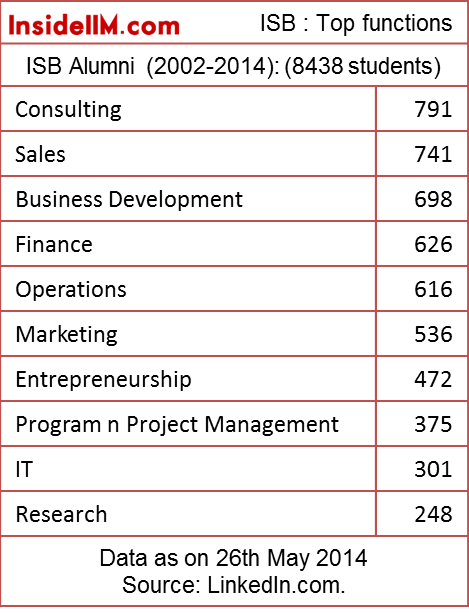 Observations ISB has truly been a success story in consulting. Look at the list of recruiters in this lineup, that too within a short span of 13 years – McKinsey, BCG, Google, Microsoft. ISB's performance in the other domains is less impressive.
XLRI Jamshedpur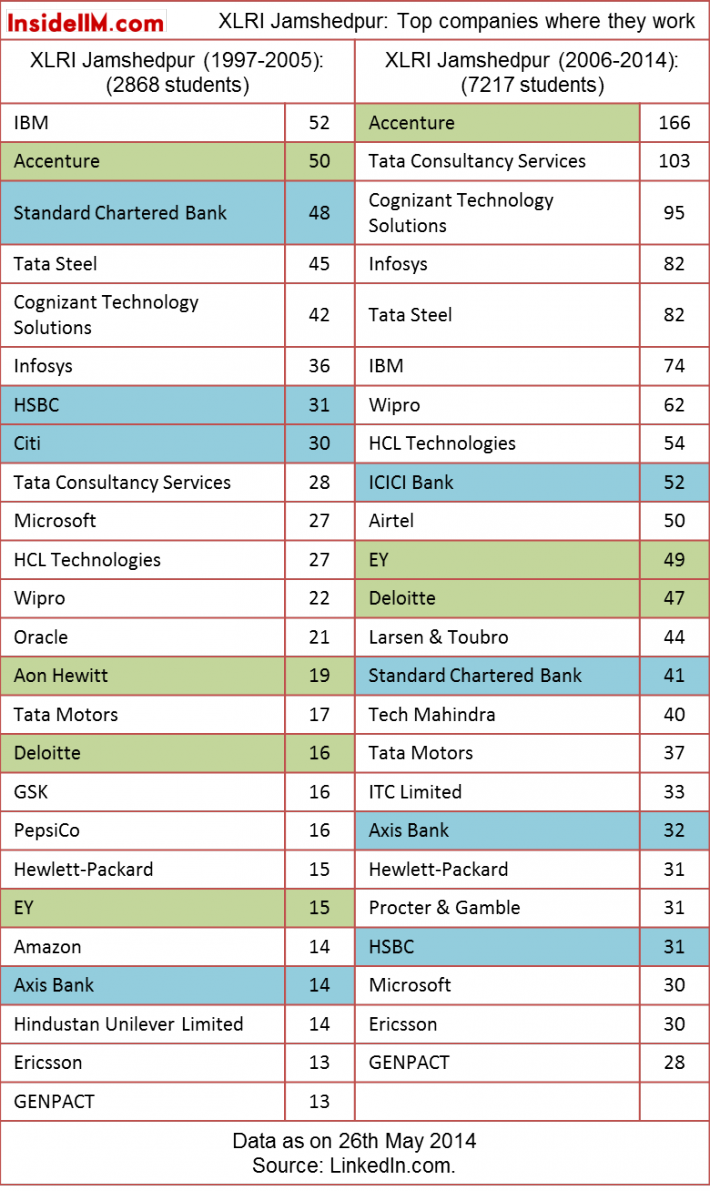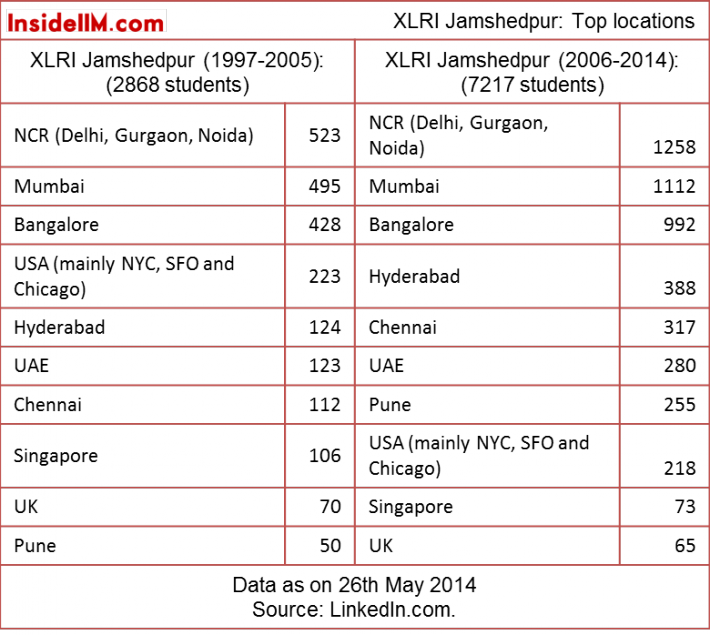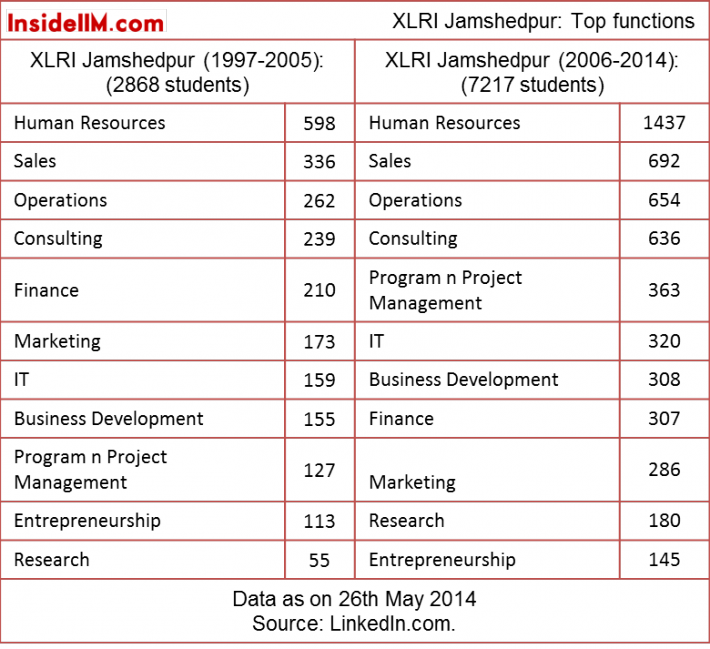 Observations
For XLRI Jamshedpur we were unable to break out the records by BM and PMIR courses. HR is the most popular function among XLRI alumni. Accenture has been the most favoured company among the alumni over the last eight or nine years. XLRI Jamshedpur is expected to grow stronger in Consulting, having made inroads into BCG (2011) and recently McKinsey.
FMS Delhi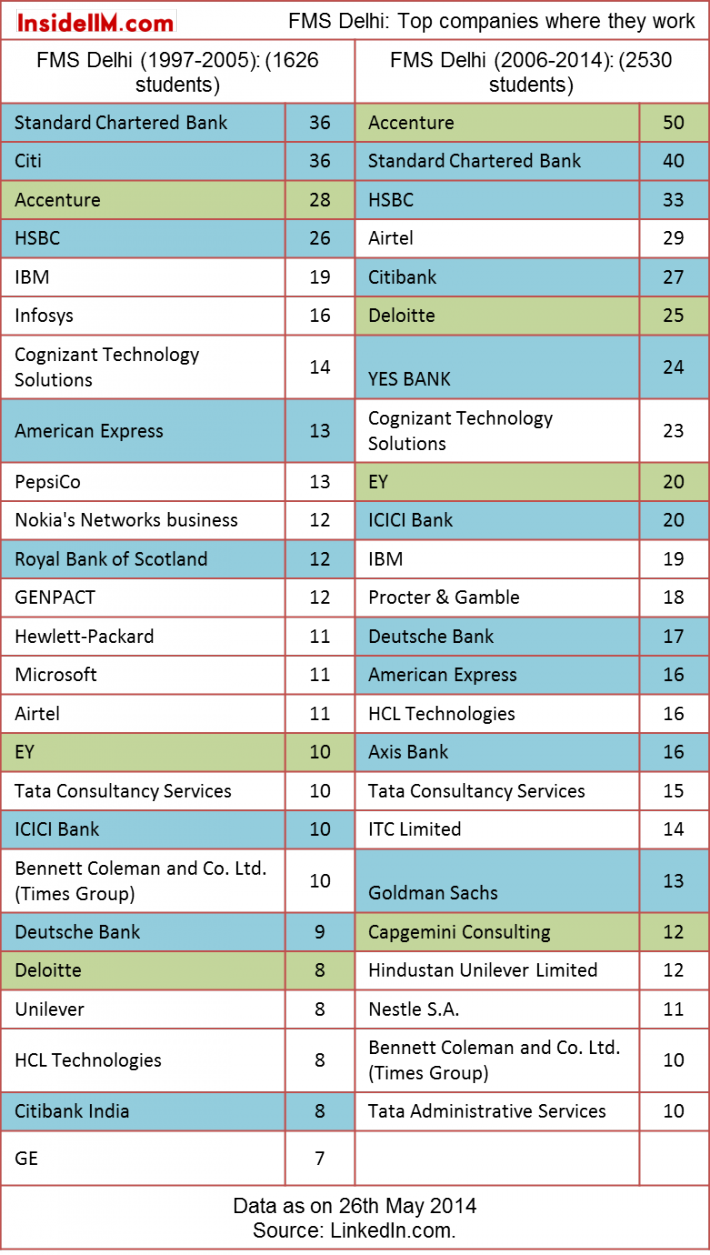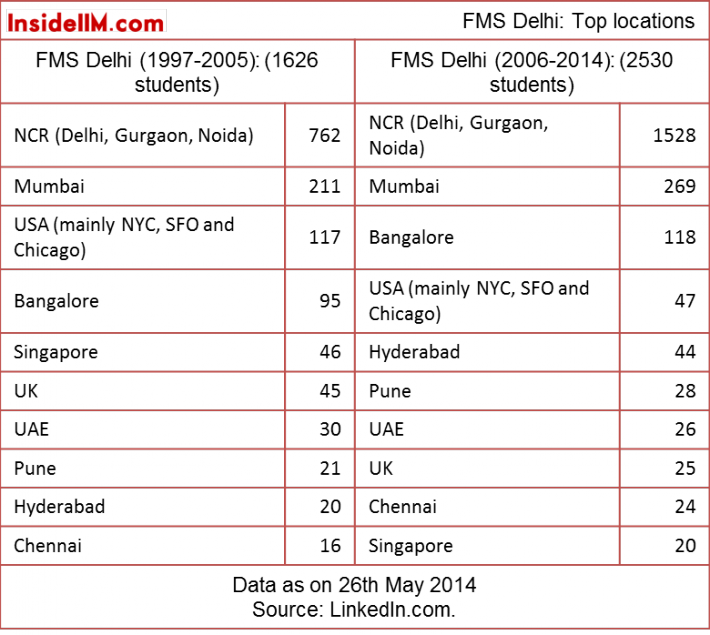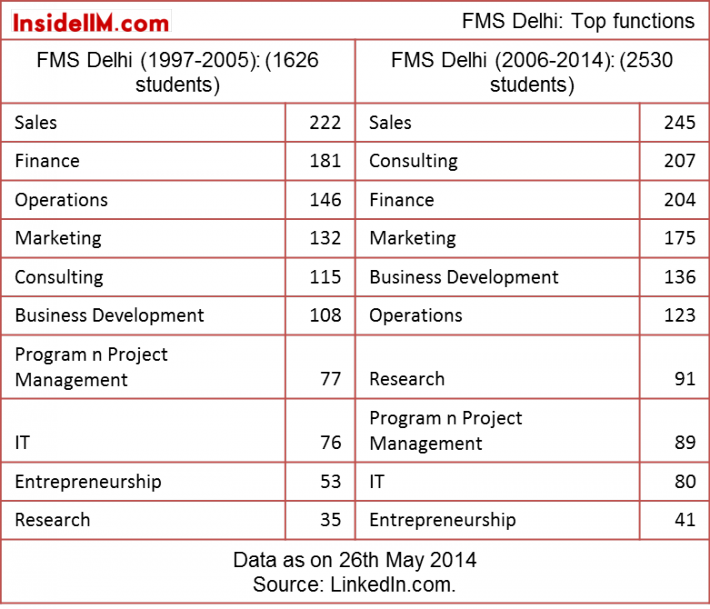 Observations
Clearly there is evidence of a shift towards consulting from FMS' data (both, top companies and . FMS' alumni base is extremely well balanced across various domains – FMCG, Consulting, Banking etc.
SPJIMR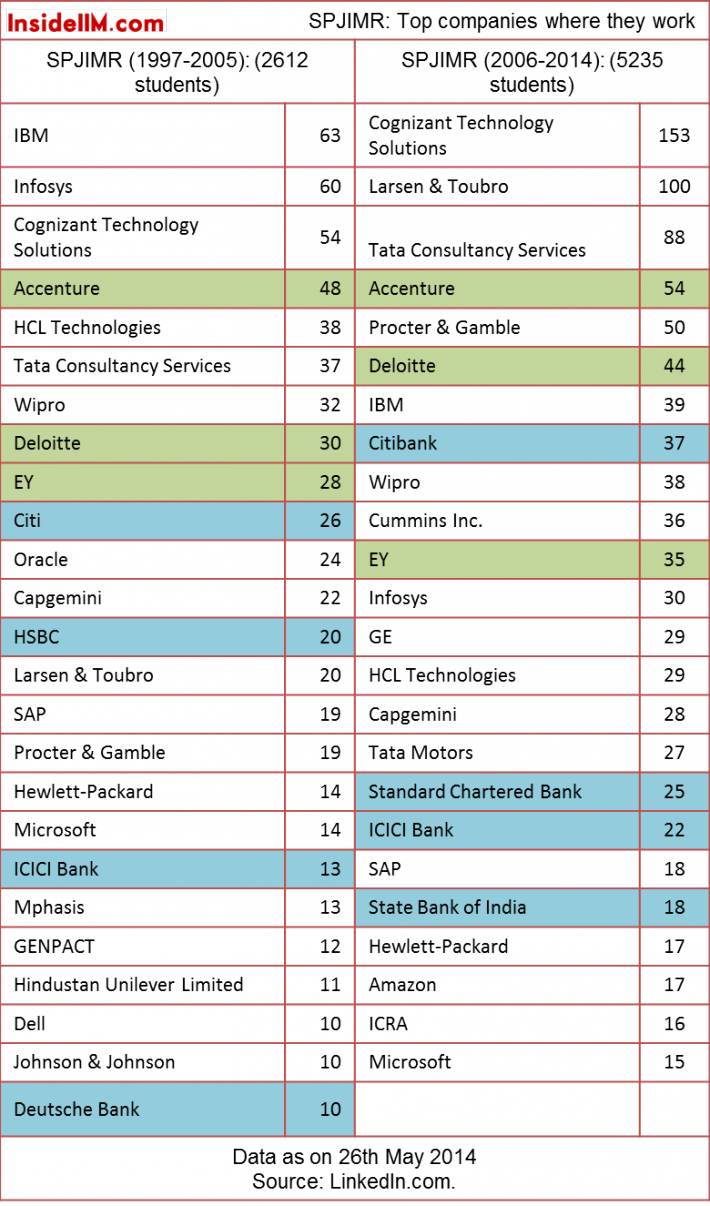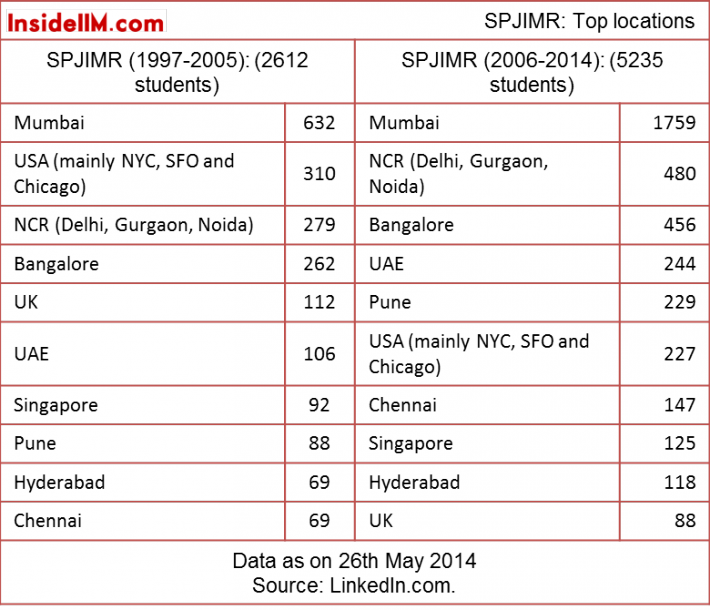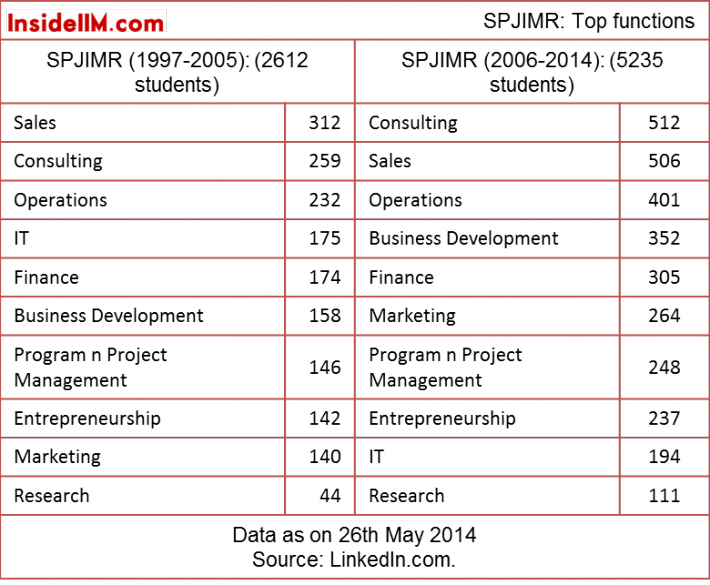 Observations
SPJIMR has strengthened its consulting focus – if you look at the summary data for functions. SPJIMR has an impressive number of foreign alumni. This could be partly because of their Global MBA of course, but it is nevertheless substantial. There is a significant presence in IT companies.
IIFT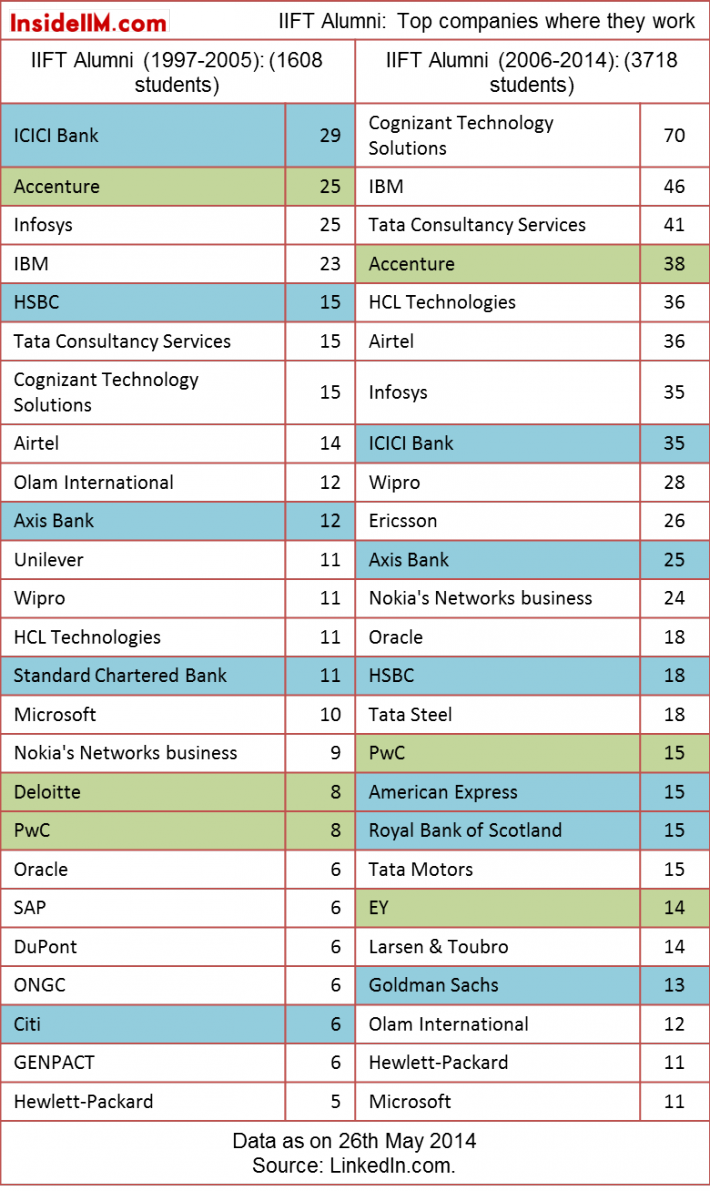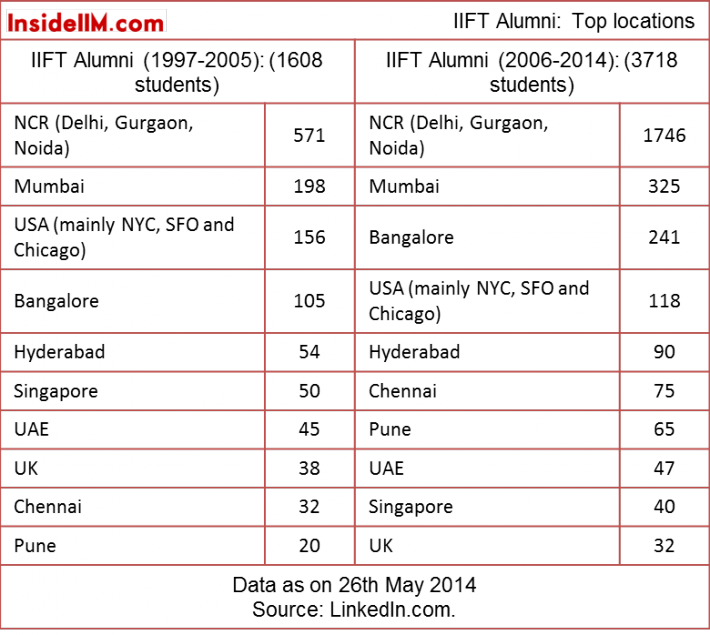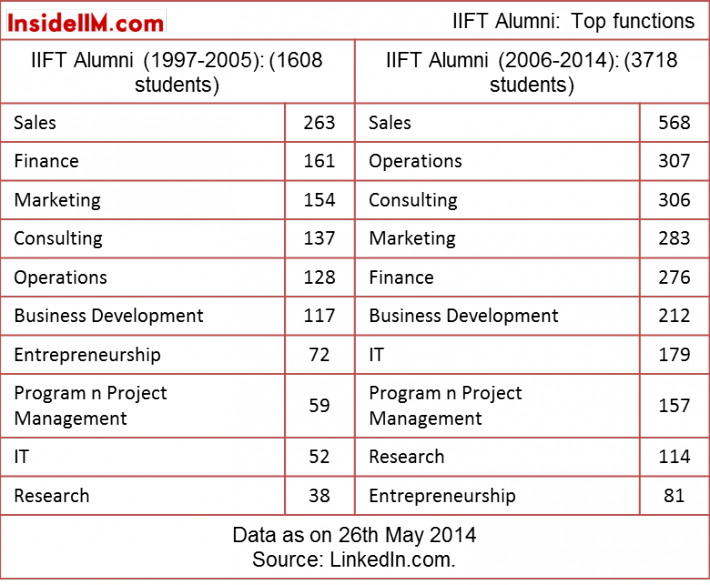 Observations
IIFT's location – Delhi, means that it continues to attract banking and finance recruiters (there are some middle-office and support roles at top MNC banks out of Gurgaon). Shift from consulting to finance is visible here too, in the summary data.
JBIMS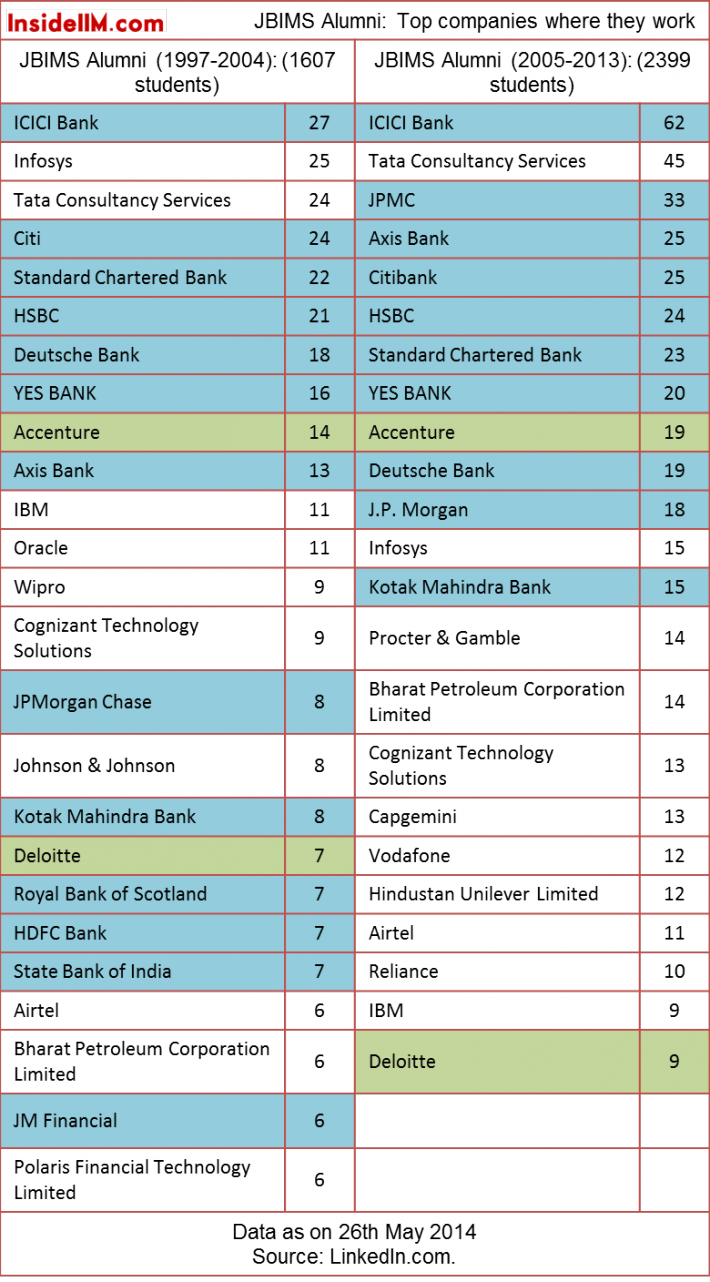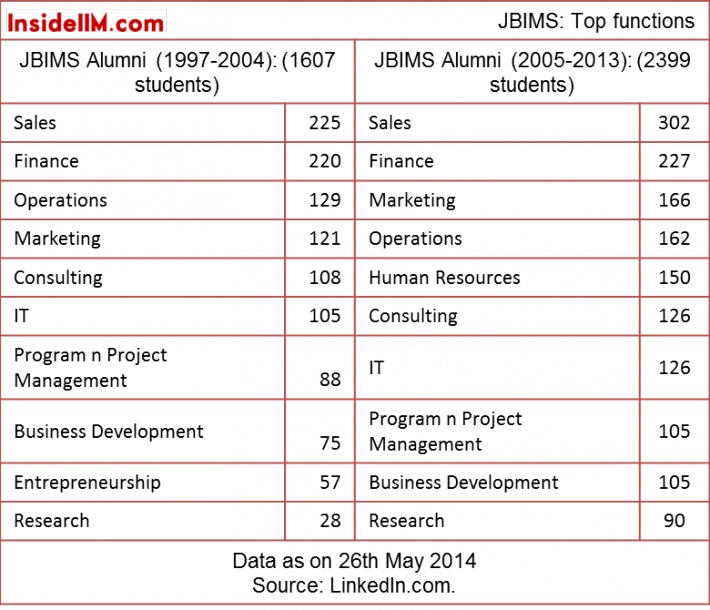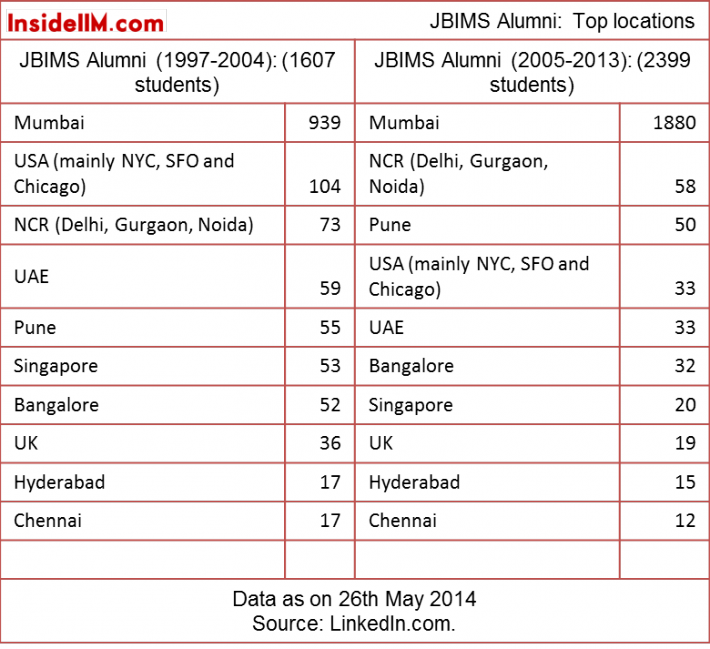 Observations
It almost looks as if the banking recession didn't happen to JBIMS. Finance continues to remain preferred over consulting, and the list of companies with maximum number of alumni is heavily skewed towards finance companies.
MDI Gurgaon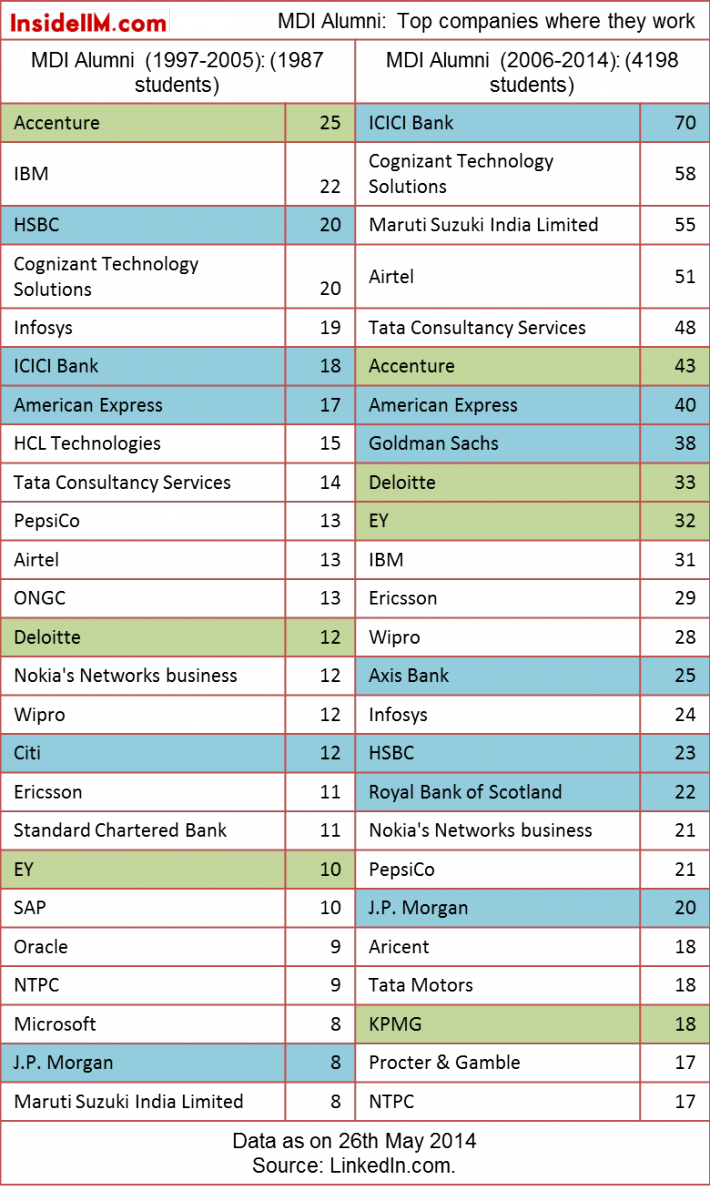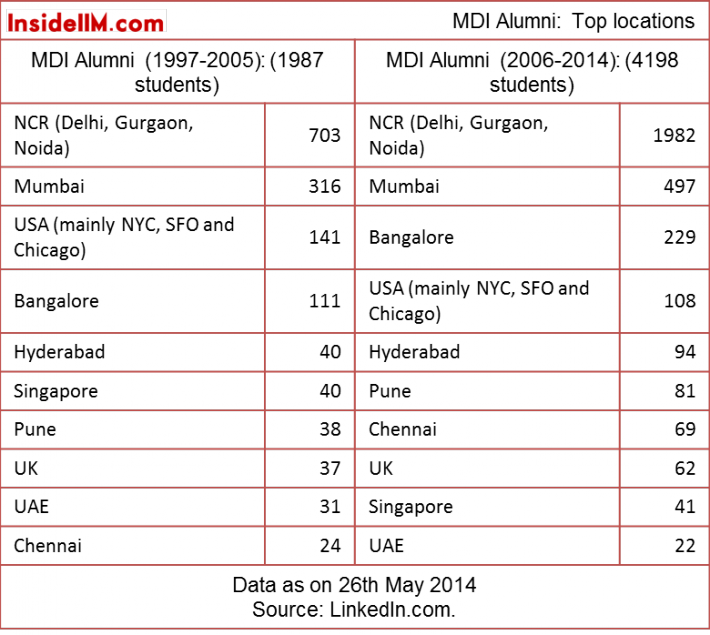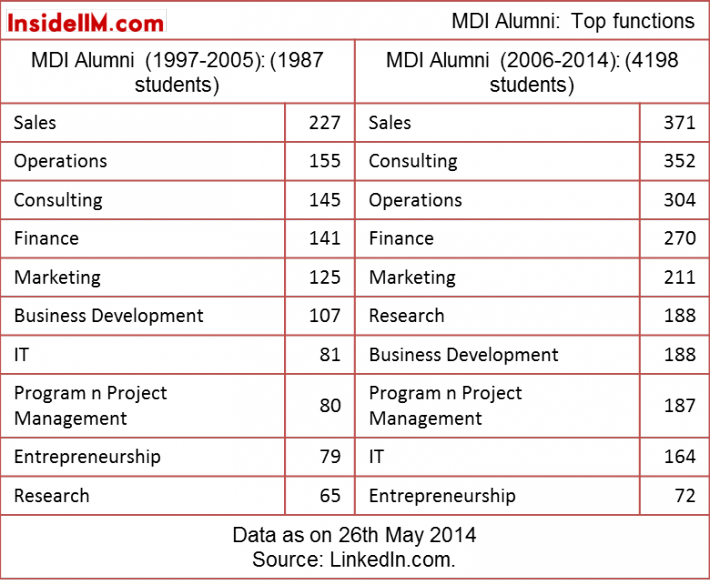 Observations
Consulting has gained popularity among MDI alumni, as seen from summary data. You can also see a significant presence of MDI alums in Accenture, Deloitte, EY and KPMG. Simultaneously, MDI has also benefited from its location in Gurgaon – allowing it to attract MNC banks offering middle-office and other roles.
NITIE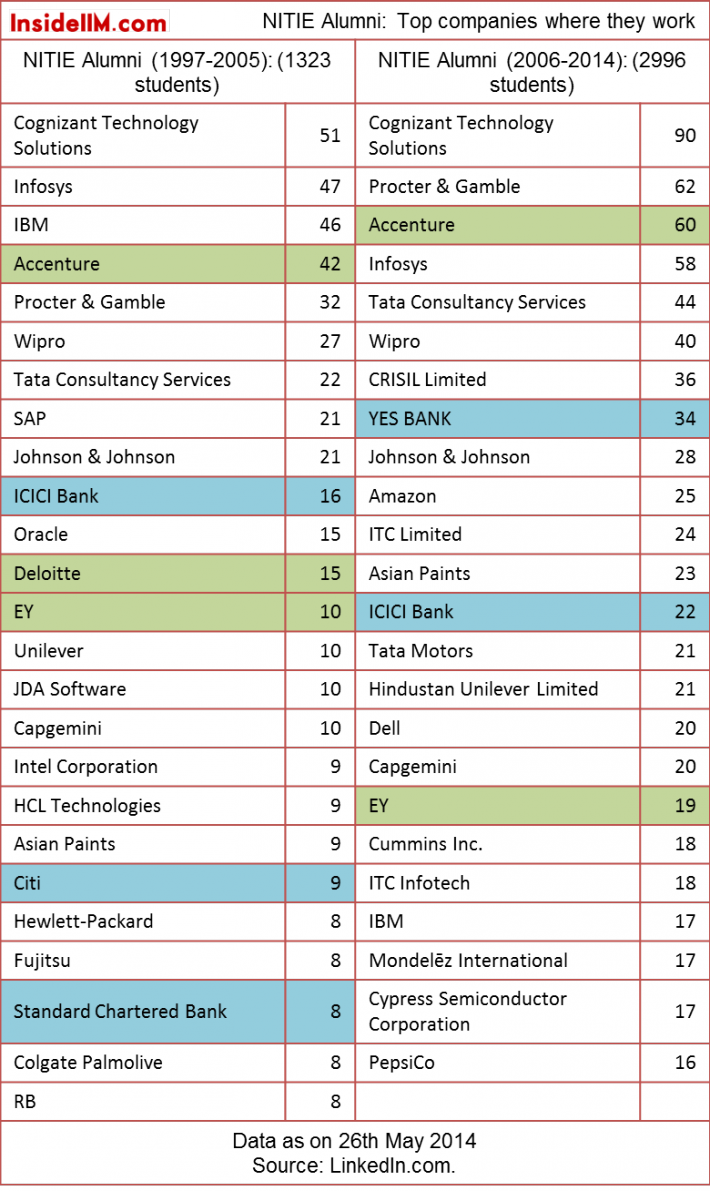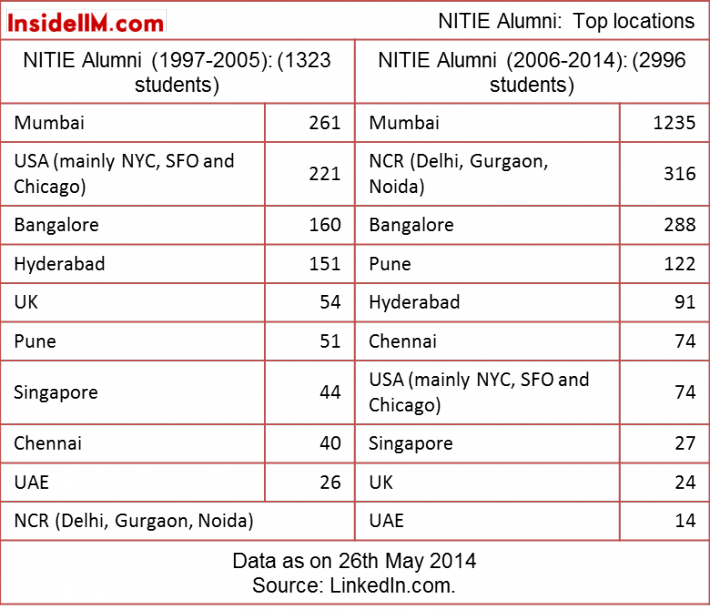 Observations
Again, at NITIE there is a good balance across all domains and functions (banking and finance, consulting, FMCG, IT etc). Consulting – (operations consulting) is NITIE's preferred function – it has been over both the periods.
Read the first part of the 2014 Alumni report for the Six IIMs here (Locations, Companies and Functions)
Read the second part of the 2014 Alumni report for the Six IIMs here (Top companies in FMCG, Tech, E-commerce and Telecom)
Read the third part of the 2014 Alumni report for the Six IIMs here (Top companies in banking and consulting)
View the Tableau visualizations for Banking and Consulting for the Six IIMs here (The Six IIM Alumni Report – Visualized)
View the Tableau visualizations for locations, FMCG, Tech, Telecom and E-Commerce here (The Six IIM Alumni Report – Visualized – Locations, FMCG, Tech, Telecom, E-Commerce)
Read the entire series for 2013 and 2012 here.