'I Did a Market Research Internship At L&T and Travelled to Seattle on Exchange' – MYRAcle Anila Kumari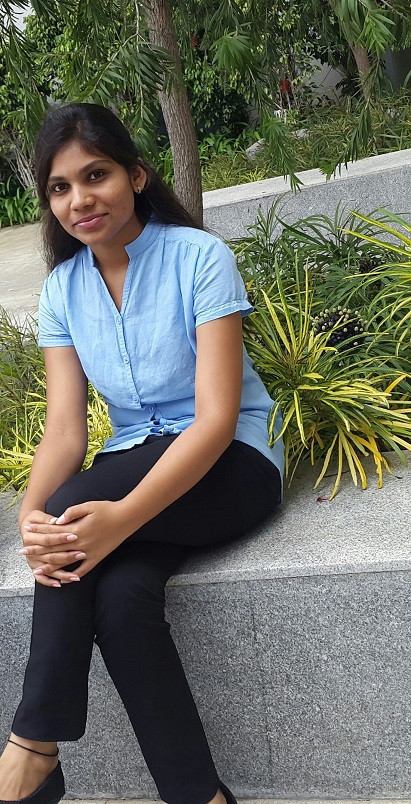 This  season we bring you the second part of our series "MYRAcles". In this part we talk to the young talent at MYRA School of Business, Mysore and share some interesting experiences that they had at the school. This time we spoke to Anila Kumari, a second year student at MYRA about her B-School, Internship and lessons that she learnt during the course.
 Tell us something about your academic journey?
I have completed my schooling in six different schools. My father is an engineer working for railways. As a part of his employment, he used to have frequent transfers from a place to another (throughout India). This was the reason for my schooling at six different schools. This frequent travels along with my father, created an interest for travelling.I did my UG at Sree Vidyanikethan Engineering College, Tirupathi, Andhra Pradesh. Electrical and Electronics Engineering (EEE) was the specialization. Post-graduation, I Joined MYRA for my MBA. I came across MYRA through a friend of mine. She works for Infosys and she knew about MYRA during her training days at Infosys, Mysore. With a prior research, I came to know that MYRA offers MBA like other B- Schools do. But I found quality in MYRA's curriculum and faculty is the best part of the B- School. This was the particular part attracted me.
Was an MBA always a part of your academic agenda? How did this shift from engineering to management happen?
I have never been a super student who would dream of an MBA and aim for a 6- digit pay. I have always been an average student though out my academic journey. But, doing an MBA has been always part of my dreams. Inspired by my father, I completed engineering as my Under- Graduation degree. Post then, I had a decent technical knowledge. MBA was always a part of my dreams and I desired to gain management skills in addition to my technical knowledge.I'm pretty much interested in travelling and right from childhood I have visited different places and have experienced different cultures. This has become a core interest. I like to interact with people and know about them. This made me to choose "Marketing" as a specialization field in my MBA.
How did MYRA happen to you?
I came to know about MYRA through a friend, who was working in Infosys, Mysore. Later, through a consultancy, I get to know complete details about MYRA.
Tell us something about summer internship. What was the most exciting part during these two months of industry interaction?
Summer Internship was at Larsen and Toubro, Electrical and Automation, Mysore. My internship was for 4 months (March 2015 to July 2015).The most exciting part was that the internship turned out to be a platform to apply not only my core competencies but also my interests. Internship work was research oriented. I was supposed to carry a market research on a new product to know its demand in the market. The product was electronic based. Thus, I was able to apply prior technical knowledge, I had. As a part of research, I need to apply the analytical and qualitative techniques for research purpose. Thus, I was able to apply both technical and management knowledge, I have, during my internship at Larsen and Toubro. In addition to this, during the internship, I had industry experience as well.Framing the findings in the research into a report was one of the challenging parts. The most challenging part was reaching the expectations of the manager.The manager was so helpful that I was able to understand what exactly, the manager wanted and was able to work accordingly.
Did your technical background assist you anytime in these two years, be that industry interaction or during the course?
My technical background helped me during my internship, to be specific. During these two years, technical knowledge helped in understanding few case studies, which would be based on electrical/electronic based companies or products.
What do you like most about MYRA?
Faulty and Curriculum are the two best parts I like about MYRA. Faculty helped me to recognize my competencies and apply them in my academics. The curriculum taught me how to complete assigned tasks on time. This one quality would brush up a student (un-experienced, in particular) to work in a corporate world.
In addition to the above two, the opportunities provided at MYRA are awesome. As a part of Global Exchange program at MYRA, I was fortunate to be part of the "10- day Educational Program" at University of Washington, Seattle. Through this opportunity, I have experiences of international exposure and global classroom. MYRA offers Global Exchange programs to Catholica Lisbon School of Business and Economics, Lisbon, Portugal and University of Wurzburg, Wurzburg, Germany. These kinds of programs would provide utmost benefits for the students at MYRA not only for educational purposes but also in gaining international experiences.
Any advice for budding aspirants and your juniors at MYRA?
Do utilize the vast knowledge, the MYRA faculty possess and the opportunities, MYRA provides. Do work hard and don't give up on your dreams. MYRA helps you in paving your own way to reach your dreams. I personally have experienced the transformation in me after joining MYRA.
Everything about MYRA is available here.
This a promoted feature story.