'The Process Of Learning, Rather Than The Outcome, Excites Me More', Nehaarikaa Talwar – Ladies Of Lucknow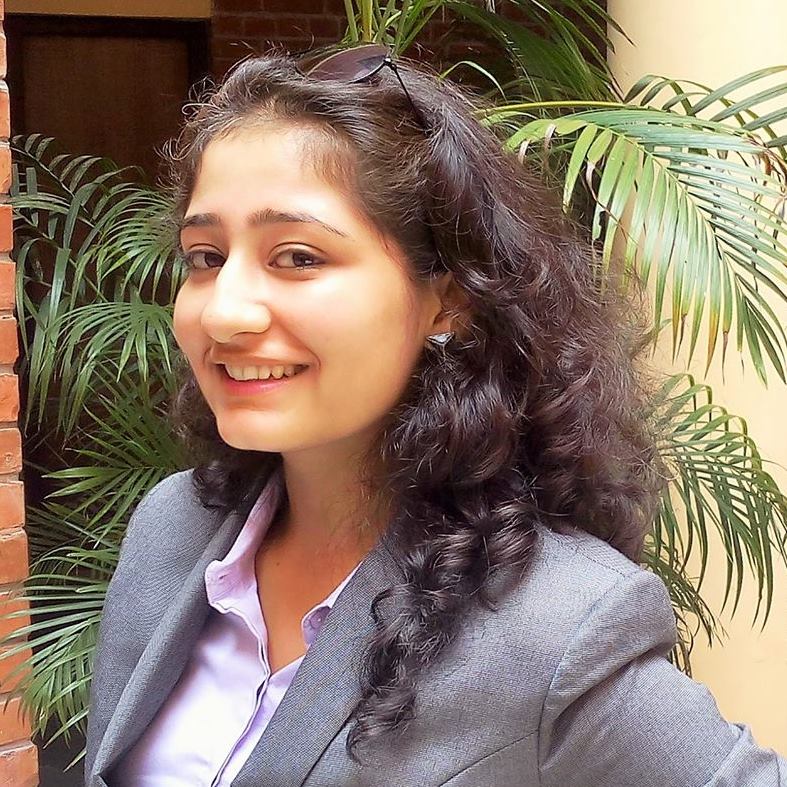 Not that we would wait for Woman's Day to celebrate the spirit and power of women on our management campuses, still we thought its good time to present some stories of women who have done it all.
Meet Nehaarikaa Talwar. Read on to find out more –
Short Bio:
Currently pursuing PGDM from IIM Lucknow, I graduated in 2014 with a degree in Computer Science Engineering from USIT, IP University Delhi. Post that, I worked with Eko India Financial Services as a Software Developer devising novel payment methods; being involved in R&D of new technologies as well as technologies new to me;  and creating a dashboard to track business metrics.
At IIM Lucknow, I am a core member of Team Disha, the placement mentorship committee, and led IT & Ecommerce preparation for lateral & final placements. My interest in crafts, doodling & ambigram encouraged me to be a part of ArtStrokes-the Fine Arts club. I also served as the Secretary General for the first-ever IIM Lucknow MUN, ensuring high levels of debate, diplomacy and negotiation in the simulated sessions.  I am a strong believer of holistic development, and I ensure that every step of my journey at IIM Lucknow aligns with this belief. Further, I will be interning with Accenture Strategy during summers.
Questions
1. To start with, tell us your background.
I have had a good academic record, being among the best students throughout my engineering and schooling, achieving good ranks in national and international Olympiads. I was also offered NTSE Scholarship (2009), Teach for India Fellowship (2014), and Young India Fellowship (2014). Additionally, I was active in arts, public speaking and MUNs. During the undergraduate program, I had interned with the IT department at MetLife GOSC, and the Pay and Account Division at Ministry of Home Affairs. I had also conducted environmental education programs for college students (in association with UNCSD Rio+20 India), green ambassador workshops for corporates such as Whirlpool to talk about sustainable office practices (in association with IYCN), and digital literacy sessions for disadvantaged children (in association with Microsoft and YUVA Unstoppable). Post that, understanding and devising innovative payment methods at Eko India Financial Services has also been a very different and enriching experience.
2. What makes you think that you stand out of the crowd?
My ability to focus on all-round development throughout my academic life, coupled with experience gained through internships/work/projects in private, public, social and startup sectors, makes me stand out of the crowd. While my internship at MetLife familiarized me with the IT infrastructure & processes; the internship with Ministry of Home Affairs gave me an opportunity to analyze and propose changes in the accounting system. The projects in the development sector made me raise some pertinent questions about the society we live in; and working with Eko made me think about innovative ways to solve complex problems.
At IIM Lucknow, it was an honor for me to be shortlisted for the Aditya Birla Scholarship for being among top 20 students in a batch of 450. My team has been among campus finalists for competitions like P&G CEO Challenge, L'Oréal Brandstorm and SAB Miller Brew-a-Career case competitions. I am a core member of Team Disha, the placement preparation and mentorship committee at IIML, where we design modules and coordinate with alumni, faculty and experts to conduct knowledge-sharing sessions. We introduced new initiatives like weekly newsletters and a portal for easy access of content modules. I also introduced the first-ever MUN of IIM Lucknow, and being the Secretary General, encouraged participation so that students are acquainted with diplomacy and international issues; and can enhance their leadership skills.
3. What do you like the most about yourself?
 I'd describe myself as 'Jack of all trades', striving to identify the one I would want to master. It is the sheer joy of learning and bringing together unrelated ideas in interesting ways that drives creativity and innovation in me. The process of learning, rather than the outcome, excites me more. It gives me time for self-development and pushes my mind to new domains. I think it is because of this trait that I am able to seek fulfilment in every task I attempt.
4. How do you think doing an MBA has added value to your persona?
I am an ambivert, excelling at tasks that require close team collaboration, as well as producing great results on my own. MBA provided me with a platform to leverage this flexibility and adaptability to interact and collaborate with very interesting personalities on campus, and gain perspectives on varied subjects. Each day at a B-school is unique only if one chooses to live it differently. One year in the course, and I feel myself stronger, more daring and more open, thanks to the incredible environment of help and support provided by my friends, peers and seniors. It's like a rough sketchbook – you chalk out plans, scratch them if they don't work out, re-write those and try a different way of making them work out, but you just don't stop trying. Some interactions with industry veterans or professors have left me re-assessing my beliefs, while some heartfelt conversations with friends have been very reassuring.
5. If you were a leader, how will you make a difference?
Having worked in leadership roles at organizations as diverse as AIESEC (world's largest youth-run organizations), IEEE (professional association of engineers), and IYCN (youth organization aimed at taking action on climate change), I have realized that being a leader is about building consensus and collaboration; and not seeking unquestioned compliance. It's about driving the success of the team through continuous development and discipline. It is about sharing responsibilities, inspiring others to strive, enabling them to accomplish great things and leveraging the differences they possess. Being a leader, I have and will continue to persuade others to look at the bigger picture and bring about a change, which is sustainable and in the best interests of the affected community.
6. What do you think about the biggest global feminist issue? And in India?
I think gender disparity in education is the biggest global feminist issue – be it the participation of girls and women at the primary level or in STEM. Understanding the nature of gender gaps, and economic and socio-cultural factors that contribute to the continued disparities is very important to address other issues that need urgent attention such as human trafficking, political representation, income potential, poverty reduction and domestic violence. Women need to be educated, so that they know their rights, and avenues where those can be exercised. An educated woman is a boon not for her own self, but for her family and consequently, the nation. The patriarchal and regressive mindset needs to be challenged to ensure education for women. At the national front, I think safety for women is even more important, and should be addressed at the earliest through not just stringent laws, but the support of men in the society. I firmly believe in HeForShe, the UN solidarity movement for gender equality, and was left in awe by Emma Watson's speech advocating the same.
7. What according to you is the essence of being a woman?
If I have to define the essence of being a woman in one word, it would be 'perseverance'. Perseverance to nurture their loved ones, embrace the mess, rejoice the complications, endure the pain, appreciate the success and humbly accept the failures. Being a woman is not about being pretty, but being beautiful from within. And despite this, she has the capability to be fiery at heart and sharp at mind.
—-
(As told to-
This article is written by Abishake Koul, a PGP student of the class of 2017 at IIM Lucknow and the Creative Head and Core Coordinator of the Media and Communication Cell)
Media & Communication Cell IIM-Lucknow
IIM Lucknow's Media and Communication Cell (MCC) serves as a communications liaison between the Institute and the external world. MCC also acts as the community building platform of IIML and ensures that all the student activities and initiatives at IIM Lucknow receive public recognition