The Rajasthani Summer Internship – Sathya From IIM Visakhapatnam
The third term, easily the most gruelling term of the first year at IIM-V was completed. We were half management graduates! But there was no time to enjoy or relax. We had to start our internships immediately after the exams. We were all very excited.
Most of my batch mates were heading to the business hubs of India like Mumbai, Delhi, Bangalore and other metro cities as would be normal for an IIM intern. There I was, heading to Beawar, a small city in Rajasthan. But, I was heading to the registered office of Shree Cement Limited, one of the fastest growing companies and a cement giant of North India. So with a feeling of excitement, I began my journey knowing that this will definitely be a unique experience. An experience at one of the big players to learn about an industry contributing hugely to the economy.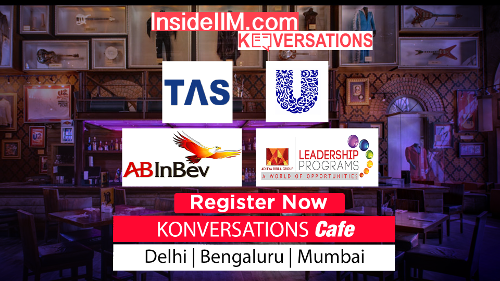 Shree Cement limited is an Organization, operating in the cement and power sector and having a tall hierarchical structure. When the project was given to me, it was very evident that the expectations were very high from me, due to my being an IIM intern. But, burning questions remained. Could the concepts learnt in the class rooms be really applied to such a huge organization? Would people in the management, with more than 20-25 years of experience in the industry cater to the thoughts of an intern? Even though I had worked in a similar manufacturing industry, the work cultures were starkly contrasting. It was the first real test for me in the corporate world as a management student. It was all very overwhelming to start with.
As time progressed, I realised that the people in the organization were open to radical thoughts on improving their systems. They really believed that I could solve some of their problems and bring about a change. And this encouraged me a lot. Help and guidance was always available from anyone I approached. In depth interviews were conducted with people from various walks of the organization. Copious amount of data was collected from various sources and various analyses were done. All my efforts in collecting and analysing data would be evaluated in a week's time.
Off work, Beawar being strategically located in Rajasthan, was close to all the famous cities like Jaipur, Jodhpur, Udaipur and Ajmer, which were left to be explored on the weekends. The beautiful palaces and the historically important hill – forts are typical of the state and are worth a visit. The old city areas with its narrow lanes and the picturesque lakes provide a different experience altogether.
When it was confirmed that I was going to be in Rajasthan, many requests were made to me by friends to take selfies in the desert. To my pleasant surprise, I found that the township in which the accommodation was provided was quite not what I expected. It was a nicely planned township with lot of green cover, where I could sight various differently coloured birds and occasionally, peacocks. One wouldn't have believed such a beautiful place existed in this area unless they had seen it. The guest house served awesome Rajasthani food (Being a vegetarian helped!) and the smell of butter rotis made my heart melt every single time.
This has been an incredible experience both professionally and personally and with just a week left in my internship, I'm here wondering how the two months flew by.
————-
Sathyapramod R
PGP 2015-17
IIM Visakhapatnam
Read more about IIM Visakhapatnam here.
Read more Internship Diaries here.