The Real Stars!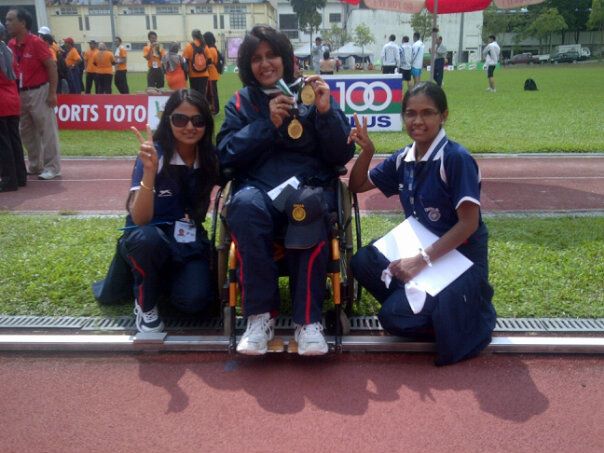 I'm trying to search for a good beginning. But honestly I'm at a loss of words. The literary scholars say that a catchy start can win you the appreciation for your piece, so I guess I've lost out on that. It so happens sometimes when something is very close to your heart you fail to express it. The perfect argument to this maybe "then why are you writing at all ?" ( I got a start..now we're talking!!). I think this is a great platform to share my 33 months of work experience at the Paralympic Committee of India. "But why would anyone be interested in YOUR experience? Isn't that a little, rather very pompous of you? "My defense : No no..Just hear (sorry read) me out.
I would FINALLY like to start by asking you a few questions. How many of you are aware of para sports? Take a minute and try to recollect ( PS: I'll generously give you a hint. It's not "para'-chute sports, just like one of our so called hon'ble sports minister thought!) Did you know that amputees, the visually impaired and the deaf played sports? All the games that you play, be it any basketball, table tennis, swimming etc ?Maybe even better than you? At a world level?
The Answer to all my questions is yes. Para sports are sports for the disabled (in my view specially abled), amputees, the deaf and the visually impaired. They started in Europe post world war one with the amputees from the war. However, officially they began with the formation of the International Paralympic Committee in Germany (IPC) in 1989 with an admirable vision " to enable the para athlete to achieve sporting excellence and to inspire and excite the world". (www.paralympic.in) This led to the birth of the Paralympic movement , to link sporting activities to social awareness to build a more equitable and just society for all. Today, the IPC stands proud with 200 member countries and surprise surprise , India is one of them.
Though the movement reached India slightly late, its not an excuse for the lack of awareness in our subcontinent. True to the saying that India is a sleeping giant, we don't lack behind in talent at all it is just the attitude that needs to be changed. Many may argue that the facilities provided by our government aren't  adequate, which is why even the able bodied sports is suffering. But after experiencing  the grill for 33 months, I realized that we have the facilities, its just that we don't avail them, mostly again owing to lack of awareness. More over corruption prevails here too!
However, inspite of all the above India too has its own governing body, The Paralympic Committee of India (PCI). It is a National Sports Federation recognized by the government of India (in 2004) at par with Indian Olympic Association. PCI is the apex body with 14 individual sports federation and 24 state units under its belt. Although recent, PCI boasts of 3 Padmashris, 17 Arjuna awardees, 3 Paralympic medals and 3 Dronacharya awardees.
I was privileged to be the Indian Team Attachee at the London Paralympics 2012.Being the only woman in the contingent, it was a moment of great pride to witness the glorious silver we won. H.N Girisha, F 42 category, (each sporting discipline is divided into categories on the basis of the severity of the disability),high jump, gave us this opportunity. The feeling when you see your nations flag rise high amongst the others is exhilarating. A moment of high patriotism. Another interestingly encouraging fact is that though we were just a contingent of 10 athletes, all 10 found a place in the top ranks of their individual sports namely swimming, athletics, shooting and powerlifting. Isn't this enough of an indicator to the sort of talent we have? These athletes need motivation and a morale boost from all of us. They are the real stars lost in a crowd of smoke.
————-
Amrita Singh
(This article is written by Amrita Singh, Class of 2016 at IIM Lucknow. The writer served as Assistant Director at Paralympic Committee of India. She will now be pursuing her summers at McKinsey & Co.)