The Similarity Between The Sacking Of Steve Jobs From Apple And Cyrus Mistry From Tata – Strategy With RS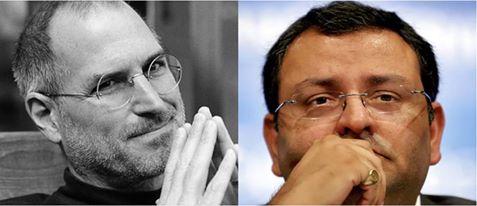 Did you notice the similarity between the sacking of Steve Jobs from Apple – way back in 1985 and the more recent sacking of Cyrus Mistry from Tata.
The coups which lead to their ousters were, allegedly, engineered by people closest to them.
In the case of Steve Jobs, it was John Scully, whom he had weaned away from Pepsi in 1983 to join Apple as its CEO.
Merely 2 years later, in 1985, John Scully, with support from the Apple Board, stripped Steve Jobs of all executive duties. Humiliated and betrayed, a few months later, he resigned from Apple.
Let's get back to Cyrus Mistry. In 2012, he was chosen as successor to Ratan Tata, with Mr. Tata's blessing. It would not be out of place to say that the selection committee approached him to accept the Chairmanship, because they were unable to find a suitable candidate & felt he was eminently qualified for the position.
But 4 years later he has been unceremoniously stripped of the Chairmanship, allegedly, because Ratan Tata, among others, was not happy with him!
The common factor that binds them – both had to endure the public humiliation of getting sacked! But the difference between them is how they coped with it.
Let's start with Steve Jobs. How did he feel after being fired from Apple, the company he founded?
"I was out – and very publicly out. What had been the focus of my entire life was gone. And it was devastating. I was a public failure … I really didn't know what to do for a few months … I even thought of running away from Silicon Valley. But somehow slowly it began to dawn on me – I still loved what I did … the turn of events at Apple have not changed that one bit. And so I decided to start all over again.", he reminisces.
He did just that by starting NeXT, dedicated to making the most powerful computers available for educational and business purposes, along with 5 other refugees from Apple.
(BTW, Fun Fact: did you know how Jobs got the name for his company? Legend has it that after he left Apple, his friends and well wisher would invariably pop this question to Jobs,– what are you doing next?, that he decided to name his company NeXT.)
To help, NeXT deliver upon its promise, Steve Jobs developed state of the art hardware & software. But big time success eluded him.
Apple, in the meantime, was floundering since the departure of Steve Jobs. In 1996, it was looking to buy a modern operating system. The search led them to NeXT, which it acquired for $400 million. Along came Steve Jobs, who a year later – in 1997, was named the interim CEO of Apple. And the rest is history!
The state of art operating system developed at NeXT served as the basis for Apple's popular iOS which is today powering every single best seller to have emerged from Apple's stable – Macs, iPod, iPhone, iPad, Apple Watch.
"I didn't see it then, but it turned out that getting fired from Apple was the best thing that could have ever happened to me. The heaviness of being successful was replaced by the lightness of being a beginner again, less sure about everything. It freed me to enter into one of the most creative periods of my life … I'm pretty sure none of this would have happened if I hadn't been fired from Apple. It was awful tasting medicine, but I guess the patient needed it. Sometimes life hits you in the head with a brick. Don't lose faith. I'm convinced the only thing that kept me going was that I loved what I did. You've got to find what you love." Confessed Jobs, when he reflected back on his sacking.
Let us get back to Cyrus Mistry. What is his strategy upon being sacked? Refusing to go quietly! A terrible strategy as his bitterness benefits neither him nor his former company.
Instead, he should take inspiration from Steve Jobs and sever his relationship with Tatas and like Steve Jobs rededicate himself to doing what he loves most! And if he succeeds, his success will be far better revenge than anything he can achieve through mere confrontation.
And just maybe, years later when he looks back on this episode, he too, like Steve Jobs, will be compelled to say, that getting fired from Tatas was the best thing that could have ever happened to him!
——————-
About the Author: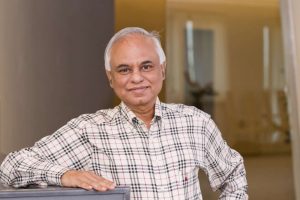 In this series, Rajesh Srivastava, Business Strategist and Visiting Faculty at IIM Indore gives you a regular dose of strategy case studies to help you think and keep you one step ahead as a professional as compared to your peers. Rajesh is an alumnus of IIM Bangalore and IIT Kanpur and has over 2 decades of experience in the FMCG industry. All previous Strategy with RS posts can be found here.