The Six IIM Alumni report 2013 – Part one (Locations, Companies and Functions)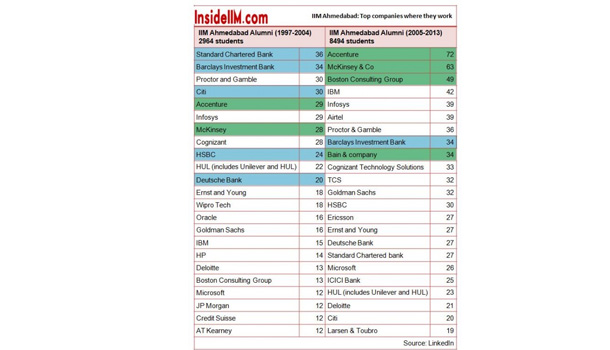 Last year we had released a series of reports on the alumni of the top B schools we cover, slicing aggregate data from LinkedIn by company, location and organizational function. When we released these reports, they created quite a stir. People were amazed by the new avenues for data exploration, and the insights opened up by a few mouse clicks on LinkedIn.
As always, we begin the first report in this year's series with a vote of thanks to Reid Hoffman and Co (founders of LinkedIn).
It is a well-known secret that the Alumni effect is quite powerful in top recruiters – B school alumni (also referred to as 'mafia' or 'The Mob') wield significant influence over the hiring policy in top companies. The objective of these reports is to uncover the extent to which your B school's mafia have infiltrated various companies, including your dream companies. This information is pretty useful because alumni presence influences your chances of joining these companies, whether you are a prospective MBA candidate, an MBA student or an alumnus of any of these B schools. We hope you use these reports to understand the general trend, please don't reply to us fuming about minor numerical discrepancies, seeking introduction to contacts etc.
Methodology
We have considered people who have mentioned the six older IIMs as part of their 'Education' between 1997 and 2013 on their LinkedIn profile as our universe. This report focuses on three aspects of this universe (top ten locations where they work, top 20 companies where they work and main organizational functions). The time period for the study, 1997 to 2013 – includes 17 batches of the flagship program at these IIMs(14 and 15 in case of IIM I and IIM K). This period has been divided into two nearly equal parts – 1997-2004, and 2005-2013.
Clarifications and caveats
No double counting: The data reflects the organization where the professionals are currently working and not the history of organizations where they have worked. For. e.g. if someone had worked at McKinsey till 2010, and is now working at BCG, that person will be counted only once, and be counted under BCG. This will reflect aggregate figures accurately, except in case of people who have forgotten to update their LinkedIn profiles.
Fake profiles: Since data is user-generated and not verified independently, it cannot be 100% accurate. There may be a few fake profiles, but they are rendered insignificant due to the large sample size which means they will not distort the general trend.
Other issues: The data includes all those who have attended a management programme at these institutes. Need not necessarily be the flagship PGP. Could also be the Executive MBA programme, or even the MDP at these IIMs. In 2005 IIM Bangalore started a PGD in Software Enterprise Management – to train professionals in the IT industry. IIM Calcutta also did something similar. More damningly, it could also include people who have done a three-day certificate course. How do we get rid of this error? We eliminate this by looking at a small bunch of dream companies in subsequent reports, where it is practically impossible to get in without doing a flagship MBA from a top B school.
Not a job, just an internship: The data includes current PGP students doing their summer internships, for which the data has been reported as the company where they are doing the internship.
Data and Analysis
IIM Ahmedabad (1997-2004: 2964 students, 2005-2013: 8494 students)
Top companies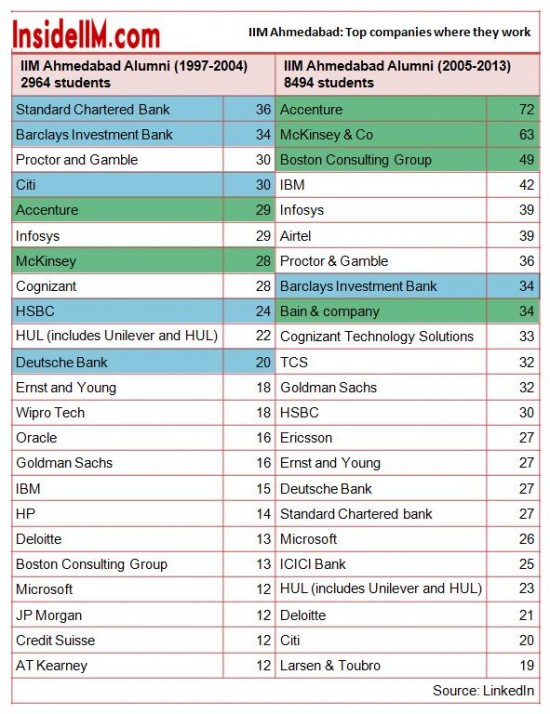 Top Locations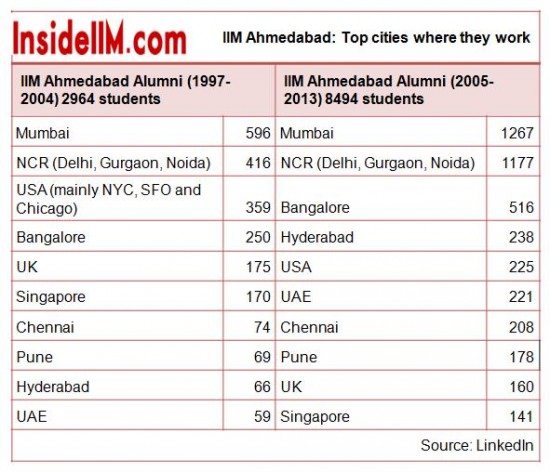 Top Functions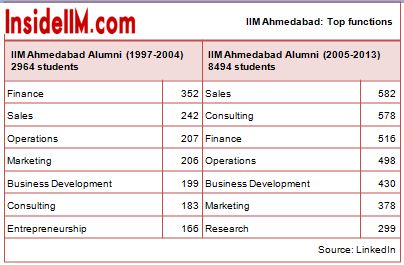 The analysis
It not difficult to see the trend in IIM Ahmedabad's data – a generational shift from investment banking to strategy consulting. In the early 2000s, students used to flock to investment banks in droves. In the batches from 1997-2004, there are five banks in the top eleven companies. That has now changed, and for the later batches (2005-2013), we see that consulting is clearly top draw. The ramping up of BCG's operations is clearly evident – only 13 graduates from the 1997-2004 batches, and now among the top three companies with IIM Ahmedabad alumni. Among functional areas, finance was top choice for the batches between 1997 and 2004; now it is sales, followed by consulting.
IIM Bangalore (1997-2004: 3109 students, 2005-2013: 9489 students)
Top Companies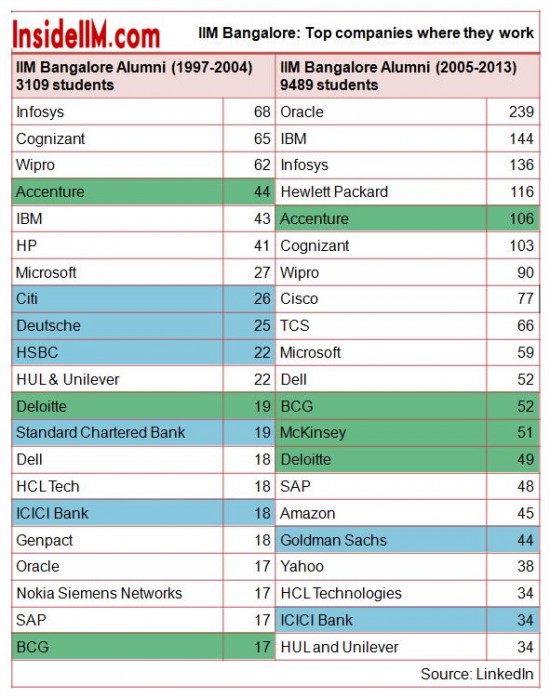 Top Locations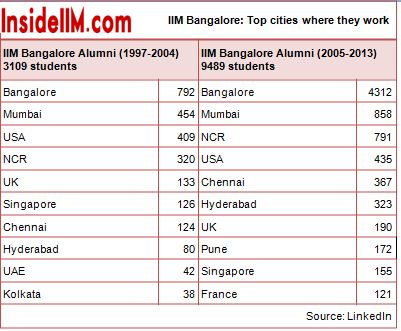 Top Functions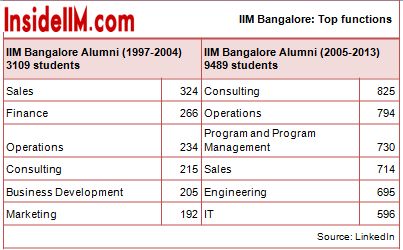 The analysis: IIM B started programs for IT industry professionals in 2005. This, and to a lesser extent Bangalore's status as Silicon valley of India probably explains the preponderance of technology firms in this list. Again, the trend of shift from investment banking towards consulting is evident – from both, the companies list as well as the functional specialization data. Citi, Standard Chartered, Deutsche, HSBC etc, all have sizeable numbers from the 1997-2004 batches, they are not to be seen in the 2005-2013 data set. Goldman Sachs has 44 employees from the second set – more than half of them working out of Bangalore in what is most probably a middle-office role rather than a front end role. BCG is bottom of the list in the 1997-2004 data set, McKinsey is not even in the list. Both are found somewhere in the middle of the second data set. The second set also sees the emergence of some tech companies with a refreshingly higher 'cool quotient' than Indian IT players – Yahoo and Amazon.
IIM Calcutta (1997-2004: 3179 students, 2005-2013: 11,340 students)
Top companies
Top Locations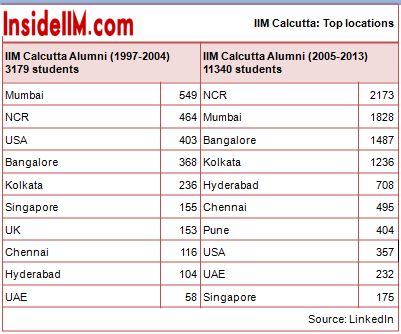 Top Functions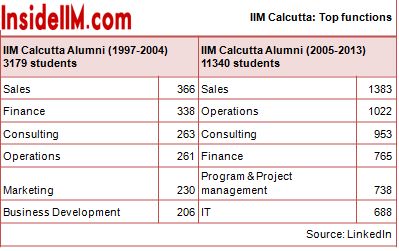 The analysis: Again, there is a predominance of IT service firms, mostly due to their running management training programs for their employees in conjunction with IIM C. The transition from investment banking to strategy consulting is evident, but less pronounced. BCG, which seemed to have rapidly ramped up its hiring from IIM A and IIM B between 2005 and 2013, is missing from the second list at IIM C. Airtel and Microsoft have hired heavily from IIM C.
IIM Lucknow: (1997-2004: 1927 students, 2005-2013: 5273 students)
Top companies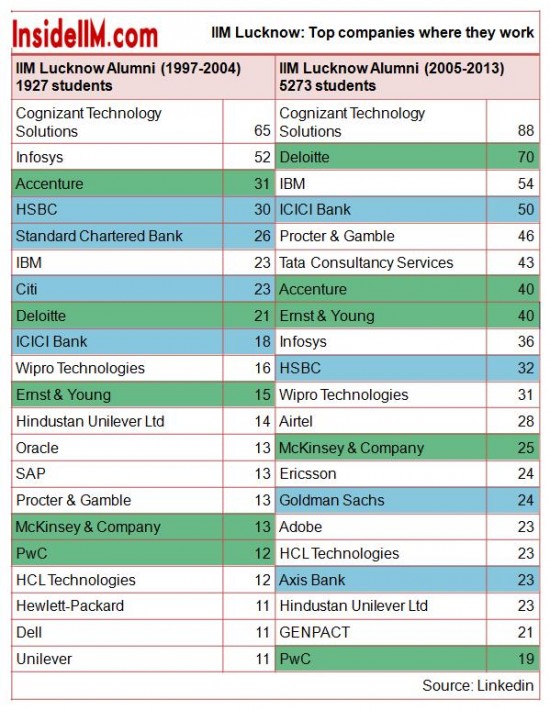 Top Locations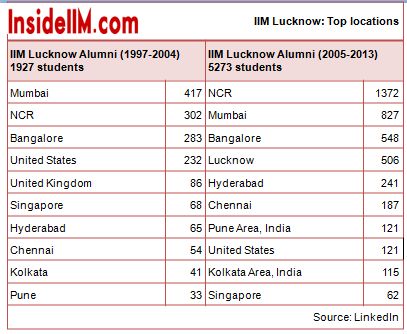 Top Functions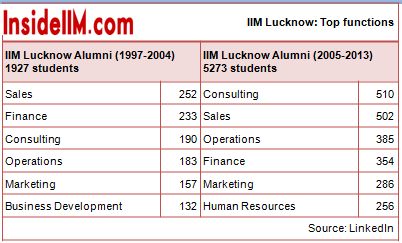 Analysis: Data is not as heavily influenced by non-flagship programs, as the earlier two IIMs. Again, we see evidence of a secular shift from finance to consulting. Not so visible among top recruiters, but clearly visible in aggregate data.
IIM Indore: (1997-2004: 586 students, 2005-2013: 3929 students)
Top Companies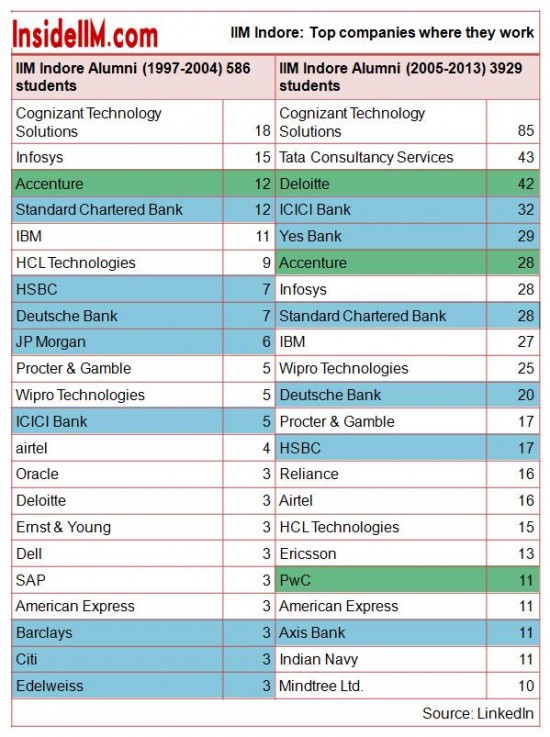 Top Locations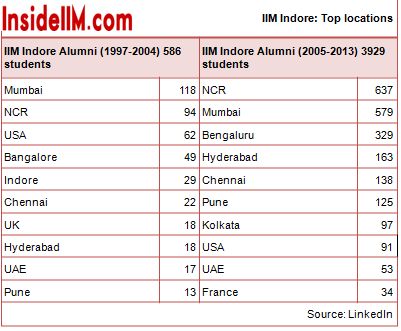 Top Functions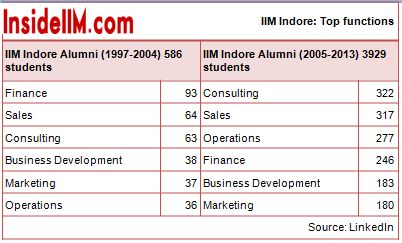 The Analysis: Aggregate data indicates shift towards consulting. However, a look at the movements in list of top recruiters is interesting. It indicates that Indian banks (ICICI, Axis and Yes Bank) have been on an expansion spree, and they have been quite happy to lap up the banking and finance crowd in large numbers. Also, the roles at Deutsche Bank and HSBC offered at IIM Indore are usually middle-office, indicating two trends within banking in India over the years from 2005 to 2013:
Hiring has been weak among foreign investment banks for their front-end roles.
Hiring is robust among two constituencies – Indian retail banks looking to expand, and foreign investment banks (mainly JP Morgan, Deutsche Bank and HSBC) looking to cut costs by outsourcing some of their supporting operations to India.
IIM Kozhikode: (1997-2004: 977 students, 2005-2013: 3254 students)
Top Companies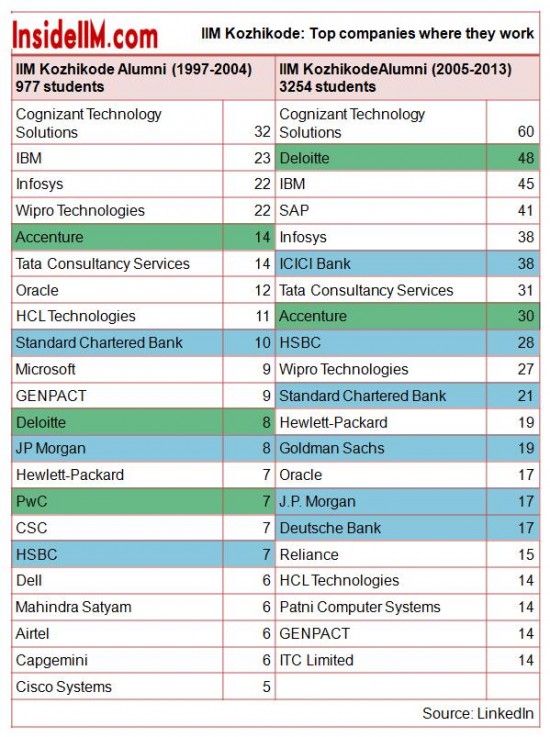 Top Locations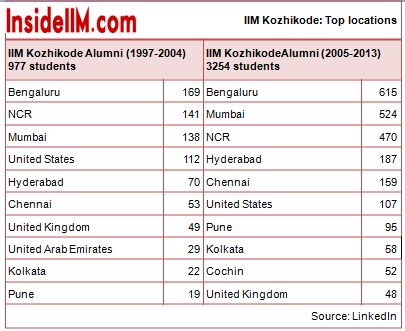 Top Functions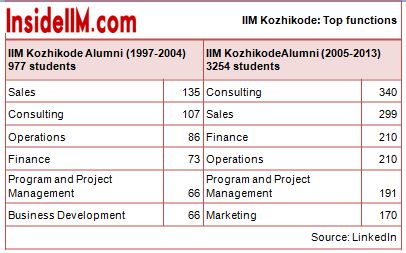 Analysis: Consulting rules the roost at IIM K and IIM I, with the big names being Deloitte and Accenture. Bulk of the remaining professionals may be into IT consulting. Just like IIM I, banking has shown a strong presence at IIM K, for reasons already discussed.
Locations: All IIMs, apart from IIM Bangalore and IIM K (the southern IIMs) have the largest alumni base of their senior alumni (1997-2004) in Mumbai. Among many IIMs, there is a generational shift towards NCR over Mumbai as the top job location. It could be that Mumbai is losing out on India's best and brightest to New Delhi. On the other hand, it could also mean that NCR is where all the grunt work is done by new joinees, before they rise up the ranks and get promoted to a job posting in Mumbai.
This report is only indicative, we will be releasing more slices of this data which you will find very useful. We promise there are more insights coming your way.
Read last year's report here, the entire series can be read here.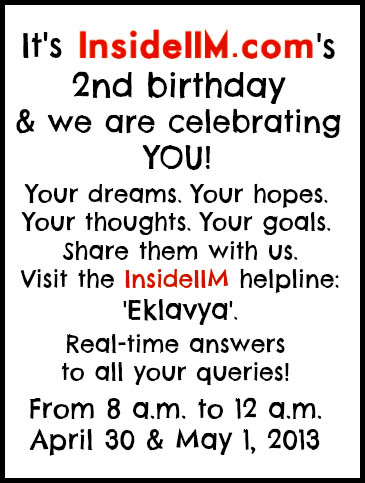 Click here to know about Eklavya on these 2 days