The six IIM Alumni report – Visualized (Banking and Consulting)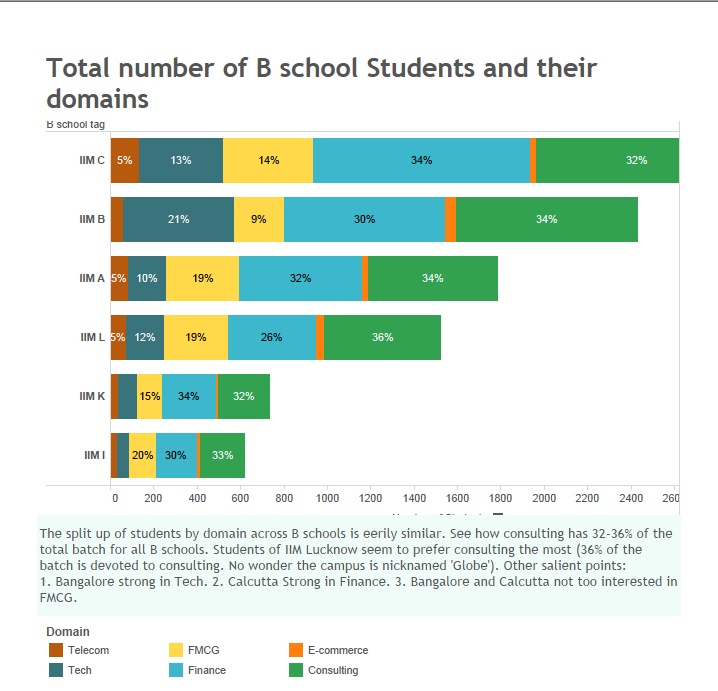 You may have already read the first three parts of the IIM alumni report in 2014.
Read the first part here (Locations, Companies and Functions)
Read the second part here (Top companies in FMCG, Tech, E-commerce and Telecom)
Read the third part here (Top companies in banking and consulting)
We have produced a Visualization that allows for better analysis of data. The software used is Tableau Public. Moving on to the Dashboards.
Dashboard One

Dashboard Two
We define Elite Consults as the set – BCG, McKinsey, Bain, Booz & Co, AD Little, AT Kearney, Oliver Wyman and Alvarez & Marsal. It is clear that IIM A, B, and C have a huge lead here. They account for 85% of MBA grads in the elite consults (considering a universe of only the top IIMs).
Dashboard Three

Dashboard Four

Dashboard Five

Quick observations
IIM Lucknow is quite strongly focussed on Consulting, while IIM C is quite strongly focussed on banking. IIM B is not really focussed on FMCG. For Consulting firms, McKinsey is the biggest recruiter among 'Elite Consults' – a set that is dominated by the old IIMs (A,B,C). IIM L has made some meaningful inroads into the domain of the elite consults. Citibank is the biggest recruiter among banks. IIM C has the strongest presence in finance. We welcome your feedback on these visualization techniques. Please give feedback in the comments section.