The Summer Saga Contest 2015 – 60 Days as an Intern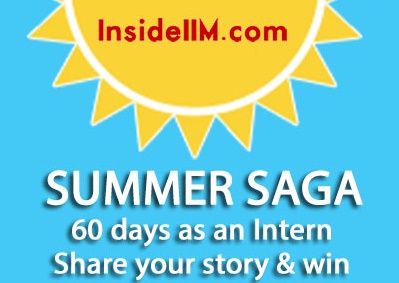 And we are back !
Attention folks!
It's time for the Summer Saga Contest 2015. A lot of you would have just returned from your summer internship. Some of you would have beaten the heat, sitting in an air-conditioned cubicle, staring at excel sheets all day long. Some others may have been sent to remote villages and towns, in the sweltering 45-degree sun. Some may have gone abroad, and enjoyed the good life, while others may have tasted life in a start-up, and yet others may have had no work to do at all.
Have a penchant for writing? Ever wanted to scream out your joys and anger? Want to let the world know of your PPO or of your harrowing experience as a summer intern?
(Read about last year's winners here)
So what are you waiting for?
Summer Saga 2015 gives you the perfect platform to voice your opinion, share your unique internship experiences  with top recruiters on InsideIIM (over the last 12 months we have worked with P&G, Flipkart, Reckitt Benckiser, Aditya Birla Group, Greencart, Aspect Ratio, Decathlon among others) and leave a few points of wisdom for the eternally tensed and curious first years and also the ever burgeoning base of MBA aspirants. And the best part is your story will be read by over 100,000 users per month on InsideIIM. We will ensure that your story gets the visibility it deserves.
Hey that's not enough? What about the prizes?
1) Total Prizes worth Rs.30,000/- are waiting for those who can describe their 60-day date with their company of choice. No word Limit!
2) Spread across four categories, the best experience from each category wins a cash prize. The broad categories include:
I – Banking & Finance, II – Sales & Marketing and General Management, III – Operations, IV – Consulting, HR and others
3) The best 5 experiences in each category above will be highlighted on InsideIIM.com and will win a InsideIIM T-Shirt! It will also serve as a great accomplishment on your resume!
4) We will also declare the 'Campus with the most Interesting Interns' based on the entries from all the campuses. (Minimum number of entries for a campus to be considered for this title – 10)
The entries will be judged on two main parameters :
1) Usefulness for future readers
2) How interesting the articles are for judges as well as readers. For us to gauge the popularity among readers, we highly recommend that you put up your story as soon as possible. It will get more time to be popular on various social media channels and on InsideIIM.com
Read about last year's winners here
It will be preferred if these aspects are covered in the write-up :
 1) Detailed review of the project: Project details will be a significant part of evaluation. Project Details may include a brief description of your project, how is it important for the organization you were interning, how you approached your project step by step, the challenges you faced, the creative stuffs you came up with and finally how did it all end.
2) Your view of the organization: Its structure, roles, career prospects for a management post-graduate, PPO/PPI Policy.
3) Top three Learnings.
Yes, we know that there are confidentiality issues. We understand it and it will not be held against you if  you choose to omit some details. If you are scared of being heckled by the HR or your placements committee, we have a solution for that as well! We give you the option of writing an entry anonymously. You can send us your story at editor(at)insideiim(dot)com. from an email ID, and your story will be published by us, and your details will be kept totally confidential. You will still be eligible for the prize and your name will be declared publicly only if you wish. The winning 'anonymous' entry will be announced.
You have full freedom to express yourselves creatively. You can add images or embed videos. The deadline for submitting your entries is 10th July 2015.
If you have any questions please reach us on saikat.roy(at)insideiim(dot)com or srihari.ks(at)insideiim(dot)com
Evaluation
The evaluation of entries will be done by Industry Experts & Campus Managers or HR Professionals from Top Companies. Know about last year's judges here. This year's judges will be announced soon.
Participants can get cracking with their experiences here – (Register on the website, and then click on Write a Story) to start writing about your experiences. Do not forget to mention your Full Name and Business School. Ideally, add a 2-3 interesting liner on yourself)
Get Started Folks!
Happy Writing.. 🙂