The Tale of 5 Monkeys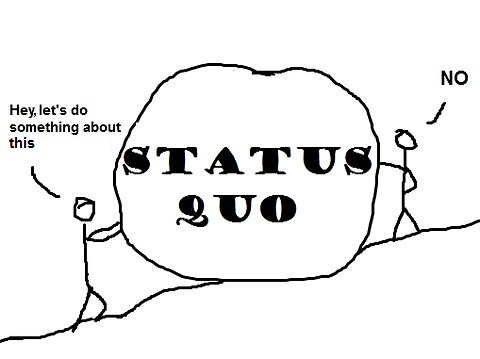 Unlike my usual stories, this one's a short piece, a tale that has and will continue to inspire people till eternity. We have all grown up to interesting stories, some of which have been so impactful that we have never really had to put in a lot of efforts to remember them. All that is required is to read/hear them again, once in a while, to refresh our memories and get inspired all over again.
This is how the story goes. There was once an intelligent and adventurous scientist (Well, not as audacious as Prof. Utonium -'The Powerpuff Girls' fame,  from Townsville though) who ventured into explaining the 'blind rat-race' or should we say 'mindless monkey-race' that forms an inevitable part of our lives. He confined 5 monkeys into a large cage. Adequate care about their hygiene conditions and routine food requirements was taken. However, they were made to lead a highly dreadful, boring life. High up, a stalk of bananas was put and a short ladder lead to it.
Once an explorative monkey ventured into reaching out to those bananas. The scientist then poured a stream of ice-cold water not only on that particular monkey, but on all of them as a punishment for not stopping him. The venturesome monkey scrambled off and secretly vowed to never repeat the act again. However, as the temptation of the bananas was irresistible, a second monkey, equally ambitious, tried to climb the ladder, but unfortunately, met the same fate as his predecessor. Despite the previous failed attempts, the next day, a third monkey tried to reach out to the bananas, but, alas, in vain, again.
The next day, the monkeys in the cage found a new friend, who had replaced one of their previous one. Unaware of the struggle and its consequences, the new monkey naively climbed the ladder, but the inhabitants of the cage, well aware of the ramifications, pulled him back. A bewildered new monkey, conceded and gave up, but did not get to know the reason behind that insistence. Again, the subsequent day, another monkey from the old lot was replaced. He was again not allowed to climb the ladder by the rest of the monkeys. Later, after a few days, the cage housed completely new five monkeys that had replaced the original ones, one by one.
The five of them shuddered at the thought of climbing up the ladder to get the stalk of bananas, but, none of them were really aware of the reason behind such a mutual decision. They just knew that that was how things worked there and hence, they had to follow suit.
Well, the message that this experiment is trying convey is that most of us are like dead fishes who don't mind flowing with the water currents and are at times, even proud of it. We are into the habit of accepting status quo without even a slightest of doubt or inquisitiveness. Even when some exploratory souls try to do something novel and unconventional, we are quick to bring them down (like the inhabitant monkeys) by criticizing them, disapproving of them or simply, mocking them. However, if one is desirous of doing something completely new, one has to learn to question all the 'tried and tested' ways, take roads less travelled and not just do things because everybody else around them is doing it. Dare to dream like nobody else has, as Mr. Oscar Wilde has rightly said –
A dreamer is one who can only find his way by moonlight, and his punishment is that he sees the dawn before the rest of the world.
– Venu Merh
Source of the Story: Competing for the Future, Gary Hamel, C.K. Prahlad
About Venu
An Upantya Visharad in Hidustani Sangeet and in Bharatnatyam, Venu has been the epitome of versatility and consistency throughout school and college life. An EC engineer, she was a member of AIESEC & NU Tech where she managed various activities. She loves micro blogging and working for stray animal welfare. She is currently a management student at IIM Kozhikode (Class of 2015).
Read everything about IIM Kozhikode here
Read all Stories by Venu here. Follow her on venu.insideiim.com
Venu Merh
An Upantya Visharad in Hidustani Sangeet and in Bharatnatyam, Venu has been the epitome of versatility and consistency throughout school and college life. An EC engineer, she was a member of AIESEC & NU Tech where she managed various activities. She loves micro blogging and working for stray animal welfare. She is currently a management student at IIM Kozhikode (Class of 2015). You can read all her stories here. Twitter handle - @foodasaur