'The wonderful alumni interactions at IIT Kharagpur, especially the one with Sundar Pichai was inspiring' – Ravi Padmaraj – First Year Topper, VGSoM, IITKGP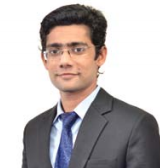 This is a continuation of our series on First Year MBA toppers at elite b-schools. VGSoM – IITKGP is fast emerging as a premier b-school in the country. With the stellar bunch of candidates it attracts, topping the exceedingly competitive first year of MBA is no mean feat.
Ravi Padmaraj is a First Year Topper at VGSoM-IITKGP. He spared time out of his crazy schedule and spoke to our student team about his first year in MBA.
Ravi hails from Kerala and completed his B.Tech in Applied Electronics and Instrumentation from Government Engineering College, Kozhikode. Post engineering, he worked for 3 years with Tata Consultancy Services. He joined Vinod Gupta School of Management (VGSoM) in 2014. Ravi enjoys listening to Carnatic fusion music and reading thrillers. He also has a passion for coding.
How and why did you decide to pursue a management degree?
Unlike many of my friends, I liked my job. Owing to my considerably good technical knowledge, the appraisal bands were always good and on time. But sometime down the line, I felt I was restricting myself to being only a technology expert. I realized the need to broaden my learning and acquire new skills. So, I decided to go for an MBA degree. Despite everyone discouraging me, I decided to pursue my interest and thus started the MBA journey.
How has your VGSoM journey been so far?
My journey at VGSoM has been quite exciting so far. The first one month was hectic with the tightly packed academic curriculum and the selection procedures of clubs & committees. This experience taught me how to manage my time. I work for Entrepreneurship Cell of VGSoM. I am also a part of Drishtee Capital – the student run investment fund of VGSoM. Amidst these restless yet exciting activities, I manage my software freelancing as well. The first year at VGSoM has equipped me with an amazing set of skills.
What were your expectations before joining this college and how different has the experience actually been?
Getting admitted to the oldest IIT in the country is always a special feeling. Nevertheless, I came to VGSoM with a bit of confusion as I wasn't even sure of what specialization I'd eventually choose. But I expected the two years at VGSoM to transform me from a technology expert to a techno-manager. After a year-long stint here, I realize that the college has already given me more than I had expected. It constantly pushed me out of my comfort zone in ways I had never imagined. It made me realize my strengths and my academic interests. The most exciting experience was the webinar interaction with one of the most famous IIT Kharagpur Alumnus– Mr Sundar Pichai. The wonderful alumni interactions one gets here at IIT Kharagpur, are enough to inspire and transform substantially.
The first year of PGP is really hectic. How did you manage your time effectively?
I believe that the first year was tightly packed rather than hectic. But one learns to manage the time effectively. The hacks to minimize the effort and derive the maximum result are possibly the biggest learnings from a B-School. I decided not to bunk any classes which was rendered useful later. I got to learn the basics in class itself which left me with ample time during the exams to analyze the concepts and relate them to real time examples.
Can you state a few qualities or habits that have helped you thrive in your first year?
As already mentioned, I attend all the classes. I realized that just listening to the lectures can greatly reduce the effort needed at the time of exams.It has a profound effect on your learning experience as you get to interact with the elite professors in the class. I rehearse a lot before the class presentations which elevates my confidence during the original presentations. I think these habits have made my life a lot easier at VGSoM.
What aspects do you like the most about your college?
Our college, undoubtedly, has one of the most beautiful campuses in the country. The strong alumni network and the wide exposure it provides make the college even more special. The inspiring interactions with the alumni always provide a wonderful experience. This college is an aspiring entrepreneur's dream. Being a part of E -Cell has helped me interact with various departments of IIT Kharagpur. Exposure to innovations at various departments and the opportunity to use the business acumen to materialize these innovations make this college a rarity among B-Schools.
What were your favourite subjects/areas of academic interest in the first year?
I came here with an open mind. I wanted to explore all the options available. I am good at mathematics. This assisted me to do well in finance. In the second semester, I started inclining towards Operations. Now, I realized that finance and operations are my areas of interest.
How was your summer internship experience?
I interned with National Instruments during summer. The company specializes in automation and control systems. I worked in the sales and strategy domain. My job was to devise a sales strategy for a few of their products and services. The invaluable customer exposure and the vital and real time knowledge of the operations of a business to business firm in high technology domain gave me an insight into the real business world.
We wish Ravi all the best in his endeavours!
Meet other First Year MBA toppers