To Hell, With Love

Hopefully, this is my last winter in Hell.
I am an FPM student, currently in the last year of my study at IIM Lucknow (the campus we all love to call hell; if only actual Hell were so pretty to look at and live in!). Hence, I say hopefully this is my last and I would be out of here before 'UP ki sardi' strikes the next time.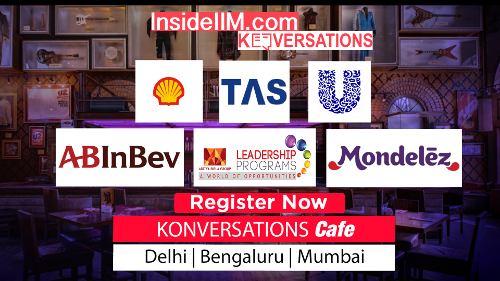 And as I write this, late night from the computer center, too scared to go back to my room, wading through near zero visibility of fog – I believe, it has been 'one hell of a journey'.
People reminisce about the year gone by. I am reminiscing about the PhD gone by 🙂 … When I look back – FPM from IIM Lucknow has been the single most enriching experience of my life – the decision that truly altered me in ways more than one.
So, four highlights of the past 4 years that just flew by, like time always does:
1. The invincible summer in me
Albert Camus said –
"In the midst of winter, I found there was, within me, an invincible summer."
Literally. And figuratively of course!
When I first came from Calcutta, it was a climate shock for me. I went from one jacket to one suitcase full of winter clothes and appliances. But I learned to cope, like so many others around me did. No matter how bad it got, things mostly always got better too. The invincible summer, the crazy winter and the opportunity to have bonfire parties in the middle of those foggy nights – are all memories that I would not trade ever for anything else.
This place is home now.
2. That one giant leap
I read the 'Autobiography of a Yogi' by Sri Sri Paramhansa Yogananda Ji first when I was 15.
Whatever I thought about my English reading abilities were in for a rude awakening. I did not understand much of it. But here at IIM Lucknow, I got a chance to revisit the literature (there are many perks of being a PhD student, some of which I can't really write here :)) and how!
In 2016, I became a Kriya Yogi and started meditating regularly. Life has not been the same. It feels like a tectonic shift!
I have seen many students and batches come and go from Lucknow. Not many of my age take interest in Spiritual literature and Indian philosophies. It is not considered cool. But the more I read, the more I realized that there are many many around me who need to start meditating regularly. They need to start yesterday!
A habit of meditation kept in check much of the anxiety that life at hell and the anticipation of life outside the gates of Hell was initially bringing to me when I started here. This place and this program gave me time for myself and allowed me the window and bandwidth to pursue one of the most important paths of my life.
I found my heaven while living in Hell 🙂
3. The art of letting go
Before I came here – I was incapable of doing this. I just couldn't let go – even a small conversation.
Coming to Lucknow was my first time living away from family. It was a completely new environment – one of extreme chaos and complexity. This place (or rather, any campus) has the ability to render you alone even in the middle of 1000 students going through similar things. That was because – I brought with me my ability to keep sweating the small stuff 🙂
I think it is truly a place of self-discovery. When you are forced to live with so many others, all on the same boat – you realize what kind of a person you are. Whether you are a leader or a free rider, a person of substance or a Globe-master, an introvert or a party animal, an 'adda-baaz' or a 'I-love-my-solitude' person.
And whatever you discover is fine. As long as you can let go of the things that you now know you are not about. It is also a very good time to learn to let go of people who can't be a part of your life. I think letting go of people when the need arises is one of the strongest qualities anyone can build in themselves!
IIM L taught me to let go of my fears, some of my vanity and a little of my sanity too :)… Jokes apart, if you are not watching, 4 years of campus can bring out the worst in you too!
4. Momentum or no Momentum
A few months ago, my friend and former colleague Akash Gautam came to IIM Lucknow for a workshop that was being conducted by Raymond. He spoke about a lot of things that differentiate excellence from mediocrity at a b-school and in life in general. One of the things that struck a nerve was the idea of momentum.
It does not matter what we want to be when we grow up. What we are doing today is our momentum and will decide where we end up. It is not enough to dream about being the best at your work, if you are not the best at what you are supposed to be doing right now. For e.g. It is not enough for me to dream that I will do good in research if I do not have anything to show for these 4 years of mine. Because what I am doing right now, is my true momentum.
I think the problem with many here is – no momentum. And no momentum is also a kind of momentum where the inertia of rest is very very high! And it is equally difficult to beat.
I know MBA is supposed to fun, among a lot of other things. But my 4 years here tell me – the chance of it remaining fun only – is very high unless one forcibly beats some discipline into the campus life – irrespective of what your brain tells you to do.
It might be the time of unlimited high-speed internet, series marathons and cool, cooler, coolest friends. But it is also the time for sprouting bigger wings and ensuring that we fly off in the right direction.
As I come to the last leg of my work, I know I will terribly miss this place (and probably even the foggy, hauntingly pretty winters too). But the thing that makes me happiest is – I will carry this place with me forever.
To Hell! With Love
Arunima Shah
I am a doctoral student in the Marketing area at IIM Lucknow. Currently, I am at the last leg of my PhD i.e. 4th year; and my thesis is on media choices in digital markets. Prior to this, I have done my MBA from Calcutta University. I am a Kriya Yogi, a writer, a reader and a blogger by heart. An introvert by nature, I have come to love IIM L as my home. I have worked as a freelance social media manager and content writer for a few years as well. My blog : arunimashah.com