To New Beginnings – IIM Ranchi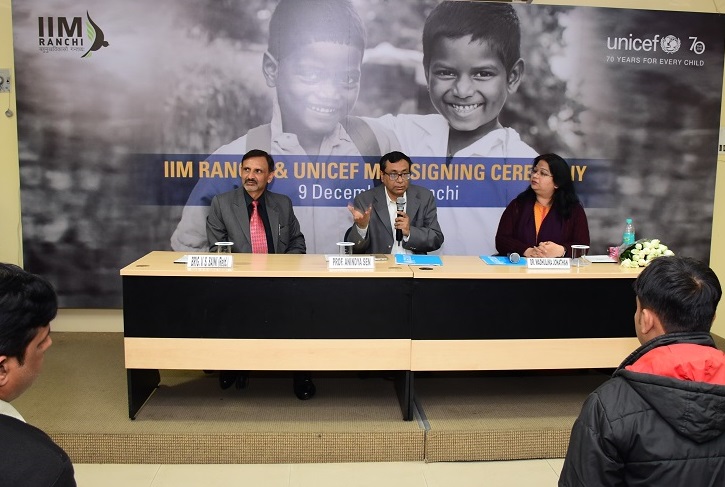 An MoU was signed between IIM Ranchi and UNICEF on December 9th, 2016. UNICEF is partnering with IIM Ranchi to set up a Centre for Policy Advocacy & Management (CPAM) to continuously advocate, engage and collaborate with policymakers and other stakeholders on child survival, protection and development issues.
Welcoming the initiative, the CAO of IIM Ranchi, Brig. VS Saini said that this enhanced partnership would help improve the lives of children and families in Jharkhand.
Dr Madhulika Jonathan, Chief of UNICEF, Jharkhand said, "We are glad to be partnering with IIM Ranchi on the occasion of UNICEF's 70th anniversary this year. UNICEF's mandate and innovation strategy focuses on expanding partnerships with academic organisations to be able to leverage new ideas, strategies and approaches to improving the development goals. To seek to reach the SDGs, UNICEF is seeking to go beyond short-term engagements to integrated partnerships that add value to regional activities, advance critical analysis and programming, and can have an impact on a large scale."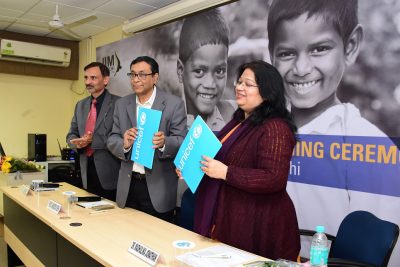 Addressing the students and guests, Director of IIM Ranchi, Prof Anindya Sen said that this initiative would provide a golden opportunity to the faculty members as well as students of IIM Ranchi to contribute towards the growth and inclusive development of Jharkhand. This opportunity will be the ideal platform for students to know of the ground realities, and be able to consolidate their efforts towards the betterment of the society.
She said that the engagement with IIM Ranchi would have CPAM host scholars, researchers and subject experts as a part of the Visiting Scholars Programme for identifying gaps, suggesting solutions and building an evidence base to influence and strengthen government programmes and policies. Advocacy seminars and conferences will be organised to increase awareness of students, companies, NGOs/CSOs and the civil society on child rights, sustainable development goals (SDGs), responsible business practices and corporate engagement. Capacity development programmes are planned for government officials and working professionals on management aspects and corporate social responsibility in partnership with Jharkhand Corporate Social Responsibility Council of the Department of Industries, Mines and Geology. The CPAM will also undertake documentation of innovative CSR work and best practices in the field.
The initiative also aims to provide stability and direction to innovative thinking so as to create a 'new policy environment' in Jharkhand for the successful implementation of policies taken up by the government. It also has a long-term vision of combating nutrition related issues in order to come up with a solution for malnutrition which is a gripping problem in the state. To further the cause of Swachh Bharat, awareness regarding sanitation would also be an agenda of this programme.
In addition to this, efforts will be made to document the CSR initiatives and practices undertaken by the people of Jharkhand. The students of Ranchi are enthusiastic about the prospect of working with the international body on this noble cause.