Transcending the crisis through innovation: IIM Rohtak organises Management Conclave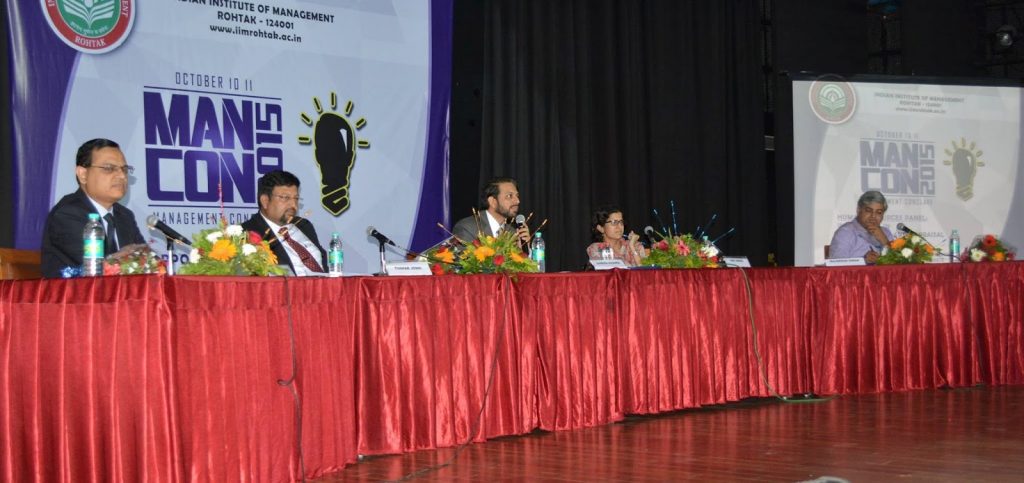 Mr. Sameer Khanna, VP and Head HR, Ericsson India, interacting with the audience. 

 
On 10th – 11th October, 2015, Indian Institute of Management Rohtak hosted its fifth edition of the two-day Management Conclave, its annual flagship event. "When the winds of change blow, some people build walls and others build windmills," the opening line of the management conclave is all the more relevant today. In this age of ever-changing consumer preferences, companies are constantly faced with challenges of ensuring customer delight. Turning these challenges into growth-triggers sets the winners apart from losers. The theme of the event was 'Opportunity in Crisis: Call for Intelligent Innovation.' The event was flagged off by Director Prof. P. Rameshan. It witnessed the presence of stalwarts from bellwethers of their respective industries.
Out of seven panel discussions over the two days, three panels scheduled on 10th October deliberated on turning adversity into advantage. The first panel discussed on the topic, "Shifting Marketing Landscape: Rapid Transformation of Marketing." Ms Chandana Agarwal, Managing Partner, Oglivy and Mather, remarked on the shift in ownership of brands from companies to customers. Mr Sharad Gupta, Group Head, Escorts Group, highlighted how integration of offline and online avenues of marketing can be a game changer. In a nutshell, the discussion revolved around the ever-increasing importance of consumer-driven marketing.
The second panel discussed about role of innovation in compensation and appraisal systems. Mr Sameer Khanna, Vice President and Head HR, Ericsson India, emphasized how variable salary drives performance of the employees. Mr Sandeep Tyagi, Director HR, Samsung Electronics, explained that yearly and half-yearly appraisals are giving way to on-going performance measurement processes. The panel also remarked the significance of inclusion of employees in devising compensation policies.
The third panel's discourse was on the topic "Structured Finance: Obstacles and Growth Opportunities". Mr Rajeev Gupta, Senior VP, Religare Securities Ltd. talked about the risks involved in issuing securities through Special-Purpose Vehicles. Mr Jitendra Kushwah touched upon the challenges faced by Airlines industry in keeping the cash flows afloat. Mr Vijay Chopra, CEO and MD, Enoch Ventures Pvt. Ltd. focused on importance of technology in ensuring financial inclusion and its impact in moving India towards a cashless economy.
The Management Conclave recommenced on 11th in which the fourth panel discussion was focused on managing operations and supply chain under market uncertainties. Lt. Col. Vikram Singh Mann, Indian Army shared how futuristic planning has helped his team in combating insurgents. The fifth panel discourse was on "HR Perspective on Employee Creativity in Organisation". Mr Abhay Srivastava, Senior Director, Dr. Reddy's Laboratories and Mr Vivek Tripathi, CHRO, Lava International shared their experiences in fostering a culture of innovation in their respective organisations.
The sixth panel discussed about the role of strategy in dynamically networked and digitized markets. Mr Vinaya Bansal, Founder, Predictive Strategy Group, and Mr Tarun Soneja, Director Strategy and Operations, Deloitte India emphasised that devising a strategy is just a means to achieving organizational goals; the end lies in its successful implementation. The seventh panel discussed about leveraging digital transformation in gathering intelligence for smart businesses. Mr Partho Banerjee, Head of Execution Excellence, Global Services, Nokia, and Mr Rakesh Kharwal, Director-Intel Security, McAfee threw light on the pivotal role of converting information coming from ever-expanding end points into meaningful insights.
The insights and experiences shared by the panelists engendered a great interest among the students. The insiders' view coming straight from the top executives of much-revered multinational companies was an icing on the cake. Through the Management Conclave, IIM Rohtak remains committed to championing the cause of creating awareness about emerging management challenges and finding their solutions.