All About U – Anirudh Singh, IIM Udaipur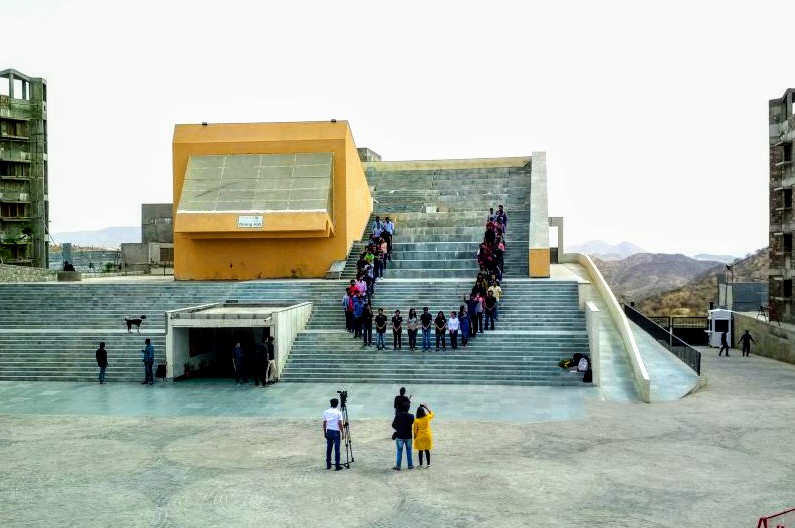 If an entity is unique, it is unlike anything else – the only one of its kind. For an educational institute to be unique, it's certainly a tough task to achieve. Most B-schools across categories – A+, A, A-, B+, you get the idea – try to be unique by being the only one in their tier to have stellar placements or attract global recruiters to hire their students. In all honesty, for a college in the IIM fraternity with a legacy of 7 years, it is difficult to achieve this distinction. This is not to say that global recruiters do not visit IIM U, because they do, rather it is not something which other IIMs have not been able to do.
For IIM Udaipur, there is a surfeit of other things through which it can claim that it is indeed unique. Here goes:
The surreal beauty – with the monsoons in their glory, the campus can as well be advertised as a holiday destination. Situated at the foot of the Aravali hills, the campus has adequate acreage for you to wish your classes were in the lap of nature. Nonetheless, with such a beautiful infrastructure being developed in a massive 300 acres of land, you would be grateful even if you could find a few minutes to appreciate what is around you.
Academics – it is indeed a matter of concern that the prime focus of B-schools (read students) is turning towards getting a big, fat paycheck every month after they graduate instead of fixing up things which would help them get it. Undoubtedly, and due to an absence of a better metric, this how one measures success, but in an academic setting, this does not hold true. IIM U strives to bring back this sanity. It has a razor-sharp focus on building the concepts that will not just help you in a 20-minute interview to land a high-paying job but will stay with you for a lifetime and help you succeed at every step of your career. Our focus is not just to be well-recognised in India but also become a shining light globally. That's the benchmark our Director has set for us, and focusing on academics is surely a wonderful way to achieve it.
Culture – For many of us, a master's degree is probably the last stint to being a student. This is also when most of us are in our early twenties and graduate after hitting the age of a quarter-century. Essentially, what I am trying to say is that we are at a mature age. Whatever we learn here as humans, not just students, for the 2 years we spend here possibly stays with us and reflects in our behaviour. Therefore, the kind of values the institute instils in us is paramount. One of the core values of IIM Udaipur is mutual respect and it shows in everybody from the Director to the guy serving you food in the mess. For me, personally, having inculcated such a precious habit of treating everyone in my ecosystem respectfully is a major takeaway which, although, won't be reflected in my CV but make others feel valuable. This is just one of the so many invaluable gifts that IIM Udaipur surprises you with.
Which Aditya Birla Group would I like to work with?
I would love to be a part of and contribute to the growth of Aditya Birla Fashion and Retail Limited. The reasons include career aspirations as well as an identity resonance.
Professional Outlook: With the changing face of retail and an immense transition in how the customers view brands, it has become exceedingly difficult to stay relevant. Therefore, it is a professional ambition to become a part of this phase and come out on top. Needless to say, the retail industry in its present phase has a lot to offer in terms of learnings and growth opportunities. Lastly, the retail industry is such that, for a manager, every day is different – requiring you to always be on your feet and doing things differently on a continual basis.
Personal Outlook: I have been wearing one particular brand in ABG's portfolio since as far as I can remember – Louis Philippe. From the professional look to a casual getaway, LP has excelled in all the fields it is a part of. Since, clothes reflect your personality, wearing any product by LP gives me a sense of versatility with which I closely relate. And as far as a job seeker mindset goes, you always want to work for your favourite brand.