Unique And Enthralling Experience – Kasani Ravi Shankar, FMS Delhi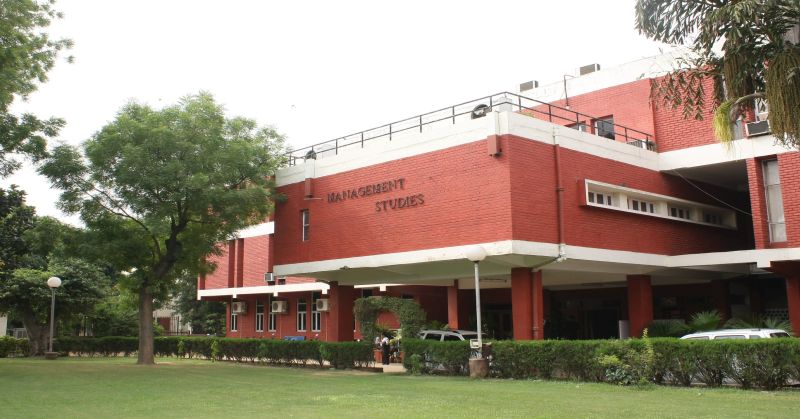 Besides being the marketing campus of India and the college, which can give the best ROI for the MBA course not only in India but also in the world probably, FMS Delhi offers a unique and enthralling experience for an MBA graduate. The remarkable part is the belief in the experiential learning and the implementation of it is mindboggling on a large scale. Being the premier Bschool in India, no doubt FMS has the best faculty, but what amazed me is the quality of knowledge, the seniors transfer to the freshers. FMSites believe in lifting others with themselves and believe in competing not with their fellow mates but with the students of top B-schools such as Harvard, Kellogg. Finally, there are no individuals in FMS, there is only a batch that stands for everyone.
A memorable classroom experience in my B-school
As I just entered my dream Bschool that is FMS, every day has been memorable up till now, but if I have to pick up one experience, then it has to be my second class of the first semester taken by our beloved Dean Prof. Sunita Singh Sengupta. I was enthusiastic and felt nervous at the same time as it was our Dean taking the class. I was awed by the level of openness displayed by the madam, there was an active participation by the class. But the memorable thing is that I raised my hand to give my opinion just for the desperate class participation and intended not to be noticed in the group. But I was chosen to give my opinion. But to my surprise, dean madam obliged my viewpoint and continued discussing my points for fifteen minutes meanwhile reminding me as the individual who raised this point. This instance would be remembered for a long time because it is the first time I was involved in such a discussion that too by my Dean madam made my day.
Introducing – some of my crazy batchmates:
Akhil Lanka:
He is a mechanical engineer from NIT Bhopal. Though being a fresher, I was always fascinated by the level of maturity and organizing skills he displayed. He has tremendous speaking skills which I was able to see, he knows exactly how to speak with a particular type
of person and get things done. The craziest thing about him is being the youngest guy in the class he behaves as though he is an elderly guy and alleges others being childish in fact he behaves childishly. Hope he reaches his dream company.
Siddhanth Arora:
Siddhanth Arora, a Delhiite, from shaheed sukhdev college of business studies, is one of the most intellectual and determined guys I have ever met, though I have only a few conversations with him, I listened to his thoughts when he presented in the class and
competitions on various topics. He is always different in the way he projects things, in one of such cases, during a competition that is face-off between two selected groups, I was awestruck when he displayed his thoughts which had depth and sense of humor. I am really looking forward to spending a lot of time with him for his insights.
Deepthi:
Deepthi a girl from Andhra and worked in Accenture Chennai, became a friend in need when I am desperate to talk with Telegu people. With the kind of workload, everyone needs a laugh here and there and she served the purpose with her wittiness especially in my mother tongue which was much more soothing. Coming to the part of craziness, she is on the next level with her ability to produce humour in worst conditions and unwithering attitude. Hopeful of having great days with her in these two years.
Himanshu Makhija:
Himanshu, another Delhiite, another engineer from Delhi Technological University. In one of the competitions, I was fortunate enough to be a mate with this guy. As a part of the competition, we need to interact with the people. We all had different plans to proceed, when we actually entered a metro train, he started shouting "Ladies and Gentlemen" in a typical Delhi Hindi slang, sang songs and danced with other team mates in a packed metro train. I was dumbstruck and watching all this standing aside. The way he moved with ease among several hundreds of people is just remarkable. I used to see these things in movies and pranks, but to pull it off in real, it is the craziest thing I ever saw.
Which ABG company would you want to work for and why?
I would like to be a part of Aditya Birla Retail Limited. I feel strength and passion lies in marketing and sales. Especially in the current scenario of emerging E-commerce, it would be a great challenge to develop and expand the retail business. In the wake of apps like big basket, grofers, it is important to be more vigilant in retail market. I find this as an opportunity to showcase my skills in the retail market. ABG is a strong brand and More supermarkets are on a rise. It would be a great learning experience for me to be a part of such prestigious brand and to analyze the business which is on a large scale.
Placement Cell FMS Delhi
Established in 1954, FMS has been a pioneer in India offering management education. FMS has the unique advantage of being a premier 'B-school' in a University milieu and in the national capital, thus offering valuable opportunities for our students in interdisciplinary learning and to undertake live projects from national/ international organisations. FMS is proud of a long list of illustrious alumni. It has rich legacy and history of producing World Class Business Leaders who are ranking stalwarts in Top MNCs across the globe.