The Unique World – IIM Kashipur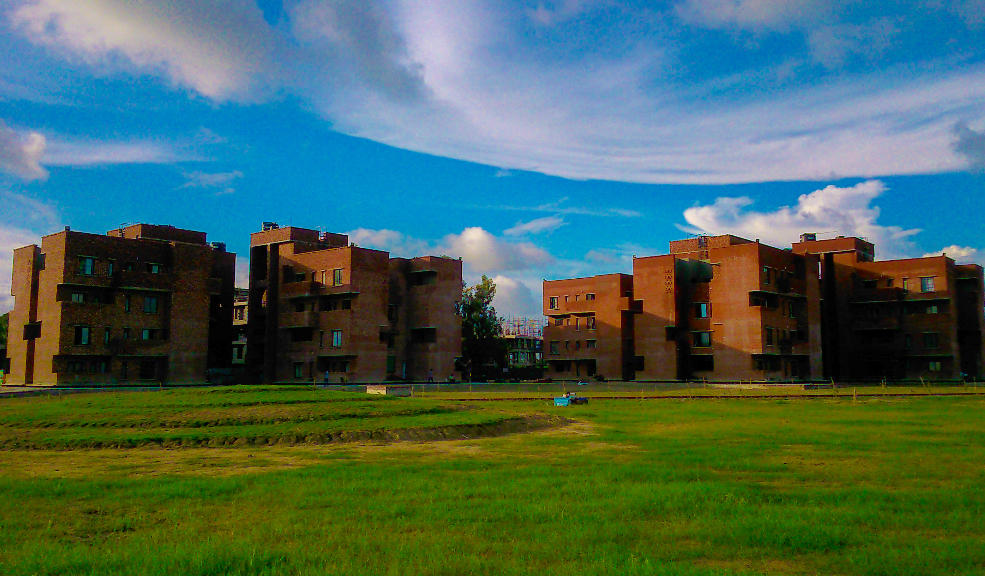 As a professor quoted on a bright sunny day, "IIM Kashipur is like a start-up, which would grow with the efforts of all the stakeholders associated with it." This is the very gist of life at IIM Kashipur. I've been a student here and I already feel this is my second home. There are a lot of emotions I would love to share, ranging from the excitement and nervousness from the day I boarded the cab from Delhi to Kashipur for the first time, to the gloomy day when our seniors boarded the IIM Kashipur bus for the last time as a student, heading for a better future with memories etched onto their mind.
I'd love to share some insights about our massive campus, and then give a short description of how we live, survive and play in our campus.
Rumble in the Jungle – I believe this event is exclusively limited to our campus, given our proximity to the Jim Corbett National Park (oh yes, it's at a stone's throw away). This event happens in two rounds. The first quiz round is held in a campus, and ten teams are selected as finalists. Then, the final round is held in the Jim Corbett National Park. Yes, you heard it right. We have the final round in the Jim Corbett National Park and two teams (Winners and runner up) get the opportunity to explore Jim Corbett in a safari!
Scenic Beauty – If you're tired of the daily routine of lectures, just come outside of the academic block, and sit in the amphitheatre. Watching the mountains far away, and the clouds overlooking them, is definitely a luxury very few can afford to have. Also, at any point of time, ranging from 4pm to 4am, you will find students engaged either in volleyball, or football, or cycling, or cricket, or learning to ride a bike.
Anti-pollution – Our campus is situated amidst a lush green forest and away from the hustle-bustle of city life. This helps us to stay away from both the air pollution, and the noise pollution which is commonplace in the cities. So, to have a cleansing of your mind and freshen yourself up, our campus is the best place to be.
Mountaineering – Every year, a good number of students of the graduating batch go for the Everest trek. One of our alumni has been successful to scale the Base Camp of Everest. Similarly, a lot of other alumni members have been successful in travelling to difficult places like Pangong Lake (Chinese side), Nanda Devi etc.
Bikes and Cycles – Oh yes, how I can forget this aspect. We are allowed to keep/bring our own two-wheelers on the campus. Be it Bikes or Cycles; we can use it to the fullest. We have both, a bikers club and a cycling club. The bikers club is so active, that they hold a long trip at least once a month. It is also a part of culture we have set up here, that if you don't know how to ride a bike, you definitely learn it by hook or crook at IIM Kashipur. And one of our female members has beautifully mentioned her experience of the bikers club at IIM Kashipur on InsideIIM. Not only that, the ex-director himself used to join the students on their bike trips to difficult places liked Auli, Uttarkashi, etc.
Last but not the least, the micro-environment we have created inside the walls of our IIM Kashipur campus, thrives because of our co-operation and care for each other. You see the same faces every day, and you are already a part of the IIM Kashipur family the day you join the college. It is all of us, who believe in ourselves, and each other, and the extended belief in the entire system, which makes miracles happen. And the best part is that everyone knows everyone. So, even if you are competing with each other in various aspects of the B-School life e.g Academics, Inter-Section wars, Case competitions, Inter-year wars, Placements, you will find a good number of people cheering you up even if you have lost. This spirit of ours, keeps us alive and kicking, amidst the rigor we inherited from our mentor institute.
I would like to work under any company under Aditya Birla Fashion and Retail Ltd. because I'm currently pursuing a major in Marketing and an opportunity under Aditya Birla Fashion and Retail will help me to utilize my theoretical knowledge, skills and case solving methodologies in real life scenarios. Aditya Birla Fashion and Retail Ltd (previously Pantaloons) is the company which is functioning under the fashion retail division of Aditya Birla Group. It consists of approximately 1500+ premium outlets and 320+ departmental stores across the country. Also, it includes the exclusive brands like Allen Solly, Louis Philippe, Van Heusen etc.
It will be definitely a great experience for me if I am given an opportunity to be associated with the Aditya Birla Fashion and Retail Ltd. And I believe I will gain significant learning from my seniors, peers and juniors at ABFRL.
– Depanajan Chowdhury