Uniqueness Of MDI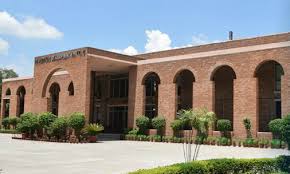 The word 'unique' in general describes something which is one of its kind. However, I would like to put it more like something particularly remarkable about my fellow mates, faculty and our campus. The uniqueness of our campus lies in the unique mix inherent in its students and faculty and the strong bond that we share amongst us. Student here comes from diverse background, carrying and sharing their culture, experiences and learnings with them, which they exchange with each other for mutual benefit. Not so long back, when Professor Neera Jain was conducting a classroom session on Business Communication, she invited each of us to share a story of our own within a few minutes and also explain our learnings from them at the end. And as it began, we discovered a plethora of varied experiences and learnings. Several layers of emotions and outlooks unfolded before us, one by one, going deep making us realise how we are a small part of a big world; strong yet connected and powerful.
In one minute, we were paragliding and imagining the thrill of wing suit flying and in another we were transported to the grim aftermath of 9: 11 in U.S.A. For once, we were exploring the internal bliss seeing the orphans overjoyed, our efforts being the reason behind it and then again we were discovering the hardships of learning to swim. The thing to be noted here is that, we didn't just heard the stories, we lived them in those few minutes; we learnt not just the art of public speaking, but also life experiences. We discovered a part of ourselves; a part which a leader should inculcate to lead his team to victory, a part that works not only for itself but for and with others, a part that isn't contended but screams for learning, passion, independence and self-actualisation. These learnings, varied experiences, outlooks and the strong bond of being a Mandevian that weaves us into one is what is remarkable and unique about us. To put it concisely:
We are varied outlooks, varied mind;
Diversely united, we are one of a kind
Coming to which Aditya Birla Company I would want to work for; the entire Aditya Birla Group in itself is an excellent organisation to work for, providing encouraging work culture. However, given a opportunity,  I would want to work for Aditya Birla Retail Limited. One key reason behind this is product passion. I can associate myself with the products offered under this category, the fact that I can play a part in the massive impact that FMCG and other products have on the lives of the common masses fascinates me. Moreover, it offers learning from diverse disciplines and also provides diverse career opportunities. It is a stimulating, fast paced, challenging environment which would not only lead to accelerated career growth but my growth as a person as well. All in all, these are the major reasons as to why I want to work in Aditya Birla Retail Limited.