Uniqueness Of MDI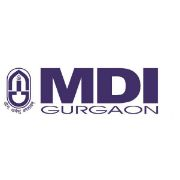 Uniqueness of MDI:
One thing that makes MDI campus unique for me is the beautiful campus itself. MDI Gurgaon is undoubtedly considered to be one of the top B-schools in the country. It is renowned for having partnerships with many elite universities and institutes all over the globe. Apart from this, the campus is spread across 40 acres of land.
The lush green campus of MDI provides the liberty to enjoy as well as to do what it takes to build a great future. The aesthetically designed campus is strategically located in the corporate hub of Gurgaon, Haryana. The memory of my first day at MDI is still clear in my mind. I was in awe of the picturesque campus and blossoming green environment. The campus is indeed a treat to watch. I feel that the campus does not fail to provide a creative and serene environment for the students to quietly imbibe and learn amidst all the industry action. Apart from the peaceful environment, the campus is very much lively as the Mandevians are always busy with some kind of activities throughout the day. Lastly, I would say that I am proud of being a member of the Mandevian community and I will cherish to be a part of it throughout my life.
Which ABG company I wish to join and why?
The Aditya Birla Group is one of the biggest conglomerates in Indian hires. I wish to join Aditya Birla Fashion and Retail Limited as an Assistant Manager Brand HR.
ABFRL brings together the learnings and businesses of two renowned Indian fashion icons – Madura Fashion & Lifestyle and Pantaloons Fashion and Retail. ABFRL is India's No 1. Fashion Lifestyle entity with a combined revenue of Rs.7181 crores for FY 2018 and EBITDA of Rs.501 crores for FY 2018. Madura Fashion & Lifestyle is the custodian of several icons, including the top four fashion brands of India – Louis Philippe, Van Heusen, Allen Solly and Peter England. Pantaloons today retails over 200 licensed and international brands, including 20+ exclusive brands.
As an Assistant Manager Brand HR, I will be able to formulate and implement recruitment strategy and procedures to ensure suitable talent gets acquired for the organization. Also, I will be solely responsible for designing and facilitating employee induction and orientation along with engagement initiatives in line with organization requirements.
Therefore, it is my goal to hold such a prestigious position in one of the most renowned companies in India.