'Unless you act, knowledge is not going to be useful' – Shri Harkesh Kumar Mittal at IIM Calcutta's 15th Institute Lecture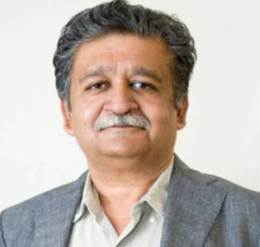 Over the years, IIM Calcutta has seen a fair share of its students take the entrepreneurial road. After the recently conducted Institute Lecture series (ILS), that number is sure to move up a notch. IIM Calcutta held its 15th Institute Lecture Series on 14th November, 2014, hosting  Dr. Shri Harkesh Kumar Mittal, Adviser and Head of the National Science & Technology Entrepreneurship Development Board (NSTEDB).  Soon after an MBA from IIM-Ahmedabad in 1984, Mr. Mittal joined the Entrepreneurship Development Institute of India and promoted grassroots entrepreneurship, particularly in states like Sikkim and Orissa. He has been with the Department of Science and Technology (DST), Govt. of India for over two decades now.
Amidst an eager crowd, Dr. Mittal started off on a hilarious note when he recounted his foray into teaching entrepreneurship rather than being an entrepreneur himself. A serendipitous one day seminar at the newly founded Entrepreneurship Development Institute of India on the insistence of his professor during his IIM Ahmedabad days turned out to be a bit longer than the two year stint he had envisioned. And thus, he gives a very important message to budding entrepreneurs: "Action is more important than knowledge. Unless you act, knowledge is not going to be useful".
Dr. Mittal feels that India consistently produces top notch students, as can be seen by their exceptional performances in the international Olympiads but lacks the environment and the eco-system to encourage these students to take risks. Indian Entrepreneurs have been successful in developing solutions to local problems on both a local and global scale, along with tackling global problems, but haven't been able to scale up their businesses. He cited examples of Shantha Biotech providing cheaper and viable solutions to fatal diseases like Hepatitis-B and a team at Nirma University developing a product to stop bleeding almost instantaneously among others. These are effective solutions but constant innovation is needed to scale these up to the global standards.
Yet, he is optimistic about the changing trends. He gave an example of Suhas Gopinath, who at the age of 17, became the youngest CEO in the world. He shared interesting anecdotes about Suhas' inspiring journey and how he turned Global Inc. into a multinational IT company. He also expressed happiness at the imminent launch of the Innovation centre at IIM Calcutta in the coming month. The innovation centre would serve as a sounding platform for any ideas from the student community and would also be backed up by a seed support system to try out these ideas.
Dr. Mittal reminds us that we shouldn't be bogged down by the sophisticated jargon surrounding business and entrepreneurship. He put it in a nutshell when describing business as 'providing service to others'. Dr. Mittal said, to conclude, "It is possible to use technology and entrepreneurship for the benefit of the masses. It's important to make money but it is also important to distribute and share it." After his inspiring lecture, the road less traveled seems to be an enthralling one.