Vision Of The Vanguards – SIBM Bengaluru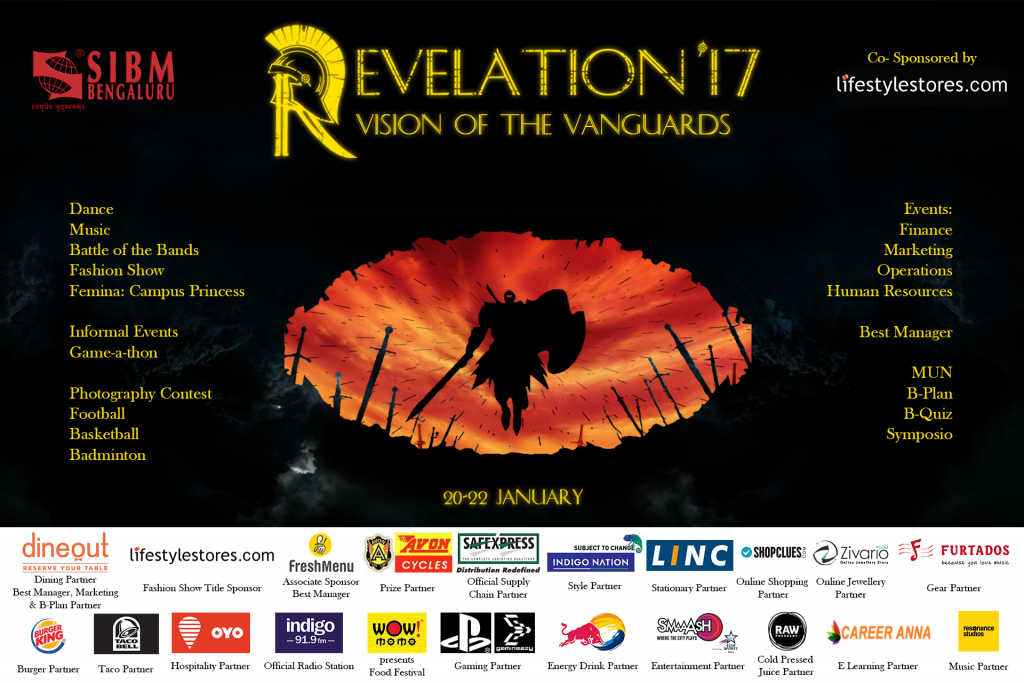 Revelation is South India's most resonating Management, Cultural and Sports festival driven by the confluence of analytical and creative minds at SIBM Bengaluru. Revelation 2017 intends to dwell into the vision of the future managers and their ability to come up with solutions for different challenges that they would face in the fast-paced world.
It is the fifth edition of Revelation and this year's theme is 'Vision of the Vanguards'. The theme aims to depict that the sight of vanguards in a battlefield is invaluable. Drawing this analogy, having a clear view of the future and to plan accordingly beforehand for obstacles so as to have a smooth path is what the theme aims to promote. This year, Revelation 2017 has under its wing, over 16 events spanning across four verticals – Management Events, Cultural Events, Sports Events, and Femina Miss India 2017.
Revelation 2017 will also be hosting the famed 'Femina Miss India 2017 – FBB Campus Princess' where aspiring models from across the country will flock down to SIBM Bengaluru campus to win the coveted title. Ms. Sushruthi Krishna – 1st runner-up of the previous year's competition, will be judging this event.
Date   : January 20st -22nd, 2017
Time  : 8:30 A.M. to 6:00 P.M.
Venue : Symbiosis Institute of Business Management (SIBM) Bengaluru
#95/1, #95/2, Electronic City Phase-1, Hosur Road, Bengaluru 560100
Website : www.revelation.sibmbengaluru.edu.in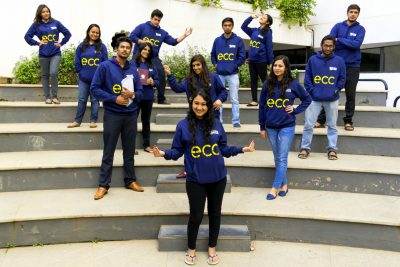 Please find the information regarding 16 constituent events of Revelation 2017 below:
Management Events
(Open to only B-School Students)
Model United Nations (MUN): Model United Nations is a national platform to debate, discuss, convince and decide on what changes ought to be brought, so that we can seek solutions for the greater good.
Colossal Clash (Best Manager): The colossal clash is the crowd puller where a participant is tested on his/her ability to handle extreme pressure and their hold over every vertical of management. It is a 35-hour exhausting event with no breaks in between, where the brightest minds across the country compete to emerge as the ultimate victor.
 Markquest (Marketing): Markquest will compel the participants to apply the concepts of Marketing to explore all the red oceans and create some blue ones.
  Finascere (Finance): Finascere is back with an opportunity for all the management students who can flaunt their skills and be the best of Dalal Street.
 The Prime Cohort (Human Resources): Aspiring managers tackle real life situations, analyse the problems, apply the hierarchy of needs, motivate yourself, overcome all the odds and emerge as the 'Centurions of the Prime Cohort'.
Opvorhuts (Operations): This event is based on the obstacles related to the operating procedures of a firm. The various rounds will test the competitors on their ability to handle problems and improve the efficiency and success of a firm.
Pratishthan (Business Plan): An idea, a blueprint, a technology, a product and a budget along with the spirit of entrepreneurship, perseverance and passion. Connect them all and there it is, a great start-up idea. And this is the platform to pitch the idea!
Concours (Business Quiz): The nerve-wrecking tension to answer the volley of questions, thrown at contestants, in the minimum possible time, the anxiety to press the trigger before everyone else!
Symposio (Paper Presentation): Symposio provides a platform to those who have the ability to find out what others can't – those who have done great research on key aspects of management and written scholarly articles on it.
 Cultural Events:
Razzmatazz (Dance)
En Vogue (Fashion Show)
Rhapsody (Singing)
Euphony (Battle of Bands)
Sports Events:
Smash (Badminton)
 Hoops (Basketball)
Futsal
SIBM Bengaluru
Ever since its inception in 1978, SYMBIOSIS has been synonymous with progress. The trend of progress has been continued by setting up of SIU's first campus outside Maharashtra at Bengaluru in 2008. SIBM Bengaluru is now one of the leading B-Schools of the country. The focus, now, is on matching global standards of management education. SIBMB instills a work culture which is unparalleled among various institutions. It provides a holistic approach to management which goes a long way in creating a dynamic identity. Vibrant student associations and committees complement the program with a number of activities involving institute-industry interaction.