Welcome to IIM ……. Welcome to Amritsar!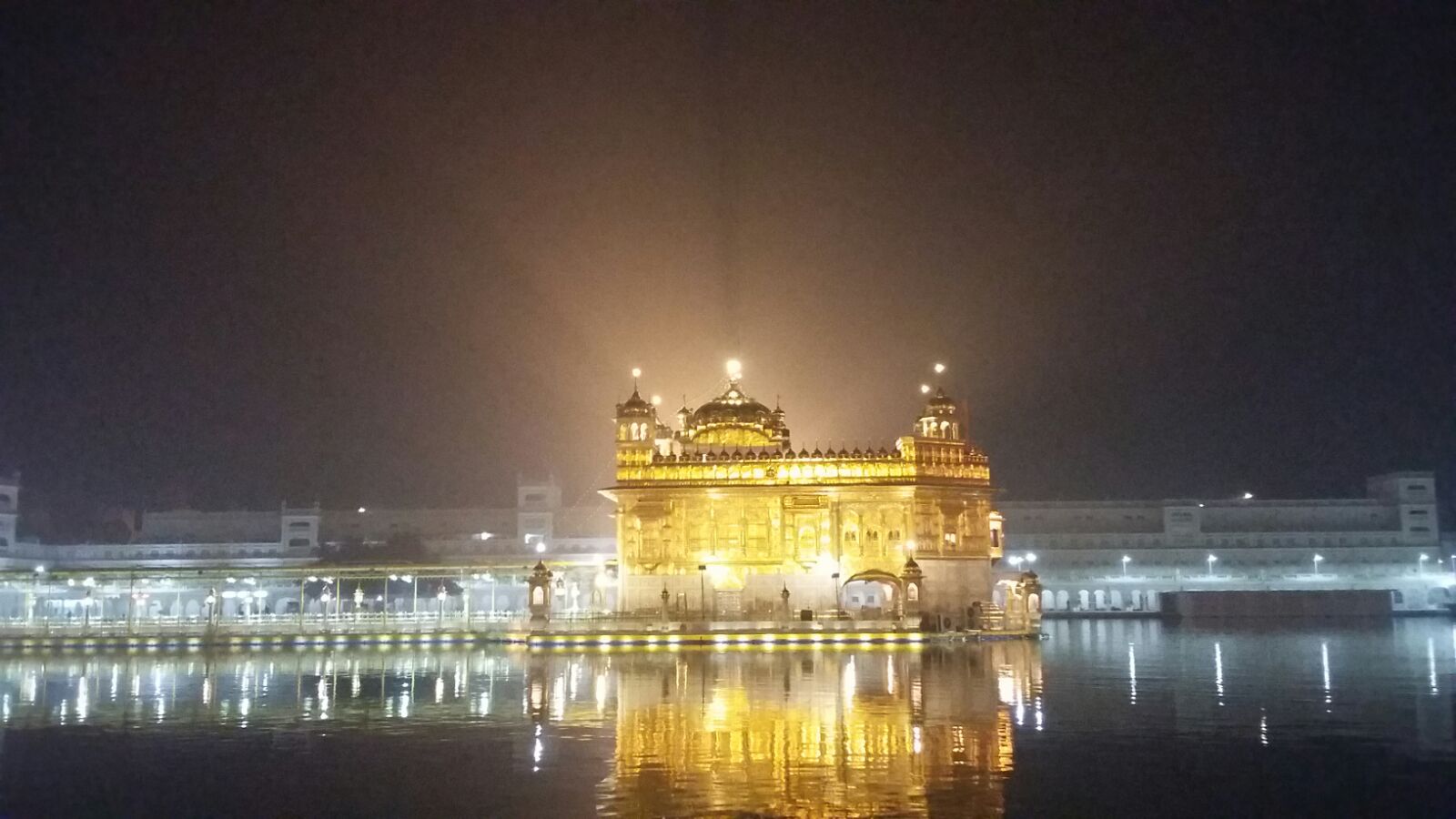 Aesthetically appealing, accessible, soulful, lively and one of the most happening cities of India….!!!
It is Vaisakhi today and my heart goes to the sacrifice and courage of the martyrs who lost their lives in the Jallianwala Bagh massacre on this day 96 years back. This date 13th April is giving me a reason to sit and analyze that what this city has offered to the generations over the centuries. While I introspect, it feels great to recollect the memories of past 9 months and since this trendy & traditional city is the witness of this journey, it becomes imperative to share the uniqueness of Amritsar to you all. So what is so special about this city and why you should come to Amritsar, here are some reasons:
⊗Amritsar, one of the largest cities of the Punjab state in India is well connected to most other major cities such as New Delhi, Mumbai, Calcutta , by an extensive network of rail system. There are around 680 stations directly connected from Amritsar Junction railway station. Total of 150 trains departing and arriving at Amritsar Junction makes it easy for anyone to approach the city via train.
⊗The city also provides air connectivity to major Indian cities, as well as foreign cities such as Birmingham, Toronto, Dubai, Singapore, Tashkent, Ashgabat, London etc. from Guru Ramdas International Airport (formerly the Raja Sansi International Airport).Amritsar's international airport, Sri Guru Ram Dass Jee International Airport, has more than 160 domestic and international flights during the week with daily connections to Delhi, Mumbai, Kolkata, Chennai, Bangalore, and Srinagar in India and international flights to London(Heathrow), Birmingham, Melbourne and Sydney via Delhi. It also has direct flights to Doha, Ashgabat, Kualalumpur, Tashkent and Dubai.
⊗Amritsar is located on the historic Grand Trunk Road (G.T Road), also known as National Highway 1, and therefore very well connected to the road network. Daily bus services run to and from Ambala, Patiala, Delhi, Chandigarh and Jammu. Rs 450,000,000 is being spent to expand the Amritsar-Jalandhar stretch of G.T. Road to four lanes.
⊗For transportation within Amritsar city,rickshaws,auto rickshaws,taxis and buses are easily available.
⊗Amritsar is home to the Harmandir Sahab (commonly known as the Golden Temple), the spiritual and cultural center for the Sikh. Interestingly foundation stone was laid by a muslim, Mian Mir, who was a popular Sufi Saint of that time and friend of Guru Arjan Dev Ji. There are four entries to the temple from all sides which say that it is open for people coming from all the faiths, caste, creed, etc. This important Sikh shrine attracts more visitors than the Taj Mahal with more than 100,000 visitors on weekdays alone and is the most popular destination for non-resident Indians (NRI) in the whole of India.
⊗Shree Durgiana Tirath in Amritsar is a focal point of faith for Hindus; the Hanuman temple here, believers hold, has the foot prints of Lord Hanuman himself. After Ayodhya, this place, it is said, is dearest to Lord Hanuman.
⊗It was at the Kahiur-ud-din Masjid in Amritsar that Tootie-e-Hind Shah Attaullah Bukhari had first raised his voice against the British. A political leader and religious scholar, Syed Ata Ullah Shah Bukhari is believed to have played an important role in germination of great anti-British feelings in Indian Muslims.
⊗Jallianwala Bagh, the 6.5-acre garden site and holiest shrine of Sikhism houses a memorial of      national importance, established in 1951 by the Government of India, to commemorate the massacre of peaceful celebrators. The Bagh still has walls with visible bullet marks from the infamous massacre.
⊗Wagah Border : Indo-Pak Wagah Border in Amritsar gets about 30,000 visitors on a daily basis. On weekends, the numbers go up. Often referred to as the Berlin Wall of Asia, Wagah Border is the one and only border road crossing between India and Pakistan, the two uneasy neighbors.
⊗ The magnificent statue of Maharaja Ranjit Singh in the Rambagh Gardens (formerly known as Company Garden) is an inspiration for every generation. You won't find another statue like this.
⊗ The Harike Wetland here is the largest in North India. It is a bird-watchers/ornithologists' site. Some of my colleagues at IIM Amritsar have also carried out an environmental management research here.
⊗Durgiana Temple, Tarn Taran Sahib, Mandir Mata Lal Devi, Maharaja Ranjit Singh Museum, Dukh Bhanjani Ber Tree, Gurudwara Bir Baba Budha Sahib, Maharajah Ranjit Singh Panorama, Goindwal Sahib, Company Bagh, Gurudwara Chheharta Sahib, Gandhi Gate, Rambagh Gardens, ISKCON Sri Sri Radha Gokulananda Temple, Pul Kanjari are some of the go-to places for devotees and history , art & nature lovers.
⊗If you accompany your friends or relatives and want to splurge then Hyatt Amritsar, Green Acres Haveli, Hotel P.R. Residency, Ranjit's Svaasa, Grand Legacy, Ritz Plaza, MK Hotel, Hotel AJ Regency, Hotel Swarn House, Country Inns and Suites By Carlson, Country Inn Hotels & Resorts, HK Clarks Inn are some of the nicely refurbished deluxe hotel accommodation coupled with the historical wonders the city has to offer.
⊗Whether you are a foodie or not but if you are in Amritsar, I bet Amritsari food's aroma will surely make your mouth water. Some of the famous vegetarian food joints in Amritsar are Kundan Da Dhaba, Guru Di Hatti , Ravi Da Dhaba . The Kesar Ka Dhaba in Shastri Markets gets offers to open branches in London, Paris, and Berlin every year. The owners are happy with the premises and the food that they have been serving for over a century. They offer good Punjabi food made in pure ghee. Daal Makhni is worth trying here. Lachchedaar paranthas and palak paneer – these are the best in the world here! For non-vegetarians the original 'Cream Chicken' originated at Chawlas' Chicken in Amritsar. You won't find it anywhere else like you do it here on Lawrence Road. Makhan da Dhabha, is also a famous non-veg point. For Italian cuisine ,Pizzerria is one stop for all. Famous Crystal-chowk is a place to go if you want to enjoy all varieties of food be it Chinese, South Indian, Bengali or continental at one place in an open space. Country Inn & Suites, around the corner of Bhandari Bridge also serves up great Indian, Italian, Continental and Chinese food. Brothers Dhabba or Bhrawan Dhabba, are two nearly identical restaurants right next to each other near Town Hall. Both highly rated. Brothers' "Amritsari Kulcha" is to die for! How can the meal-deal be complete without a lassi ?? The lassi at Ahuja's Lassi wala near Hindu College is the best; when in Amritsar, do not miss out on this yummy drink. Locals believe that it cannot be replicated elsewhere on the planet!
⊗For all the art connoisseurs, Punjab Naatshala is a famous theatre to visit. More than the great plays you would surely visit this theatre for its technology, multi-dimensional entry system, fragrance, feel, atmosphere, amenities, comfort, refreshment and stage settings.
⊗Those who look for food courts, department stores, gaming zones, multiplexes, stand-alone stores all under one roof, the malls like AlphaOne, Trillium, Celebration would provide you a great variety of stores and shopping opportunities.
⊗ Local shops for shopping at Hall Gate, Haathi gate , Putligarh chowk, Hall Bazaar, Rani Ka Bagh Market , Lawrence Road, Golden temple market, Katra jaimal singh market provide a good shopping option with reasonable pricing, although you can still bargain a little. The phulkari shawl, available in Amritsar, is a must buy for women when in the city. The patterns and the designs are so unique to Amritsar and all of Punjab. Also, the famous Amritsari Juttis that go well with traditional Indian/Punjabi dresses for functions and parties are available in different varieties at reasonable rates in the Hall gate bazaar for both men and women.
⊗Famous personalities such as Akshay Kumar, Kiran Bedi, Jeetender, Rajesh Khanna and of course Kapil Sharma were born in Amritsar. Great personalities like Manmohan Singh, Navjot Singh Sidhu, Mohammed Rafi, Yash Johar, Jeetendra, Deepa Mehta, Dara Singh have also resided here.
⊗ Amritsar is endowed with different cultures, religions, traditions, art & handicrafts, architectural styles, music and literature and to conserve historic and cultural resources in the city National Heritage City Development and Augmentation Yojana(HRIDAY) was launched on 21 January 2015 with the aim of bringing together urban planning, economic growth and heritage conservation in an inclusive manner to preserve the heritage character of Heritage City. With a duration of 27 months (completing in March 2017) and a total outlay of ₹500 crore (US$74 million), the Scheme is set to be implemented in 12 identified Cities including Amritsar.
⊗In rarest of the rare case, if you are fortunate enough to get a day or two off from classes , quizzes , presentations, assignments , projects ,committees all at the same time, don't miss out to check in Dharamsala, Mcleodganj, Jammu, Chamba, Dalhousie, Vaishno Devi, Kasauli all lying in close proximity of around 200-250 kilometers. And if you can manage your time well (which I'm sure you'll learn pretty fast once you get in 😉 )  Kufri, Kullu, Dehradun, Manali, Haridwar, Rishikesh , Mussoorie, Pahalgam, Srinagar are the best places to explore during such charmed vacations.  
 If MBA is what you want to do , IIM is definitely the place to be , at least in India. If it is about spending two years in a town and becoming the change leader of tomorrow then Amritsar proves to be a city worth living because your personality grows holistically when you live in such a culturally, historically and traditionally rich city. So if you are blessed to get Amritsar as your next destination for management studies try to take a dip in the sacred pool of Harmandir Sahib because it is said that that there is a fish with a gold ring in its nose and if you happen to see it, luck is coming your way in truckloads.
 Amritsar is currently a safe and welcoming city and the accommodating people would be more than glad to embrace you with open arms. Helpline of your first friend in Amritsar is +91-8591084931/+91-8953040027 (whatsapp) 🙂
—–
Aditya Kr. Yadav
PGP01
IIM Amritsar