What's With The Emirates Airline Free Ticket Scam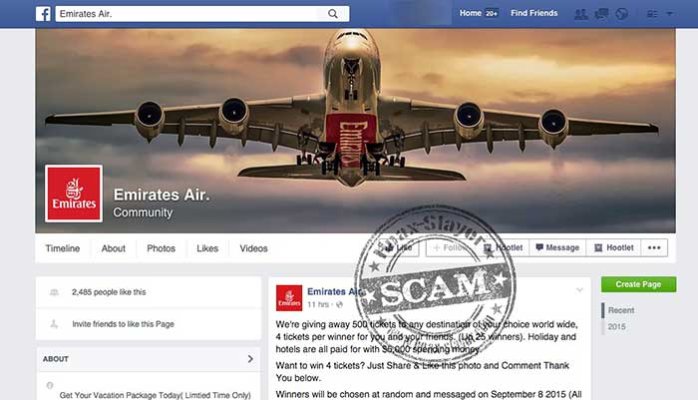 A chance to win Free First Class tickets for an entire year for 2500 lucky people on Emirates Airline!  Looks exciting right?  So, what do you need to do to win this?  Very little- if you were to go by the Facebook post that is currently doing the rounds.  Can you actually win anything here? The answer is 'No', this whole thing is a scam.
If you consider the publicity the airline gets, the scheme seemed to be a creative one.  The only thing is that the airline had nothing to do with it.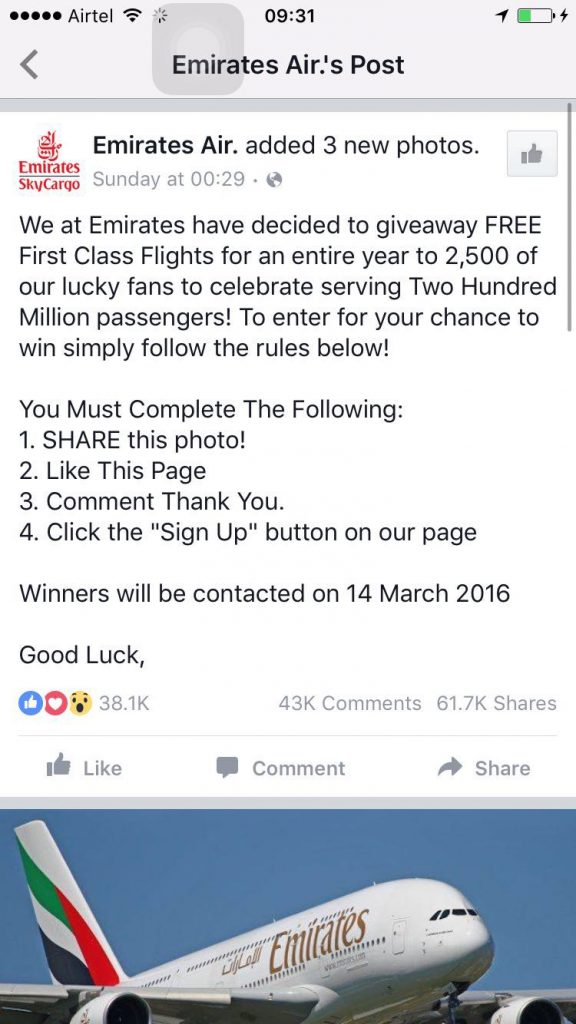 Facebook post running a Fake offer of Free First Class Tickets on Emirates Airline that closed on 14th March 2016
As of this morning, 38100 people have liked this post, 43000 people have commented on it on their Facebook pages and 61700 people have shared it.
Clearly, this so-called promotion offer has got substantial eyeballsconsidering that an average Facebook user has about 300 connections.  Just going by the number of shares, this message has reached 18.5 mil people. If we consider the number of people who have commented and liked it, then this number will be even higher.
If you look carefully at the picture of the plane above, you will find that it is a truncated version of a picture that is on bottom right hand corner of the Emirates official Facebook page seen below.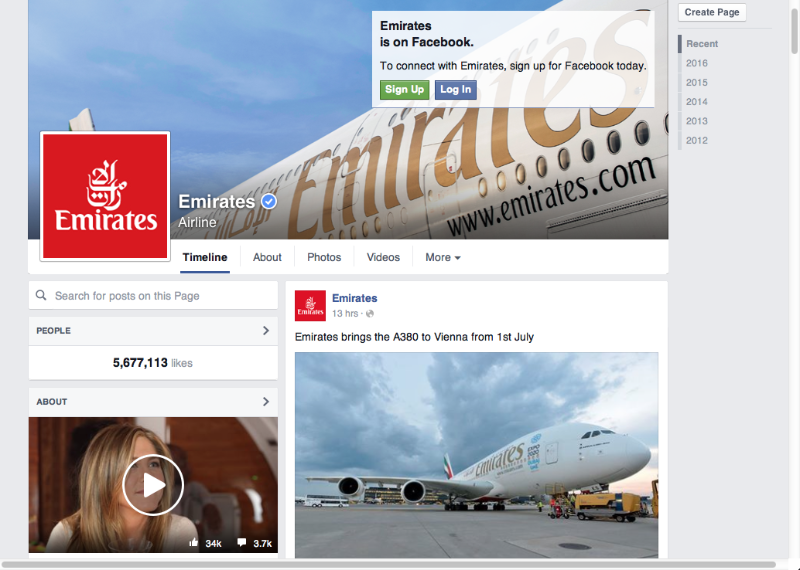 Screenshot of Emirates Airlines Official Facebook Page 
Interestingly there is no mention of this offer on the Emirates Airlines website, which is understandable, considering that they were not party to it.
However, is it really possible that Emirates Airlines was completely unaware of this scam that was being run on Facebook?  The answer is 'No'.
Every airline worth its name monitors the social media to analyze what is being said about it, on a daily basis.  So Emirates would certainly have known about this hoax.
If that is so, why did they not put an alert on their website to inform people that such a hoax had come to their notice and that people should take adequate precautions to verify its credentials before responding to it? Isn't this a part of their customer service?
Perhaps this has happened for the first time, so the airlines was caught unaware? 
The fact is that it has happened to Emirates airlines last year as well.So they would have known about it.  Does it mean that the Airlines chose not to warn customers about this hoax scheme because it was benefitting from the free publicity that it was getting?
What Happened With Emirates Airline in 2015?
When I did a Google search I found that a similar message had been circulated in September last year where the Airline had gone on record to say that they had nothing to do with it and that they had made no such offer.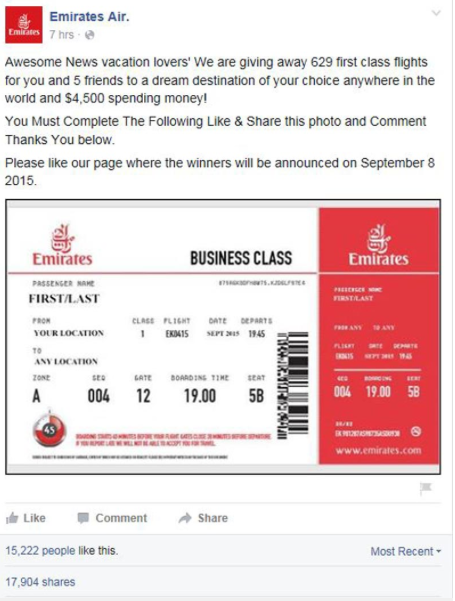 Screen shot of a fake Facebook post offering free tickets on Emirates Airline in 2015
Emirates Airline's Response in 2015
At that time, on Sep 6, 2015 Emirates Airlines issued a denial on this fake scheme which was published in the Emirates 24/7.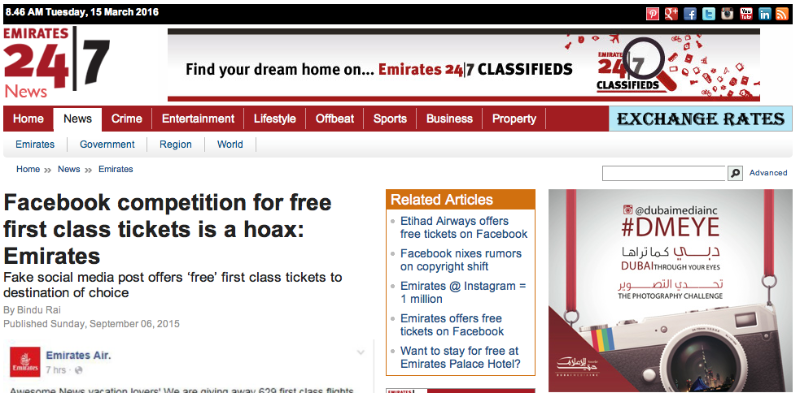 Screenshot of the article published on Emirates 24/7 featuring a denial by Emirates Airlines on the Free First Class Ticket Hoax
So what stopped Emirates from sharing this information this time on its website?
How British Airways Handled A Similar Hoax
In 2015 British Airways was also a target of a similar fake promotion offering free tickets.  Here is what they did on their official Facebook page to warn people who were unaware of it.
Who Benefits From These Scams?
The idea behind such schemes is to drive thousands of people to a Facebook page and, once the page is popular enough, drive those users to scam content or malware.  It's called like farming.   "Liking" a post with suspicious content may not directly harm you, but it could make you a target for other scams.
At the same time, there is no denying that somewhere airlines also get free publicity from such fake schemes.  It is a different thing that it comes at the cost of gullible customers who take it on face value.
There is a need for the concerned airline to also make a concerted effort to reach out to the public at large using the social media and create awareness of the fake scheme.  This should be done ideally as soon as the airline gets to know if it.
——
Image courtesy- Flickr
About the Author: Srinivasan is an independent consultant working in the area of strategy and technology interventions in the public sector domain. He has worked in companies like IBM and TCS and has over 30 years of experience spanning 24 countries.