Why Creating An Enabling Ecosystem Is The Key To Smart Cities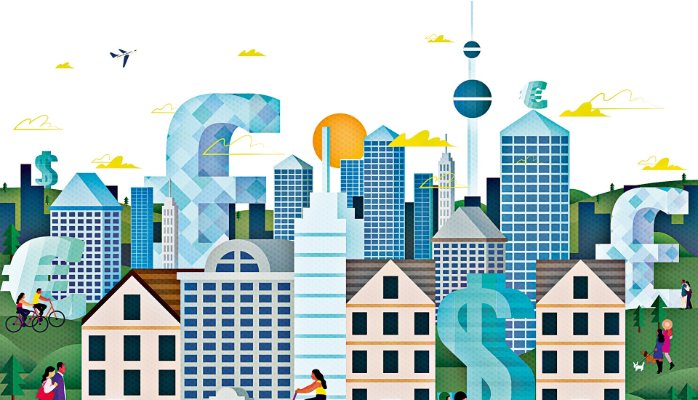 A new dimension is emerging in India's Smart City Program- the Political Dimension; where the focus is shifting from implementation to who gets credit for the program. With the Center keen to ensure that it gets credit for this flagship program, there is a certain degree of wariness for non-BJP rules states that are moving ahead with the program rapidly. In particular, opposition party-ruled states like Odisha and UP are moving swiftly on the BJP Government's program.
Of the 20 cities chosen under the project in the first round, Odisha's capital Bhubaneswar had topped the list. The city was the first to set up an SPV and appoint a CEO to formally launch the program.
Although not even a single UP city could figure in the first list of 20 smart cities, the state has still formed SPVs in 12 cities to develop them as smart cities.  Meanwhile, the Urban Development Ministry has roped in Bloomberg Philanthropies and National Institute of Urban Affairs to help in building a brand for Modi's initiative.
While all this jockeying is underway for brownie points, the actual Smart City Program could take a back seat.
Contrast this with the Australian Government's approach that is based on collaboration and creation of an enabling environment for its Smart City Program.
Key Elements Of Australia's Smart Cities Plan:
Australian Prime Minister Malcom Turnbull, announced the initiative at a Smart Cities Summit in Melbourne on April 29, 2016.  An accompanying policy document lays out the role that the Government believes smart technologies can play in fulfilling its future urban vision.
The Australian PM Malcom Turnbull unveiling the Australian Smart Cities Plan in a Smart Cities Summit on April 29, 2016
It highlights the importance of using open and real-time data to analyse the efficiency of transport services, generate infrastructure efficiencies and stimulate new markets.
The Smart Cities Plan sets out the Australian Government's vision for its cities, and a plan for maximizing their potential. It includes three pillars:
Smart Investment
Smart Policy and
Smart Technology
These are discussed in detail below.
Smart Investment
A smart investment that enables partnerships between governments and the private sector will deliver better infrastructure sooner, and within budget constraints.
a) Become smarter investors in cities' infrastructure
Prioritize projects that meet broader economic and city objectives such as accessibility, jobs, affordable housing and healthy environments. Treat infrastructure funding as a long-term investment, not a grant and get involved early to ensure projects create opportunities for urban renewal and raise private capital. By drawing on innovative financing approaches—including value capture leverage the balance sheet and deliver an essential infrastructure sooner.
b) Establish Infrastructure Financing Unit
The Smart Cities Plan features the establishment of an Infrastructure Financing Unit to work closely with the private sector on innovative financing solutions,and the commitment of $50 million to accelerate planning and development works on major infrastructure projects to develop business cases and investment options. 
Smart Policy
a) Smart policy envisages leading regulatory reforms-
Reduce development assessment processing time and inconsistencies to strike the right balance between appropriate quality, sustainability and safety standards and responsiveness to housing supply and affordability
Subject planning and zoning rules to a public interest test to ensure the benefits of restrictions to the community outweigh the costs
Align transport and metropolitan level planning strategies to ensure a holistic and long term approach to infrastructure planning
Review tenancy and tenure rules to consider how renters can have better access to affordable housing and greater certainty around living arrangements.
Investigate innovative models for financing affordable housing to address the shortfall in social and affordable housing through innovative ways to leverage investment
b) Delivering City Deals
Australian Government funding will be linked to reform and incentivise actions and accountabilities at the state and local level.
Through City Deals, governments, industries and communities will develop collective plans for growth and commit to the actions, investments, reforms and governance needed to implement them.
Though each City Deal will be unique, the foundational elements include:
Targeted initiatives to strengthen existing or emerging economic hubs
Transport infrastructure funding or financing to improve connectivity and increase access to jobs
Housing supply and planning changes to encourage higher density development, affordable housing and activate value capture
Investments that improve environmental outcomes, enhancing public spaces, facilities and active transport options, reducing emissions and pollutants, or improving the sustainability performance of buildings and infrastructure
Maximizing benefits from underutilised state land
Integrating environmental criteria into decision making
c) Measuring Success
Tracking outcomes is a part of the Australian Smart Cities Plan as follows:
Work with the states and territories, councils, communities and the private sector to identify key city metrics and the data required to assess performance.  This data will be critical in the design of targeted policies, reforms and capital investments, and to measure the effectiveness of these actions
The achievement of productive and accessible cities fundamentally lies in unambiguous targets, accountabilities and timeframes for city-level reforms, and our ability to understand if we are heading in the right direction.
Smart Technology
Cities are evolving quickly as new technologies emerge at an unprecedented scale and pace.  There is an opportunity for cities to leverage these new technologies.
Smart Technology refers to:
Thinking of technology solutions first
Leveraging open and real time data
Driving use of energy efficient technologies
Drive the take up of smart technology, to improve sustainability of cities and drive innovation
Embrace new technology with the potential to revolutionize how cities are planned, function, and how our economy grows.  Disruptive new technology in transport, communications and energy efficiency are becoming a reality—cities will be positioned to take full advantage.  Leverage real time open data driven solutions and support investment in sectors commercializing new innovations to grow  the Australian economy.
Value Capture
The Australian Smart Cities plan leverages an interesting concept of Value Capture.  Major transport infrastructure projects deliver a range of benefits for cities, including:
Better connections to employment and services
Reduced congestion, increased productivity and shorter travel times
New opportunities for investment, development and urban renewal
Because of these benefits, new infrastructure projects tend to make the land around them more valuable. Value is added again when land is rezoned, and then when development is approved by government for increased height and density.
Value capture uses a share of this increased value to help finance the infrastructure responsible for the uplift.
Internationally, the most successful value capture projects involve transformative heavy rail projects—such as high speed rail, airport rail links or metro systems.
The Hong Kong Metro System is largely funded by the sale of development rights above and next to train stations.
A view of the Hong Kong MTR:  Shatin to Central Link
The Crossrail Project in the UK is partly funding a new railway network through revenue from the development of land around new stations.
A view of what the trains in the UK Crossrail Project will be like
The Way Forward
For India's Smart City program to be successful, it would be important to shift stakeholders' focus to collaboration, leveraging best practices globally and first rate implementation relying on innovative funding models, rather than focusing on who gets the credit for this program.
—————
About the Author: Srinivasan is an independent consultant working in the area of strategy and technology interventions in the public sector domain. He has worked in companies like IBM and TCS and has over 30 years of experience spanning 24 countries.