Why I Chose IIM Sirmaur By Amit Aggarwal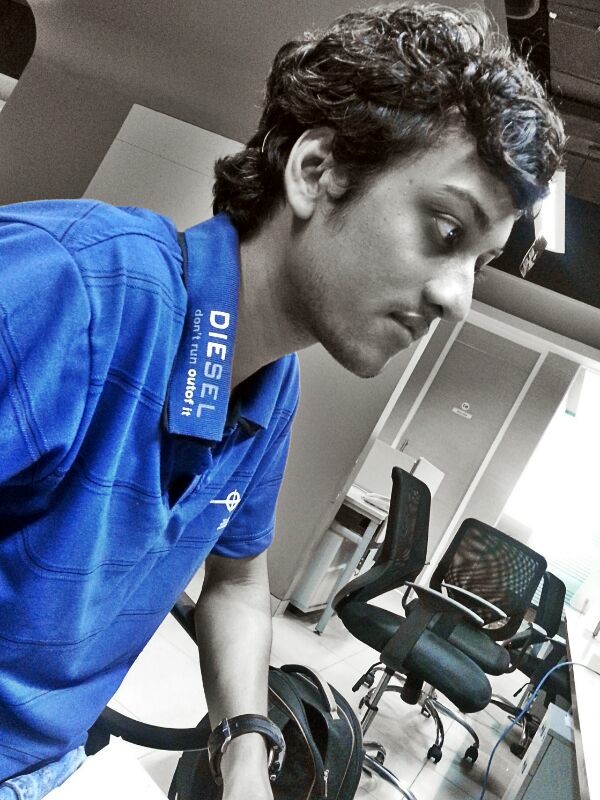 'Damn it', I swore loudly as I woke up in the middle of the night to pull my comforter over me but could not sleep. I sat up confused and let my mind drift back from the dreamy imagery to the reality of my dark room. It was raining again. Again!? I got up and went out to the balcony, stood at a corner of it, mere inches away from the loud rains, extended my hand to touch the falling raindrops, saw the rains falling at a distance on the greens of trees and mountains and was taken back into the land of surreal imagery with my eyes wide open.
If you have never been to the northern plains of India, it is hard to imagine such beauty (which is in stark contrast to the plains of Rajasthan!). I am fortunate enough to travel to this part of India, which is incidentally filled with people looking to get away from their cluttered and frantic lives, to complete, quite possibly the last phase of my education, in a newly christened IIM, just one year after its inception.
This institute, which was decided to be set up in Sirmaur district of Himachal, is one of the 7 new IIMs that were started sensing the need of a premier institute of learning in the wake of an over-growing population. Sirmaur started its operations last year but failed to gain traction at its birth due to its remote location and persistent doubts in the minds of candidates who are trying to gain a foothold in the cut-throat corporate environment.
But this year, the batch strength has almost doubled from a 20-something to a 40-strong. Some are pursuing the PGP to razor-sharp the necessary skills to dive back in the fast changing scenarios of business and some are trying to get into the race and everyone is finding it fitting in their bigger picture.
I am one of the latter ones here. I decided, with some critical thinking, to join this institute. I scored it on several points including mentor institute, past performances of IIMs in their early years and high possibility of exceptional peers. It quite simply checks all of them.
Since coming here one week back, I have not had a proper sleep of 8+ hours (proper sleep is a luxury in every IIM of country with this IIM being no exception), left the breakfast quite some time due to a call for a meeting or a rescheduled class, had to attend meetings at 10.30 p.m lasting till 1:00 in the nights and had to reanalyze every aspect of my routine just to comply with the sheer workload.
Older IIMs have a strong case when it comes to being preferred by CAT takers but I tell you new IIMs are unlike their older counterparts when it comes to keeping up the quality of academics. They are quite similar with curriculum being exactly same as their mentor institutes with students held to the exact same standards like their peers in other IIMs. The rationale behind this is to maintain highest possible quality of the students and hence the institute's, since the early batches are the basic building units of such premier institutes in making.
The guest lectures given by Prof. RK Srivastava (the grand old man of IIM L), Mr. Ramesh G. (M.D., HDB fin. ser.) and Mr. Sanjeev Govil (COO, Idea Cellular ltd.) emphasized this certain point and confirmed what I had in mind all along that as much as we depend on the institute for propelling us for an illustrious career, the institute, similarly, depends on us for a glorious start.
The latter two gentlemen, themselves being the alumni of IIM L's pioneer batches, patronized us and gave us careful instructions on how to proceed and turn this institute into a long withstanding story of excellence in the coming years, same as they did with IIM L and did it with flare.
I am counting on my interactions with my all-jelled-up batch to help in keeping my spirits up for the unnerving task ahead of juggling academics with the plethora of activities being carried out here. Every day is a problem with lots of variables, from getting up at 9 in the morning after sleeping at 3-4 a.m to weighing the options of attending a lecture or having breakfast, to keeping my senses wide awake in the hour long classes or to keeping myself functioning by the end of the day for planning up for the next day's trials, be it lectures or committee meetings or any other flurry of activities. I have to do a regressive analysis to figure out the best combination of those which often times does not prove optimal (sigh!).
Yeah, it is tough and that is what I was counting on when I signed up for it. I know now that I have made the right choice in coming here. I also know if I could keep up with this unusual pace till my PGP is complete, I could very well work in any unstructured, demanding and outright draining company anyone has to offer (not that I plan to but is often the case).
I will say goodbye for now and leave you with a picture my passionate-for-photography batch-mate (who not-so-surprisingly found his paradise here) clicked till we meet next time. Keep Breathing!

________
About the Author:
Amit Aggarwal has lived all his life in Rajasthan. An engineer, an avid gamer and a reader-of-sorts. Interactions fuel him, so does alone time.
IIM Sirmaur
Indian Institute of Management, Sirmaur is one of the newer IIMs established in 2015. Located in the holy town of Paonta Sahib, IIM Sirmaur has come a long way since its inception, becoming a center for multiple flagship events like Leadership Summit, AIM, TEDxIIMSirmaur as well as MDPs and partnership with NSRCEL for women entrepreneur boot camps. IIM Sirmaur has conducted a successful International Immersion Program for the past two years in Slovenia and Italy.