What makes IIM Indore Mumbai Campus Special among the other top B-Schools?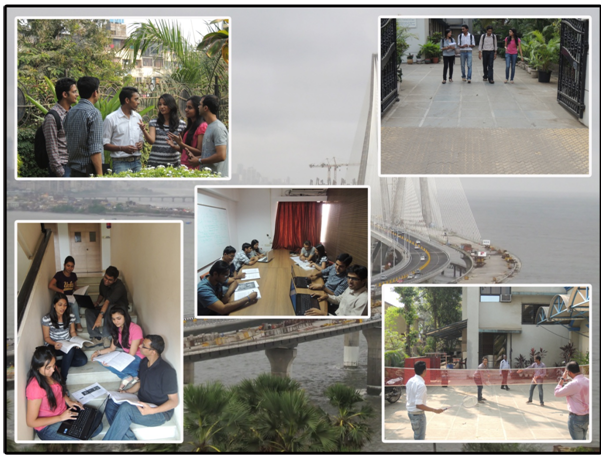 1. Pioneers: Call it serendipity. IIM Indore PGP Mumbai students of present batch and the passed out batch are pioneers of a whole new mode of management education. By choosing to create the history rather than looking out for previous ten years' reports, we certainly have garnered experiences worth treasuring. The constant guidance and support from our parent campus, IIM Indore is like an umbrella under whose shade we chose to tread a whole new path without asking 'what has been' and all the while discovering answers to 'what can be', to see how take a look below.
 2. Growing to Learn:  Being based out of country's financial capital, Mumbai, both the batches received an overwhelming response from big corporates for live projects. From working for companies such as  Dow Chemicals, CFA India Society, Marico, MCX, Sportalink, Faasos to  one of our students being chosen as City Marketing Head – Mumbai of MentorMeLive, the participants of PGP Mumbai have unmatchable opportunities of exposure to real life corporate challenges. This experience gained definitely goes a long way towards honing managerial skills that remain in nascent stages if relied entirely on classroom learning.
 3.  Placements: While the entire first batch is already absorbed in key positions by some of the top notch companies, the second batch was well received by leading companies for summer placements. For a campus that is two years old, this certainly is almost phenomenal, a dedicated placement committee and the performance of participants in the internships have already started creating a legacy for the batches to come.
 4. Mumbai Factor: It is not just academics, erudite faculty or placements that make PGP at Mumbai that 'amazing' experience. Worth a mention, Mumbai is a city that gives experiences and memories for life. None can deny those many life's lessons that only this city can teach. All the while you hang out at Marine Drive or dine at Candies, you also gradually travel in mind an unusual journey. The fun and frolic, the experience of self-reliance and an opportunity to study at an IIM, what more could the course be worth!
 5. Un-learning: A 400 acre campus, lush lawns, huge classrooms and state of art gymnasiums – a typical dream B-school. Undeniably it is human to have a preconditioning like that. But at PGP Mumbai you get an opportunity to un-learn prejudices and discover your real happiness that doesn't just depend on what is given but is significantly from what is made. Sharing accommodation, living with people from diverse cultures, hanging out with friends in the country's most happening city, working with media houses and country's top companies all at once- fun surely is something this choice doles out in bounty. In bonus, this un-learning helps in becoming stronger human beings.
 6. Makers: This has to be kept simple! We have a parent campus, but we are the makers of PGP Mumbai, we are the makers of a reputed IIMs endeavour to expand opportunities to more people. We are the makers of our lives ahead, a little difficult that may seem, but sometimes healthiest of foods too are bitter!
 7. Batch Profile: With students from reputed institutes like the IITs, NITs, NSIT and Delhi University, there is a healthy mix of participants from diverse backgrounds like commerce, fashion designing, engineering, medicine etc. To add to it, the batch has a healthy ratio of girls to boys and a smaller batch automatically means closer connects, deeper bonds and lots of learning about relationships and people that require a closer observation. Here you won't be lost in the crowd!
 8. Academics: The programme follows same rigorous academic standards as that of India's top most management institutes. The faculty from IIM Indore is reputed for being one of the best in India. Under their guidance and through group learning, participants of PGP at Mumbai learn and study as per the best academic standards in management education.
 9. Intending International: Not only do many participants come with prior international work experience, both the batches received offers to work for MNCs and get international exposure in the form of summer and final placements.
Besides keeping all the promises that an IIM makes, PGP at Mumbai, IIM Indore also promises a fulfilling two years journey, that might look a little different from the distance but is all rewarding – professionally and personally! After all, none of promises of pure delight and pleasure of Las Vegas can match Columbus's delight who himself found America! The journey has just begun…
– Pragya Bang
Class of 2015