Work For India's Most Admirable Executive Search Firm – Cash Prizes Worth INR 1 Lac And PPIs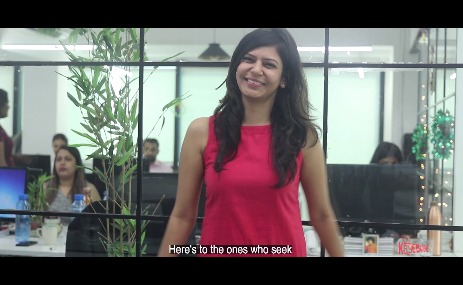 Sales jobs come in all shapes and sizes. Depending on what product or service you are selling, they could be aligned to a region, a particular demographic of consumers, a particular kind of business or the size of potential business a customer is going to give.
Here's a sales job with a very unique product to sell – careers. In a country where businesses are mushrooming, arriving and getting funded at breakneck speed, this job will help serve the insatiable appetite for highly skilled and qualified human capital that these businesses have worked up in our booming economy.
And it's in a young organisation, full of performance-driven, excellence-hungry, hustling and bustling professionals who come from pedigreed schools and companies.
Here's a video that will help you get an idea about Vito Altor and what they look for in an ideal candidate…
Founded in 2006, Vito Altor is a premier executive search firm dedicated to serving the specialized needs of clients across various industries. They partner with an exclusive set of Banking, Manufacturing, Consumer, Pharma, Lifesciences, Infrastructure and Engineering clients to fulfill their human capital needs across all functional areas. Vito Altor has specialized teams of highly qualified consultants from top companies and campuses, aligned to these domains to further strengthening their dominance over each vertical. Their outstanding research, network and execution capability has enabled them to successfully place over 2000 senior candidates across verticals.
When the expertise of your business is hiring, you do the hiring to run that business also in a far more unique and effective way. So gone out of the window are the tedious case study competitions and the sleep-inducing classroom PPTs. A B2B sales job at Vito Altor requires you to be an outgoing, extroverted conversationalist. And that's what Vito Altor's recruitment competition, VA AMBITION, is going to test here.
What's VA AMBITION?
A competition where candidates have to research, reach out, interact and document one conversation with a senior corporate official.
How do you go about doing that?
Step 1 – Download and register yourself on the Kampus Konversations App and UPLOAD your RESUME here. 
Step 2 – Look within your online and offline, formal and informal networks for a corporate official who –
Is at a Vice President or higher designation

In a company with a minimum revenue last year of INR 500 crores

Belonging to any of the corporate functions – HR, Operations, Marketing, Finance, etc

Will be willing to provide verification that you spoke to them, when contacted
Step 3 – Reach out to the said official to set up a meaningful interaction. An interaction can be –
In person – at a public place like a restaurant or at the official's workplace

On the phone

Online – through Skype or Whatsapp or any other communication app
Step 4 – Among the variety of questions, the candidate has to definitely ask –
One incident from your time in college/b-school that helped shape your professional life.

One passion of yours that helps you become better at your mainline career.

When you are looking for people in your team, apart from specific skills, what kind of attitudes and approaches do you look for in candidates?
Step 5 – You document the interaction in the form of a text article, along with a picture of the official. The article should be no more than 1000 words and needs to be published on InsideIIM.com. The article has to cover the following –
Answers to the compulsory questions mentioned above.

How you went about reaching out to the professional and convincing him/her.

3 major learnings about career and the corporate world from the interaction.
(To publish your article on InsideIIM.com, please Register/Login on InsideIIM.com -> Click on 'Write A Story' option, write your article, upload an image, and click on 'Submit for Publishing' option.)
Entries to be sent in latest by 13th January 23:59:59 hours.
Judging Criteria – The entries will be judged on the basis of the adjudication of the Vito Altor panel (60% weightage) and popularity of your article (40% weightage) on InsideIIM.com.
The winners will be announced on the Kampus Konversations App. Here's what's up for grabs –
PPIs for all top performers, as per Vito Altor's discretion

Cash prizes – 1st – INR 50,000, 2nd – INR 30,000, 3rd – INR 20,000
Contact the Placement Committees of your respective campuses for details regarding the salary package, etc.
The competition is open for both 1st and 2nd-year students.
So start dipping into your alumni networks, family WhatsApp groups and social media friend lists. Show us your ambition, your charm and your ability to hustle.
An exciting sales career awaits you.
In case of any doubts, please email Nidhi at nidhi.malkan@insideiim.com