The Other World – IIM Kashipur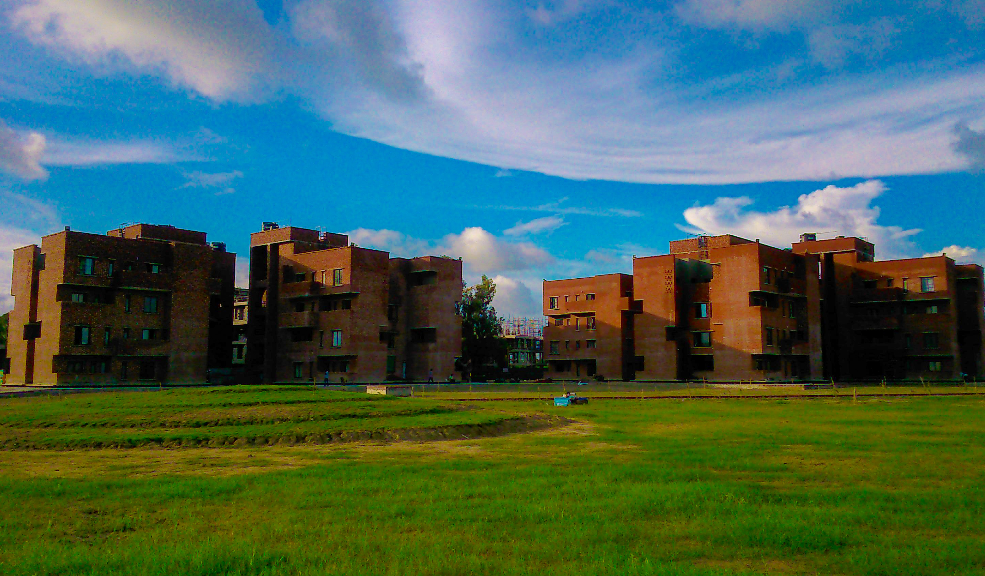 IIM Kashipur is situated near the foothills of Uttarakhand in a 200-acre campus. The campus is very serene and beautiful which helps the students in relaxing in their hectic schedules. People can be seen cycling around the campus. The perimeter of the campus itself is 4 kms which provide a good track for cycling/long walks/jogging.
The design of the campus includes circular patterns which denote the Halo behind Buddhas' head. This depicts enlightenment. This is to signify that the students are enlightened through the course and culture of IIM Kashipur. Our hostels are designed in a dorm style, which enhances interaction and peer to peer learning. The common hall in our hostels is a great place for discussions/debates and infinitesimal learning.
The night canteens! We have two of those. They are a great place to catch some gossip as well as discussions about topics as varied as current happenings around the world to the cases given for the next lecture. These canteens also serve as places to relax and socialize after a long day (and night).
We at IIM Kashipur believe in sustainable growth and preserving our environment. Keeping this in mind, the hostels are not air-conditioned. Instead, radiant cooling is used to keep the temperatures down. This helps in reducing the carbon footprint of our institute. Solar energy is also used in the campus to reduce the carbon footprint.
We have a Wellness centre in our college. There can be a lot of stress in a B-school. At IIM Kashipur, we believe that it is important to manage stress and you should immediately talk to someone if it becomes too much to handle. We have a counsellor available in the Wellness centre for that purpose.
Lastly, the most important aspect of our campus, students. The feeling of togetherness that we have in our campus, I haven't felt anywhere else. We live and breathe together as a single organism. Students come together to help each other in times of need and stress. You can always find someone to talk to if you are feeling down. People will patiently listen to your problems and guide you in how to manage those problems. Students in the 1st year are allotted mentors from the second year who help you in every aspect of your college life, be it academic or personal. Apart from the assigned mentors, seniors, in general, are very supportive here.
Overall, the campus of IIM Kashipur is a unique place. Words can't do justice to it. You have to be here to truly experience the campus.
I would want to work for Pantaloons which comes under ADITYA BIRLA FASHION & RETAIL LTD. The reason behind this decision is that Aditya Birla Group has been the fashion trend setter in India with its numerous brands in fashion retail. Moreover, Aditya Birla Group has a very good management training program, they encourage people to take initiative and take ownership of the tasks. At ABG, you don't have a normal schedule, each day is full of new challenges which helps you in evolving very fast.
– Utkarsh Singh