The Best Campaigns Don't Sell Products But Weave Stories – XLRI (MAXI) Presents: Breaking Ad – Ticket To Fame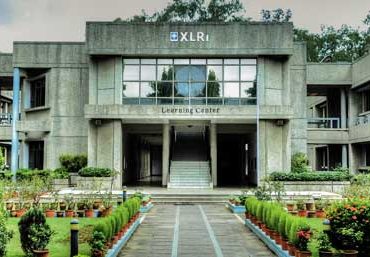 "Marketing is not about what you sell,
  but the story you tell. "
The best campaigns don't sell products but weave stories. And like any good story, it has a wide supporting cast who revolve around the protagonist.
Advertisement campaigns simply let you build that character from the ground up. Weave in the whole world as your supporting cast. Let the consumer play a role in the move you shoot, or the story you write, or the poster you design.
Axe seeks to create a conversation where there may be none. That awkward pause, overcoming that initial hesitation and striking up a conversation over an interest found shared, all of it contributes to creating an Axe moment.
From that heartbreak in college to the rekindling of old love, to the shared friendships that last a lifetime, Axe seeks to create bonds between people over the new Axe Ticket.
The confidence of Axe, packed into a pocket-sized pack that sparks conversations and creates connections, is what makes Axe Ticket stand out. The Axe Signature range fits right into your pocket with the Axe Ticket, and you can now take it to the rest of the country in your own way.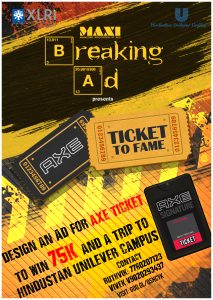 A great campaign reaches out to people and brings them into the story as if it were their own. Find your own Axe moment, or create one, and that can be the defining ad campaign for a generation. Teach the world how to find a connection, with the best story that you can create!
This spring, XLRI and the Marketing Association of XLRI (MAXI) are proud to associate with Hindustan Unilever Limited to launch an advertising competition like no other. People from across the country get a unique opportunity to create the next advertising campaign for AXE Ticket and win a chance at untold riches, and of course the opportunity to rub shoulders with the who's who of India's largest FMCG.
Create an advertisement campaign that will be your ticket to fame, with Axe Ticket. Marketing Association of XLRI presents the first edition of Breaking Ad, with the theme, Ticket to Fame. The first edition comes with an opportunity to design a campaign for the latest offering from HUL's stable, Axe Ticket.
For details regarding the event, please visit this link.
Facebook Event Page: Breaking Ad – AXE Ticket To Fame
External Linkages
Established in 1999, ExLink is the media, branding and PR cell of XLRI Jamshedpur. Responsible for managing print and social media branding for the institute, ExLink is the face of XLRI to the world and maintains relationships with all stakeholders such as prospective students, recruiters, alumni and internal committees on campus.