Yeah Mumbai, we've arrived !! (Summer Internship in Mumbai)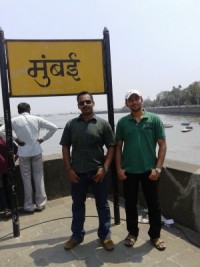 Bright lights, fast cars, beautiful people, the city that never sleeps. Mumbai, the commercial capital of India, the home of Bollywood and the city I was destined to do my SIP (Summer Internship Program) in. Being an Operations enthusiast, I was pretty clear about the companies to opt for during the summer placement at IIM Raipur. I got selected in a Business Analytics profile at a leading Marine consulting firm based out of Navi Mumbai.
My hometown being the steel city Jamshedpur (home of Tata Steel), I have been used to a peaceful life of a well planned township since early days – nothing like the chaos of a cosmopolitan that is Mumbai. But this was precisely what I needed. I wanted to experience this chaos – the famous Mumbai local, the busy life in general. So here I was in Mumbai on the 7th of April, all charged up to start my Summers and to experience the city. Actually, the firm had selected two students from IIM Raipur, one was of course yours truly and the other was my fellow colleague, a former mariner with 3 years of sailing experience in Merchant Navy. While in college, we had a fair amount of interaction but this SIP stay strengthened the bond further. It is amazing how people discover one another's likes, dislikes, similarities, dissimilarities given the time and situation. One of the few things we share is the passion for Travel and good food. Also, having visited Mumbai several times earlier he has a good knowhow of the city which we leveraged to cover as many places as possible, including the most iconic places to eat in Mumbai – Bademiyan, Brittannia & Co. (Iranian and Parsi cuisine), Taste of Kerela, Leopold, Mondegar to name a few. The sites we visited include the usual suspects – Gateway of India, Elephanta, Alibaag, Juhu Chowpati, Marine drive, Band stand, Mahalaksmi, Siddhivinayak, Haji Ali among others. Having a great appetite for both travel and food helped us cover a lot of ground (sometimes on foot) notwithstanding the hot and humid weather of Mumbai.
The office being in Navi Mumbai – Belapur, to be precise – we decided to find a nearby place to stay for the next 2 months. We were lucky to get a flat just 2 blocks away from the office which saved us from the daily local train travel. This meant we could stay awake till late (work or have fun) and get up late than others, which was awesome. On the first day of Internship we were greeted by the CEO himself. He being from an IIT+IIM background himself had a good amount of expectation from us. We discussed about the academic rigour at an IIM, the faculty and how the new IIMs are growing up fast. The CEO asked us, whether we wanted a 'Pressure Cooker' project or a '9 to 5 Relaxed' project. Obviously we chose the former one – I don't think this was even a choice. We learnt a lot from our interactions with him with respect to consulting, commitment and some unique stuff such as – "what is usually unusual for a client should be unusually usual for a consultant" or "If you are different and you say you are different then you are actually not" and "If one is a yes man, then he is a no man".
One and a half months down the line, I have had my fair share of ups and downs both with respect to office as well as personally, but the overall experience has been a great one. We've had office parties, work related disagreements, chasing deadlines, lots of learning, discovering the city on weekends, eagerly waiting for our stipend to arrive and then seeing it get spent so quickly. All put together has been one hell of an experience, the kind I was looking forward to. Honestly, I am missing college and my friends, but meanwhile trying to pack in as much experience as possible in the remaining 20 days of SIP.
Throbbing with the vitality of dreams and the will to realise them, of reaching for the stars, Mumbai is a city of instant changes, constant changes, a city of opportunities, a city of fortune. It is where tomorrow stands today. I believe if you have the guts and the gall to live in Mumbai, survive it, and enjoy it, you have arrived. This experience has made Mumbai 'Number 1' in my list of places I would like to work in after MBA.