And the journey has just begun...
You still need to get into clubs and committees, manage your academic grades, take part in extra-curricular activities and all this while preparing for the most important time of your life - Summer Placements and Summer Internship. So much to do and such little time, no?
In our endeavour to help you make the most out of your time at the b-school, we present to you the very first book of InsideIIM.com - YOBO - You Only B-School Once.
Use it as a guide, refer to it as your bible, and make it your best friend for the next two years. You are going to need it if you want to make the most out of your time.
This book is presented to you by Aditya Birla Group Leadership Programs. We would like to thank them for supporting this endeavour. We hope to reach out to every student starting his/her MBA journey and even those who aspire to be among India's best schools one day. We hope you enjoy reading this book as much as we had fun creating it.
Did you know that making a great CV for your placements could come down to you asking the right questions? Or that having the best electives in your second year is an elaborate management game in itself? Did you know that the rules of dating work differently on a business school campus? Or that there is no such thing as a bad summer internship?
This and many more such insights are explored in this book to give you a definitive primer on what to do to make the best of your most important two years - the B-school years.
The book will help you visualize, strategize and plan your life at a business school. You won't just enter ready, you will also find roadmaps at important junctures along the way.
Check out the topics that are covered in this comprehensive guide -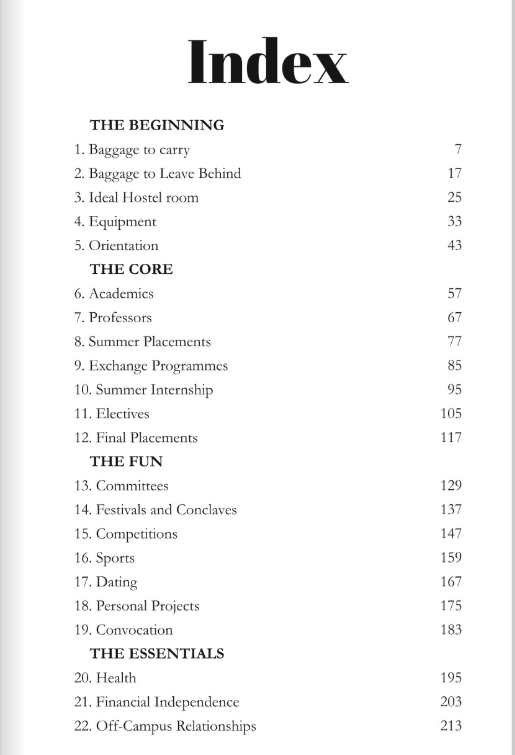 Kunj Sanghvi is the Head of Content at InsideIIM.com. He graduated in Commerce from Narsee Monjee College, Vile Parle and then went on to do his MBA from Mudra Institute of Communications, Ahmedabad (MICA). After having worked at HT Media for 2.5 years, he left his job in September 2012, to backpack alone across the country and write short stories set in different cities of India. Side Upper is his first book. He then worked at CNBC Awaaz as a Marketeer and wrote his second book on financial literacy with a Bollywood theme called 'Pehla Kadam'.
The illustrations in the book have been done by Oindrilla Chakraborty. Oindrilla is a marketing professional and has completed her MBA from ISB Hyderabad.
*This article was edited and updated on 18th April 2018