Yuwa Founder Franz Gastler Visits Campus With Team And Steals All Hearts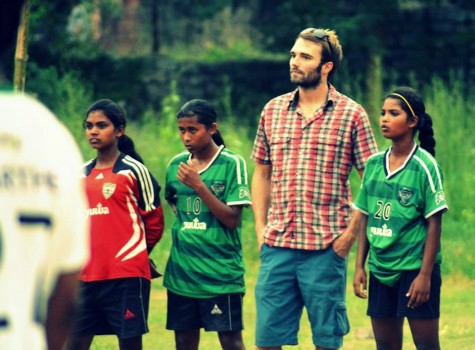 When  a Harvard Law school graduate decides to give up his life to rehabilitate that of others, his presence sure means something. IIM Ranchi was graced by the presence of such a person on September 13,2014.. Mr. Franz Gastler, a social activist, has been working towards the rescue of young girls of Jharkhand from the clutches of child marriage and human trafficking for 6 years. His NGO Yuwa is committed towards transforming the lives of the girls by training them to be professional footballers.
As a fitting conclusion to the mega football event, Futsal, organized by the college, Franz Gastler was the man of the hour, sharing his inspiring stories with the students. He and his team of young girls had an hour long interaction with the students where they discussed the trials and tribulations faced by Yuwa in overcoming social barriers.
The training programs are fun and engaging rather than being mundane and pedantic. Education also plays a very important role in the grooming of the girls, with equal emphasis being placed on subject knowledge as on football. Having being a notable speaker in IIM Ranchi's first TEDx, this was Franz's second interaction with the institute, a relationship that he would like to carry forward.
The quest for learning was apparent when the girls spoke with the audience and answered their questions gleefully. One of the Yuwa girls, Kusum, has even been a TEDx speaker where she received accolades from one and all. The girls are very tough and passionate about both football and studies and that is what sets them apart from so many of us. Yuwa also has the distinction of being the only NGO who are being allowed to participate in the Subroto Cup despite the age barrier. Apart from travelling across the country the girls have also been on two trips to Spain and USA where they captured the imagination of the masses.