The whole city throws a party every night, Prague is without a doubt the No. 1 spot for having a great time. From old churches converted into clubs to playing beer pong with strangers, this is the capital of parties in Europe. If you are looking for the kind of crazy parties you see in movies, head to Prague.
Going on a pub crawl in Prague is the perfect choice to experience the party scene. There are many pub crawl operators and you should check with your hostel on the best ones. They cost around 20 euros and you get some complimentary drinks. There are many discounts on offer so ask around. If you are going on any walking tours, you can also check with them if they run any pub crawls.
But what if Prague is too far away or if it's too cold for you. That's when you head to...
After a great day spent on the beach, nothing can be more fun than roaming the streets of Barcelona hopping from one club to the next. La Rambla is a central street in Barcelona with many arterial streets spreading out from it. You can spend days exploring the area.
In the night the street comes alive with many clubs and pubs. The parties start late and go on till the early hours of the morning. Do not forget to indulge in some hot samosas between each hop.
But where can you spend a day drinking with friends, new and old, from morning till evening? The answer to that is in...
Oktoberfest needs no introduction. It is a must-do in your student exchange trip, even if you are not a beer drinker. Held on the first weekend of October, this annual festival attracts millions of beer drinkers from around the world.
Apart from great beer, the food served is excellent. It is here that I discovered one of my favorite dishes - Curry wurst! The carnival atmosphere with rides and games and millions of drunk people is what makes this the single most important event you just can't miss.
[caption id="attachment_484" align="alignleft" width="300"]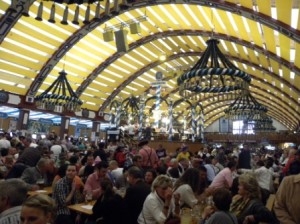 Courtesy : Ankit Doshi[/caption]
[caption id="attachment_486" align="alignright" width="300"]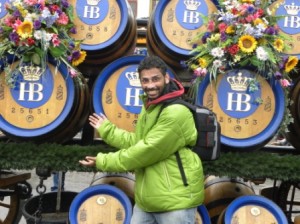 The Embarrassed : Koganti Greeshmanth , The Embarrasser: Ankit Doshi[/caption]

Be sure to book your accommodations at least 4 months in advance. I cannot stress on the importance of this. As soon as you have been selected for student exchange, book your hostels in Munich.
So you partied in Prague and got drunk in Munich, but what about the techno rave you keep hearing about? That can be found in...
What you see in the photograph is a man wearing a chicken head standing on top of a red light sign. This is what you can expect in one of the craziest and surreal experiences in Europe. The annual festival goes through the streets of Paris leaving behind a wake of destruction.
Safety is a huge factor which keeps even many locals away. During our trip, one of us was mugged, so always be alert.
So you are all partied out. Time to get away from it and rejuvenate. Time to goto...
The adventure base camp town of Interlaken is definitely not known for its' party scene. So why is this included in the list? Because of Balmers' hostel. Everyone I have met fondly remembers the place and the great time they had there. Good music coupled by a great set of people is the perfect way to end a day of adventure or begin a new one.
Stop and stay the night on your way to Jungfraujoch or Titilis.