Alcoholic Architecture – A New Disruptive Way To Drink – Strategy With RS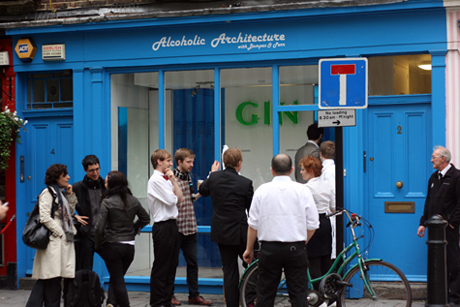 Alcoholic Architecture (Facade Photo by Jonathan Brown)
Next time you visit London do remember to drop in the Alcoholic Architecture for a drink.
And be prepared to be amazed:
*At the entrance you will be handed a transparent rain ponchos to adorn before entering the bar. Why a rain coat in a bar? To keep the mist off our hair and clothes.
*The drink you order will not come in the regular way but will be served to you in the form of a sweet mist of fine spirits which you will absorb through your lungs & eyeballs. Yes you will drink through your lungs & eyeballs!
*You will be called an 'absorber' not a 'drinker'. After all you are drinking by breathing (lungs) & seeing (eyeballs).
*How will the drink taste? It's not possible to really taste anything, but you will feel a slight sweetness when breathing through your mouth.
*There will be music in the bar but I would recommend that do not dance. The visibility is poor & there is every chance you may bang against the wall!
*You will be allowed to spend about 40 minutes in the bar, because in that time you will absorb the equivalent of a large drink through your lungs and eyeballs. In any case we will not be allowed to spend more than an hour else you might get 'drunk'
*When we come out of the bar you 'may' feel a bit high but your clothes will be damp despite the protection of the raincoat.
Is there any advantage of drinking alcohol through lungs & eyes as opposed to the traditional way? It seems so.
Breathing in alcohol bypasses the liver – a major cause of concern among drinkers, & it also results in 40 per cent less consumption of alcohol while enjoying the same effect. It's also 'believed' to be less fattening.
Bottom-line: Alcoholic Architecture is seeking to change the rules of the games by serving a pleasurable experence to each of its customers by assaulting senses in a unique & memorable way : 1.Sight (eye) – drinking through it; 2. Smell (nose) – drinking through it; 3. Sound – music; 4. Taste- the sweet mist taste,; 5. Touch – the mist …
———-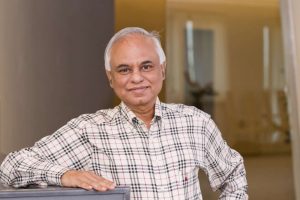 In this series, Rajesh Srivastava, Business Strategist and Visiting Faculty at IIM Indore gives you a regular dose of strategy case studies to help you think and keep you one step ahead as a professional as compared to your peers. Rajesh is an alumnus of IIM Bangalore and IIT Kanpur and has over 2 decades of experience in the FMCG industry. All previous  Strategy with RS posts can be found here