Arnab Datta's Study Tour Experience At University College London – SJMSOM IIT Bombay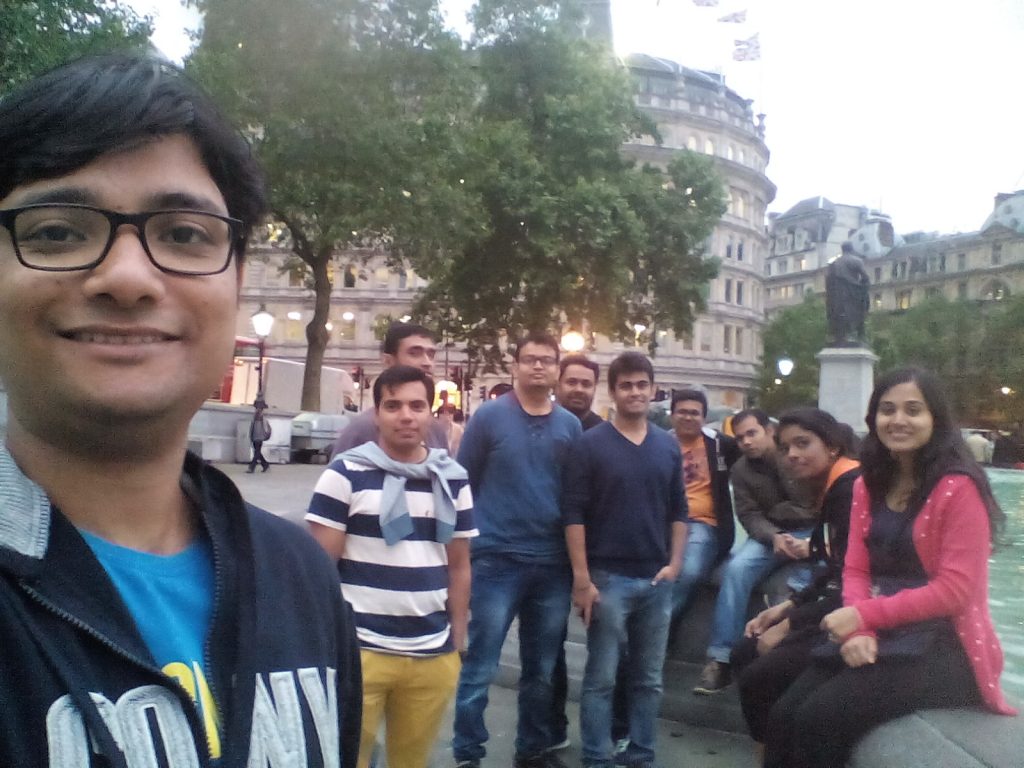 It was 6:00 PM on 21st March. I received a mail in my Inbox with the subject "UCL Summer study tour- FINAL LIST". My heart missed a beat – will I get selected? I had been patiently waiting for this very mail after my interview. I reluctantly opened the email and was overjoyed to see my name among the 10 people who will be attending UCL Summer School from SJMSOM. I can guarantee that all the other 9 must have been feeling the same.
UCL Summer School is a two-week long study tour wherein 10 students from SJMSOM are selected every year to visit UCL, London to gain insights regarding the management education system in a European nation, through various interactive classroom sessions, industry visits and cultural tours as well. This year there were management students from Belgium, China, Columbia, Chile and India. And for those who don't know about UCL, we strictly recommend going through their Wikipedia page to get mesmerized.
Through the tedious process of planning the whole trip from purchasing transportation tickets and lodging arrangements to packing our stuff to visa applications, all we had in mind was the anticipation of the day when most of us would be boarding our first International Flight. The International Relations Team helped us in all the necessary documentations and ensured that the process was very smooth.
Our tour began with a small trip to Europe where we visited Prague, Amsterdam, Cologne, Rudesheim, Koblenz, Brussels and Paris before joining UCL. Our classes in UCL started on 4th July.
London is a world cultural capital and a leading global city in the arts, commerce, education, entertainment, fashion, finance, healthcare, media, professional services, research and development, tourism, and transport. We reached the International Hall of UCL located in Russell Square, which also happens to be a tourist attraction, on 3rd July. We did not face any problem in reaching the place as the city has a very well connected network of buses, trams, tubes and DLR. As soon as we entered our rooms, we knew very well that the next few days would probably be the best days of our lives. The facilities provided were state of the art.
As we slowly settled down to our rooms trying to get over the memories of the short Europe Trip, we were eagerly waiting for the classes to start. That day in the evening we visited the famous Trafalgar Square which was within walking distance from the International Hall. Its name commemorates the Battle of Trafalgar, a British naval victory in the Napoleonic Wars with France and Spain that took place on 21 October 1805 off the coast of Cape Trafalgar, Spain. We were awestruck by the beautiful architectural design and clicked a lot of pictures trying to capture the beauty in our mobile devices. Little did we know that this was going to be the beginning of the never-ending series of pictures that we would be clicking throughout our stay.
The next day started with a king size breakfast. One can only contemplate the range of available items, and all of these were complementary for us. Just as we completed the heavy breakfast and were trying to hide our burps, we found student chaperones who were waiting for us at the International Hall gate. They would be taking us to UCL School of Management. The first session was taken up by Professor Michael Manlangit, who provided an introduction to GMSS and how this intensely packed course would help us in our careers. He also talked about the UK/EU Business Environment focusing on then recent Brexit. We also received our UCL ID cards that day. We were provided complementary lunch that day. It was followed by a session on The Art of Communication Leadership conducted by Eugene Walker. Some people might recognize him as Mr. Wagner from the famous TV series Doctor Who.
In the days that followed, we had both interactive sessions as well as industry visits. The sessions covered almost each and every aspect of management with and European perspective. The classroom sessions included Marketing issues in EU, Global Issues in Accounting and Finance: A UK Perspective, Culture and Organisational Behaviour, Strategy and Innovation Management in a UK Context, European Social Responsibility: Bringing CSR into Politics and Digitization of Business: The Force of Digital Transformation in Europe. All the sessions were engaging and involved case studies, games, quizzes and impromptu presentations. The groups were a mixture of people from different countries and thus we got exposed to the various cultures. Before long, each of us knew everyone else and we became friends, which contributed to the increase in the size of gossip groups and raised the volume of chit chat. It was great to see that everyone was mingling with each other so easily and we got to learn a lot about the other four countries. I couldn't help but notice that this was only possible because of the cleverly crafted course plan and the amount of labour that UCL Administration had put in creating the groups by making sure that everyone had a chance to interact with everyone else.
If one is not intrigued by classroom sessions, there were a whole lot of industry interaction sessions which were not only interactive but also a great opportunity to network with people from top notch companies. To make these even more interesting, each session had some business games. The sessions and visits included Insight into Banking & Finance in the UK/EU conducted by CIMA, Insight into Management Consulting in UK/EU I by PwC, Insight into Management Consulting in UK/EU II by Capco, Inside the Markets by the London Stock Exchange, a speed networking session with four promising and upcoming start-ups in London and a visit to UCL School of Management at Canary Wharf. Canary Wharf is a major business district located in Tower Hamlets, East London and is filled with skyscrapers.
On the last day, we had to make a presentation on the learnings that we had gathered over the last 9 days. We had to come up with an innovative product and create a business model for the same. We had to prepare the marketing plan, marketing budget and discuss the key financials. We also had to prove how the product would sustain in the market and how it would target a need gap in the market. After that, there was Certificate Ceremony. The Farewell party was a Boat Party over Thames River. The music, the dance, the food, the breeze all contributed to the Boat Party turning out to be the best party of our lives.
However, this was just a part of the two weeks we spent in London. Every day, right after class, we visit some place or the other in London. We visited all the iconic spots like Buckingham Palace, Tower Bridge, London Bridge, St Paul's Cathedral, Westminster Abbey, Big Ben, British Museum, Hyde Park, Regent's Park, 221B Baker Street and The Shard among many other places. The weekends were completely consumed by London Eye, Madame Tussauds, Sea Life Aquarium and London Dungeon. In between the classes and site-seeing, we found enough time to go shopping on Oxford Street. For the first time in our lives, we learnt that shopping could be addictive. All of these were complemented by the late night gup-shup, the Maggi & MTR Ready to Cook meals (all "cooked" by ourselves) and a walk down to Tesco to buy "Indian food in a box".
The last day while I was packing, my mind went down the memory lane and all the memories of the trip came flooding to my mind. We started the trip in Prague, the City of a Hundred Spires. It was hot and the Vltava Riverside came alive with music and people who just wanted to have a good time. We visited Charles Bridge, Prague Astronomical Clock, Old Town Square, Wenceslas Square, Church of Our Lady before Tyn, Prague Castle, Old Jewish Cemetery and many other beautiful sites. We then went to Amsterdam known for its artistic heritage, elaborate canal system and narrow houses with gabled facades, legacies of the city's 17th-century Golden Age. The weather was diametrically opposite to that of Prague. Here we visited Rijksmuseum, Van Gogh Museum, Anne Frank House, Vondelpark, Dam Square, Royal Palace of Amsterdam, etc. We did not miss the 'I Amsterdam' and took all the pictures that would do justice to our Facebook walls. The next item on the menu was a river cruise over Rhine River from the town of Rudesheim to Koblenz in Germany. The entire ride revolved around showing the people on-board some famous and historical castles. But we were taken to another world by the very experience of the cruise tour. The drizzle added to the overall feel and this turned out to be the most awesome experience of our lives. Our next stop was the city of Brussels, justly famous for its variety and flavour. We got enough time to check out Manneken-Pis, City Museum, Royal Museums of Fine Arts, The Royal Palace and also went for shopping – we had to try some Belgian chocolate and waffle. The last place we visited before going to London was Paris. Though our bus to Paris got delayed by 3 hours, how could we have missed the Eiffel Tower? The view from the top was something that transcended our expectations to an extent that we thought we were in fairyland. But the strong breeze always brought us back to our senses. As the shivering continued and hours went away in clicking selfies, we finally realised that it was time to head back to our hotel rooms and prepare for the journey to London.
With all our bags packed the last day in London, we slowly returned the keys to our rooms in International Hall at the reception desk. Though we were sad, the experience that we were carrying with us will be cherished throughout our lives. The only two dream that we had for the next few days was to visit the other countries of Europe and getting a job in London. We returned and immediately joined our classes in SJMSOM the very next day. This writing would be incomplete if we don't thank UCL School of Management for smoothly conducting the session and giving us something that will be cemented in our lives forever.
———–
About the Author:
Arnab Dutta is a second year student at SJMSOM, IIT Bombay.