The distance from Guwahati to Tawang is about 550 kilometers. I have often traveled more than 1000 kilometers in a single day with multiple changes in the mode of transport. But 550 kilometers is just a number and it doesn't even begin to tell you how arduous this journey actually is. For the most part, the road is riddled with crater-sized potholes and is wide enough for just one Sumo which gets perilously close to the edge of the hairpin curves.
(Read : The entire Baazigar Series - Kunj's chronicles on Kashmir, Amritsar, Mcleodgunj, Mussoorie, Delhi-Gurgaon, Mughal Sarai – Varanasi, Bangalore,Pondicherry, Hyderabad, Puri, Dantewada, Kanha, Goa, Gujarat, Rajasthan,Kolkata Ranchi,Patna, Gangtok and Guwahati.)
You are only told on your way back that road accidents and cars careening off the edge are so commonplace that the local news doesn't even report it unless the death toll is more than one car-full of people. Of course you can't travel in the dark, so you travel 300 kilometers the first day, spend the night at Bomdila and leave the next morning at 6 a.m. to cover the rest of the distance. On the first day you reach the foothills where you encounter massive evergreen forests – so green that they almost feel black because of their impenetrability. Further ahead, there is the rough terrain of rocks and dust and bile. You get engulfed in it as the Sumo disturbs the surface in its wake. You can't see anything around you - the only assurance that you are alive comes from the surface itself as you keep bobbing up and down on your tiny share of the seat. Then on the next day, after 4 more hours of dusty roads, sinister-looking army trucks and dirty, desolate villages, you enter the Sela pass. Many hours ago, when working Internet was still taken for granted, Wikipedia and Tripadvisor had both told you not to expect too much snow in March. Then at Bomdila, the hotel owner looks at you as if you are some dumb fool, coming to Tawang when it is a long way past the peak season. But as I said, you then enter Sela pass.
And right there, for as far as your eyes can see, there are layers and layers of pristine, white snow. The driver who is transporting 9 locals and 1 tourist in his Sumo informs you that your Bombay ass is lucky because this was fresh snow. It hadn't snowed in the last fortnight at all and suddenly it had snowed in the last 2 days. Apart from that little piece of information, the hitherto chatty Sumo goes extremely quiet at the sight of snow. All eyes and one phone camera are now fixated on the magic unfolding outside the car. One would have thought that familiarity breeds cynicism – that snow wouldn't mesmerize if it is a part of daily life – but then doesn't the monsoon do the same to a Bombayite, even though it is both entertainer and tormentor, year after year? As the Sumo passes a massive lake, the driver pulls over and asks you to go walk on the lake. You look at the others – surely they wouldn't want to waste time so that a tourist could indulge himself – they have their regular lives to go back to. But they just smile at you. They get out of the car too and as you step gingerly onto the frozen lake, they look on from above. And while you get busy taking pictures with your phone, sacrificing your joy for the joy of the readers of your blog, splotch lands a blob of snow on your left shoulder. You turn around to find that every single person is at various stages of making a snow ball and hurling it. Just like that, 11 strangers start a snow fight – laughing and screaming and running around.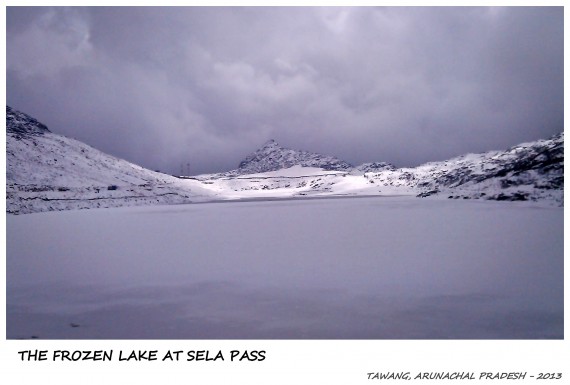 An Indian citizen needs an inner line permit to visit this state which we claim is very much a part of India. What's more, if you are an adult woman, you need the approval of your father or husband for you to visit this state. Arunachal Pradesh has a population density of 28 people per square kilometre. Almost proportionate to that, since democracy is a system founded on proportions, it has 2 seats in the Lok Sabha and 1 in the Rajya Sabha – seats surely held by leaders who forcefully represent the interests and aspirations of the state in Parliament. There is a smattering of Buddhist monasteries, Nag Mandirs and Shiv Lingas across the state. Arunachal Pradesh has Tibet to its north and Bhutan to its west. When electricity, like sunlight, makes a fleeting appearance, the handful of channels that are working on cable TV are Bhutanese channels which discuss how to make amends in measuring Gross National Happiness and infotainment channels like National Geographic and Discovery. Sitting pretty next to the Uncle Chips and the Britannia Cakes at the stores are Korean versions of Chocopie and Chinese versions of Maggi noodles. The funny part is that the expiry date on Uncle Chips might be bordering on the inedible but never on their Korean and Chinese brethren – telling a very interesting story of supply as well as demand.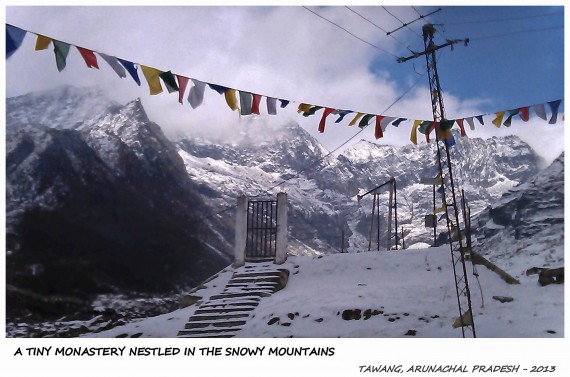 Tawang is actually an agglomeration of one big monastery and three major markets, each of them about 150 meters long. They open at 11 and close for lunch, and then are open again until 5 or 6 in the evening. By the time it is 7 o'clock, it feels like midnight. All the markets are shut on Mondays and the villagers lay out carrom boards on tables and play games all day.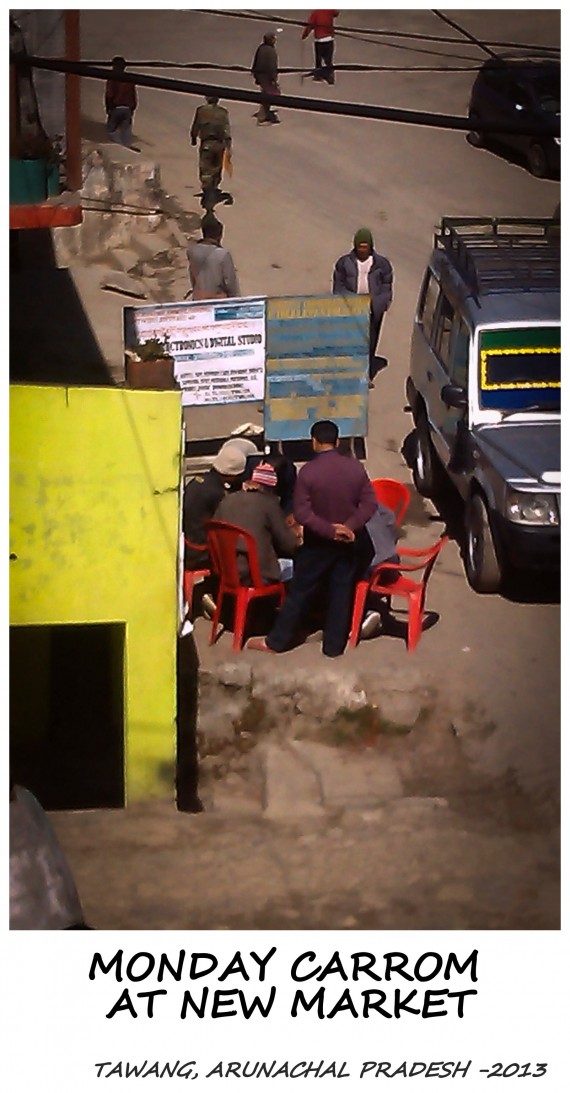 The presence of the army is conspicuous everywhere and even in the markets there are stores for army supplies and gear- something an ambitious store owner tells me he wants to make a brand out of (à la US Army Co.) and sell to civilians in Guwahati, Kolkata and beyond. The famous Tawang monastery, where the Dalai Lama is said to have come after his flight from Tibet during the Chinese invasion, presides over the markets.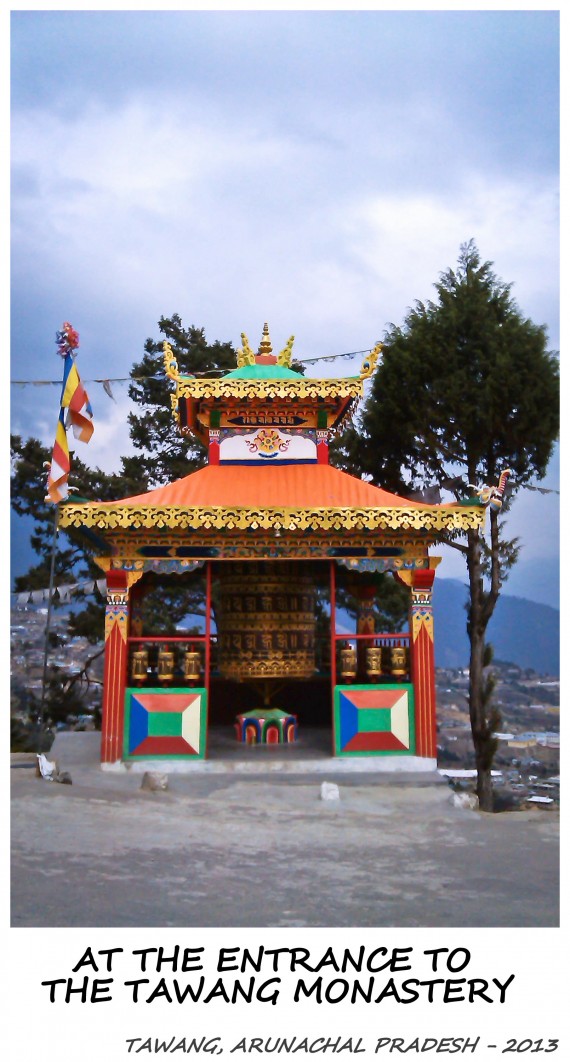 It is the biggest monastery I have come across in my travels, with an almost Tirupati or Amritsar temple complex kind of feel in terms of structure. However, there are very few people here. Lamas of all ages live in the vicinity but there are no tourists. The museum was opened especially for me, on my insistence. In it were wonderful relics of Buddhist religion and high culture from the 17th and 18th centuries. Pictures of the Dalai Lama with various heads of state, presidents and prime ministers adorn the walls – all of them belonging to the previous decades when reaching Tawang in a helicopter was only as risky as reaching anywhere else – now the risk is too high for Pawan Hans to even have a regular service. There is such silence and peace in this monastery nestled among the mountains that anyone would want to spend hours here, just listening to himself breathe. It fascinates me time and again just how well-spoken the Hindi is in the North-East in spite of it being the third or fourth language. Then again, this fascination may well be borne out of my own biases.
When I started out, if there was one thing I wanted from this adventure, it was to see beauty in new forms. As the months have passed by, my notion that beauty stems from something that always inspires a sense of joy has disappeared. Beauty is perhaps in purity and simplicity. If these conditions are met, beauty can stem from an entire array of emotions apart from joy. There is also unadulterated hatred, irrevocable dejection, unswerving pride and unselfish compassion. There was beauty on display at Tawang that stemmed from an unbridled fear in me – fear of the sheer loneliness and the desolate landscape. No surprise then that I wrote my first and only horror story here.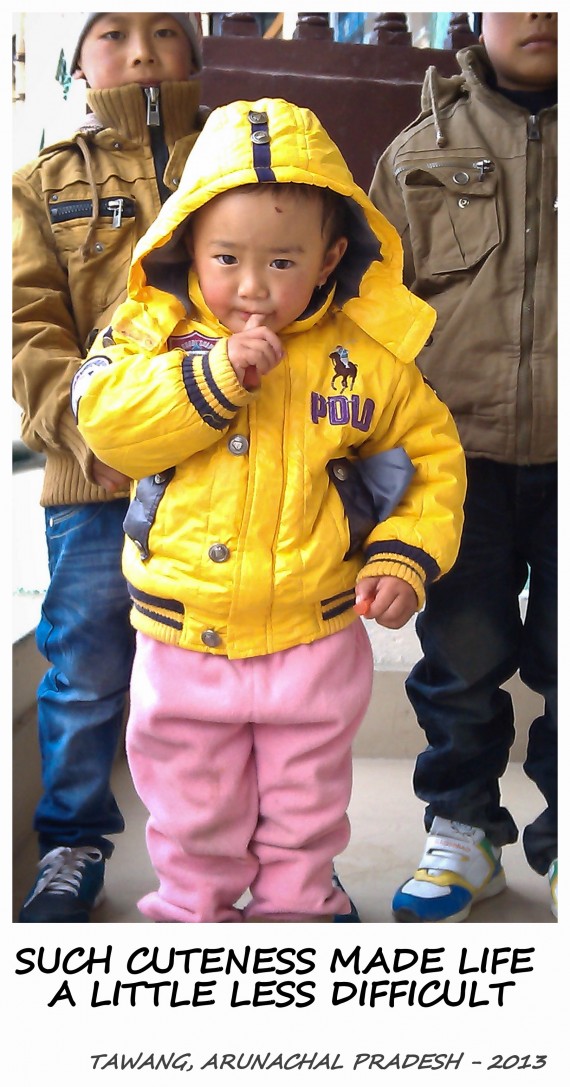 I am now on my way back to civilization, to Shillong – to crowds and constant Internet, uninterrupted power and a steady telephone network. I now know where I shall be going the next time I want to truly disappear.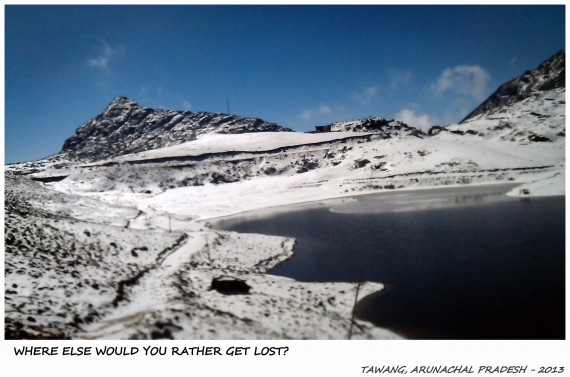 And yes, there is beauty in the fear of the unknown awaiting me at Bombay airport on the evening of 22nd March. And there is beauty in the honest joy or abject dejection that awaits me at the end of it all.
( Read : The entire Baazigar Series - Kunj's chronicles on Kashmir, Amritsar, Mcleodgunj, Mussoorie, Delhi-Gurgaon, Mughal Sarai – Varanasi, Bangalore,Pondicherry, Hyderabad, Puri, Dantewada, Kanha, Goa, Gujarat, Rajasthan,Kolkata Ranchi, Patna, Gangtok and Guwahati)
(Kunj Sanghvi will be writing about his experiences in each new city every week on InsideIIM.com. At various junctures on this trip, he'll be found working over cups of coffee in coffee shops across the country. He'd love to meet, talk, discuss with anyone who'd care to meet him; just to know the city and its people better. Follow him on Twitter here – @kunjsanghvi. He blogs here.
About Kunj – Kunj Sanghvi is a B.Com graduate from Narsee Monjee College of Commerce and Economics and MBA from Mudra Institute of Communications, Ahmedabad (MICA). Prior to plunging into this adventure he was a Senior Manager at Hindustan Times. He has also worked with whatsonIndia.com in the past. )