"MISB Bocconi is entreprenurial and a bigger laboratory to experiment as compared to IIM Lucknow" – Himanshu Rai, Dean, MISB Bocconi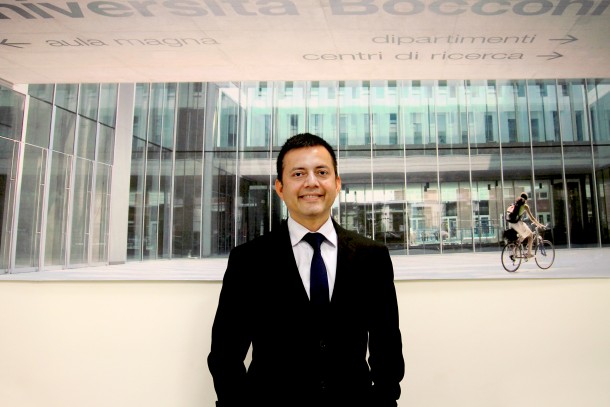 We at InsideIIM recently had the opportunity to have a freewheeling conversation with Himanshu Rai – the Dean of MISB Bocconi. Until recently, Professor Himanshu Rai was Associate Professor at IIM Lucknow before moving into this role at MISB Bocconi. We discussed a plethora of topics, including what he likes about leading MISB Bocconi, what is unique and special about the MBA program at MISB Bocconi, his plans for MISB, his perspective on the kind of students they are looking for, along with his highly popular elective courses, his perspectives on leadership, organizational culture, business ethics and the impact of technology on learning, and his advice for students joining the industry and students getting admitted to B school.
On his transition from IIM Lucknow to MISB Bocconi
It is a great opportunity since I have been teaching for 9 years now of which 8 years have been at IIM Lucknow. Prior to that, I was in the corporate world working with TATA Steel for almost the same period of 8.5 years.  I love teaching and I will continue to do so but there comes a time when you want to build an organisation, then when this opportunity came to me after a global search which Bocconi did, I thought here was my opportunity, with Bocconi coming up with its India Campus – a heritage of over a 100 years. I thought it was my opportunity to create a world class business school which is global yet at the same time rooted in the local context, thinking of it as a contribution which will make a difference. The journey is exciting, full of opportunities and challenges since we are talking of a European business school and people in India have a different set of aspirations and expectations. Therefore, I believe that I am going to enjoy this journey tremendously.
(Download the MISB Bocconi brochure here. Start your application!)
On the main reasons that brought him to MISB Bocconi
One of the things I see is the great set of colleagues I have. People at SDA Bocconi are at the Top of their profession – in several areas we are at the Top of the world. The opportunity to learn from them and an opportunity to bring a pool of extremely talented, research oriented people to a B-School in India was an opportunity I saw in MISB itself which made me opt for this position
Second, is the opportunity which India itself has to offer. India has a pool of extremely talented and ambitious people who pursue their Master's degree. These people are well aware of the changing circumstances – the way now the World is looking towards the East not only in terms of business markets but also in terms of quest for knowledge. India has an opportunity to give something to the World and I can also contribute my bit towards it.
The third thing, is the imperative to include the concept of ethics in Business Education. If you look at Bocconi – it also talks about the values of pluralism, liberalism and socio-economic progress and therefore I thought that the kind of values I would like to bring into the discourse of any Business environment and Business Schools would be akin to these values. MISB is where I can execute them.
On the difference in the environment at MISB Bocconi vis a vis IIM Lucknow.
It is entrepreneurial in a way because of the position I am in. I have to make decision, strategise, drive the institute and since it is only 2 year old – I get to set up a culture which a Business School ought to have.
If we talk about IIMs, we have a set of norms and procedures that we follow and it is difficult to go beyond them. There is space for experimentation but that is limited to your subject – it is not institutional in nature. Here it is a bigger laboratory to experiment in terms of the institute.
On how he balances his academic and administrative roles.
I don't have to do much. I love teaching and I love the work here also so there is no physical tiredness I feel in flying in and flying out. I have a very supportive family which does not make demands of time, understands my commitment towards my work and facilitates by helping me around. I strongly believe if you are happy then it is not tiring at all.
What kind of students would MISB Bocconi like to attract?
I want a very diverse classroom here, an optimal number of 70-80 students. A typical student at MISB is a person who has an ability to develop a perspective, has a sense of conviction in what he thinks, and is a person who appreciates diverse thoughts and perspectives. I want that person to be committed, dedicated and be very clear in what he wants in his life. For reasons of selection, we need to have a certain criteria in terms of marks, in terms of certain entrance examination,etc. But essentially I am looking at issues beyond those. My idea at Bocconi India Campus is to create leaders who are responsible and ethical, not just managers. Therefore I want people to be committed to a conviction and here at MISB, we try and give directions to those convictions and provide them all the inputs they need in terms of function, knowledge, skills and attitude.
On his future plans for MISB Bocconi.
I have already done certain changes in the course curriculum. Try to give in some courses which are important in the changing environment and also given the context in which we are rooted. Our aim is to provide a global education with a local context.
Ideally as I said I want a classroom of 70 students, and going forward I would also like to have 2-3 more sections. We want the numbers to grow. I do not want a very big school but ideally after 3-4 years I would be looking at a School size of 200-250.
We would also be looking at how can we bring in more opportunities to impart Executive Education as well. I see there is a tremendous opportunity and a tremendous need in the exponentially changing world and at Bocconi, we have this strength in being the leaders in the World in certain niche areas as well as certain niche sectors. I want to bring the Bocconi advantage to India. It is where we are going forward.
On what makes an education at MISB Bocconi unique
First is the faculty – we have the best faculty in the world, not just the best but also the at some areas we are the only faculty, areas like Luxury and Retail management, Sports Management, Fashion Design Management, Finance, Strategic Management, Family Business, and Entrepreneurship.
Second unique thing that we offer our students in the Bocconi India Campus is the huge Online resource of knowledge of what we have – in forms of books, journals, study material which is one of the biggest in the world. Students  at MISB get access to the repository.
Third is the unique curriculum that we offer our students, they spend four months at Bocconi, Italy as a part of the course. We say that we provide Global education in a local context and we really mean it. They are doing their specialisation courses at the Bocconi Campus where they get to choose among the plethora of subjects offered. They can choose among 100 odd subjects and that to for 4 months. Other institutes provide an immersion for 2-3 weeks which is, in my opinion, not good enough. Here, we are providing you an immersion not only the knowledge repository of Milan but also a culture itself. You truly develop a global context.
On the admission process at MISB
The kind of people we are looking at people who are determined, well rounded, and who have a sense of pluralism which means that they appreciate other people's viewpoint. So, of course there are some requirements when we take people in terms of their CAT, GMAT, CMAT scores. Also, we have a Bocconi Test.If the person has not written any of CAT, GMAT , CMAT then they can take the Bocconi test. Tests are just a first stage – essentially what we look at is that what is the person all about. For example – If the person has leadership qualities – we do not expect spectacular leadership skills but where a person has led a Team or an activity or an expedition may be in college. We look at the person beyond academics also. We have a certain minimum academic requirement, we also look the communication skills of the person – I do not mean language skills but how well the person is able to put across his thoughts, the extra –curricular activities beyond academics, and the leadership qualities in terms of potential. So these are some of the things that we look in evaluating a person.
(Download the MISB Bocconi brochure here. Start your application!)
What is your advice to people who are joining B-Schools?
My advice to them is 3 fold – One, Be here because you want to be here. Be very clear that this is what you want out of life and a this particular B-School is the best way to take you there
Second, never lose sight of your values. Many a times we make compromises, follow the herd mentality, I would say make your own choices – see where you would be happy and see whichever way you go will you have to make compromises with your values.
Third, you get out of the school for what you put an effort for. Your business school offers you the best faculty, it is your responsibility to get the best out of it as much as you can. Don't take a business school as a series of classes you do or the courses you have to complete, rather utilise the knowledge of your faculty, your peer group, your surroundings to become a better human beings. More capable and better human beings.
What is your advice to people who have just joined?
Go for the job that you want, if you like what you are doing it is almost that you are not working. You will have a smile on your face even when you are leaving home. Try to love what you do or rather do what you love.
Be very true to your value system. No perks, no amount of money can be worth a good night sleep. If I can sleep well in the night, my conscience is clear. The value system I adhere to is more important to the pile of notes I make.
Third, there is more to life than the career you have. So enjoy those moments of life as well. Make sure that you spend much time with your family as you possibly can. I want to use that clichéd term 'the work life balance' but if that is understood than I would say do that.
(Download the MISB Bocconi brochure here. Start your application!)
This is the first part of the interview. The second part will be available soon.
Follow MISB Bocconi at InsideIIM here
—————–
This is a Promoted Feature