"Come out of your comfort zone and dare to explore" – Amit Gupta, Head of Product Management, Idea Cellular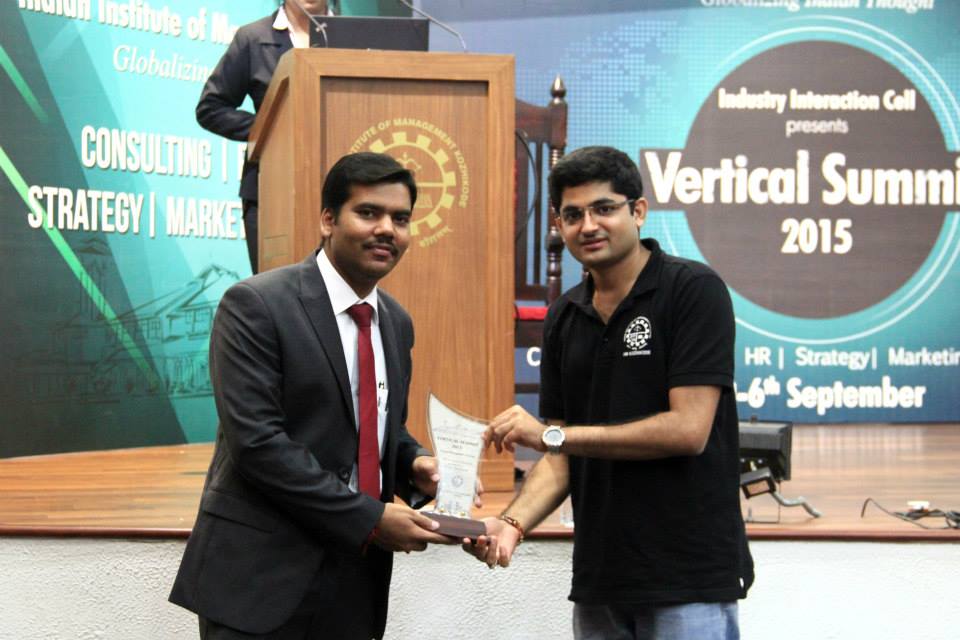 Amit is the youngest general manager at Idea Cellular. In an exclusive conversation with Media Cell, post his lecture, he mentioned about Idea's strategy for 4G, how Idea's motive behind IIN ad-campaigning was similar to Facebook's latest Internet.org campaign and ends with asking all Komrades to go beyond what they think their limits are.
Considering that the promises made by 3G have not been fulfilled yet, what is Idea Cellular's viewpoint regarding the additional offerings of 4G and when are they planning to launch 4G, if at all.
4G is a new technology and it will take some time for the ecosystem that can support 4G to evolve. Right now the penetration of 3G is 18% and it has been in operation for almost 3 to 4 years. 4G speeds are more than double of 3G speeds. In case of absence of need for such speeds, Airtel has created the need by Airtel by targeting its broadband customers. When we are talking of 4G, it is not only for one handset device. Every person is going to have 3-4 smart devices like handset, watch, tab, laptop and when you have more than one device then only you need more data speed because speed is getting shared among devices. Secondly we are almost able to satisfy all our needs of net usage with 3G, so currently 4G is not a big story, it should evolve as one in the next 3 to 4 years, although Idea Cellular is launching 4G in 10 circles by December, 2015.
What was the idea behind IIN and who were your target customers?
Idea caters to mass market; we do not distinguish between our premium and rural customers. Despite the negative and positive feedbacks that have been generated throughout the country regarding IIN, it has received immense publicity and the message we tried to convey via this campaign is to harness the power of internet and this can be done by anybody. For the common man our message is use internet and see what all you can achieve, and for the premium segment we are promoting the other connotations of Internet usage which are subtle in nature. So we are basically trying to promote the power of the Internet; our thought process was similar to that behind Facebook's internet.org which is aimed to connect all the 7 bn people across the world.
Marketing in the telecom sector is different from that in the other sectors. What are the typical challenges that you face?
In FMCG suppose, once you sell your product your relationship with that customer is closed, but in telecom sector, the relationship with the customer begins with the sale of the SIM. Because, unless the customer is doing monthly recharges, or is using the SIM, I cannot account for any revenue in that account. And if the relationship ceases to exist, I cannot earn a single penny from the customer. So the primary challenge is to sustain this relationship that is the retention of the customers. MNP has given freedom to the customers, however it has not exactly come across as a challenge for us because it has helped us attract the maximum number of customers. The major reason of churn is mostly to lower end operators because of price war and to higher end operators because of network, and this is a very big challenge. Other difficulties include monetizing our assets, which in our case is a tower or site. Because we spend around 10 to 15 lakhs on a tower so it is critical for us to get ROI which again is dependent on the number of customers using that tower including their data usage. And, one of the major setbacks in this is our low data penetration. So improving the data penetration is another major challenge.
How has your career progressed so far?
I am the youngest general manager in Idea Cellular, been the fastest growing person in the organization. Within 3 years of joining, I was made the business head for a product and I never had to look back post this. I could increase the revenue for this product from INR 5 to 50 crore for which I was given the Chairman Award by Mr. Birla himself. This was a major turning point in my career and I was given the responsibility of the postpaid business. Summing up all this, I can say that my career has been very rewarding so far and the three reasons which can be sighted for this are the opportunities I have got to prove myself, my bosses who were influential business leads in the organization and of hard work.
Any message for IIM K students?
Do not limit yourself, your mindset or your thought process, only then will you know how much there is to learn. In todays' world where u have access to so much information do not stick to your comfort zone,  because you never know where you might excel. I have seen that in my own life, I used to be an introvert, a graduate from SRCC, I took up projects in Finance and never even wanted to end up in Idea. , thoroughly enjoying the work that I do and with the career that I have had so far. So try to get exposure to every field, keep in mind your long term goals, have a look at the industry and then decide where you want to start your career.
Interview conducted by –  Noel Roychoudhury, Media Cell, IIM Kozhikode