In Conversation With Mr. Mahesh Bariya, Heading Accounts And Finance At DAIWA Portfolio Advisory India Pvt. Ltd.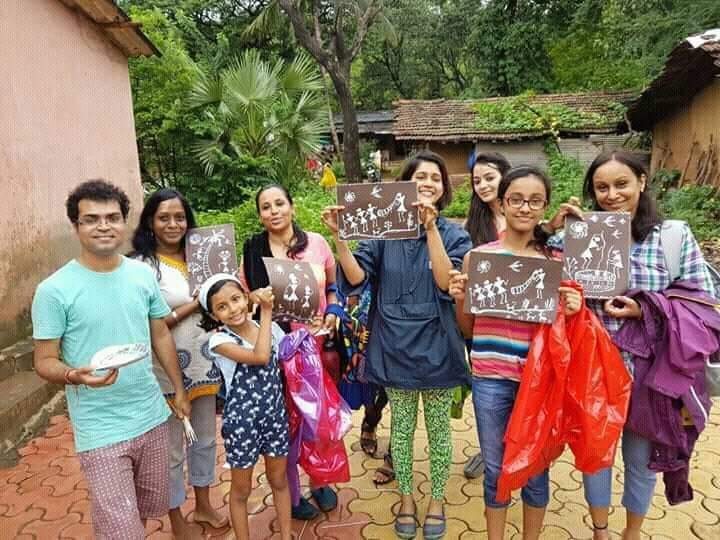 "Inspiration exists, but it has to find you working", this quotation by Pablo Picasso prompted me to interview Mr. Bariya. I came to know Mr. Mahesh Bariya, heading Accounts and Finance department at DAIWA Portfolio Advisory India Pvt. Ltd. as a he is a Volunteer for MAD and the initiatives he takes for railway beautification projects under Swachha Bharat Abhiyan campaign. Also that he Volunteers for We Will Help NGO for women upliftment and tribal children's skill development project for villages at Aarey Colony, Mumbai.
As I am a young passionate marketeer studying MBA from SDA Bocconi Asia Center, Mumbai currently in the 2nd year specializing in Marketing and Sales who is also an activist when it comes to protecting child rights and environment. We came in touch for the initiative of Chakachak Bandra, Juhu Clean-up drive and also the beautification of SV Road Bandra under the Swacch Bharat Campaign. Also, we met at a variety of workshops under the Save Aarey Campaign.
I am extremely inspired by his social work. Mr. Bariya is also a CA, CS and now pursuing an executive MBA programme from IIM Lucknow. I admire the professional affluence that he has at Heading Accounts and Finance at Daiwa India which is a subsidiary of Daiwa Securities Group, Japan.
The second largest asset management company in Asia having an overall operating revenue of ¥347,746 million. I was very curious and excited to ask him certain questions. Thanks to InsideIIM.com this article would inspire many more just like me.
Just like him, I am a part of various NGO's named SOS, Lakshaya and Akanksha Foundation for the upliftment and empowerment of underprivileged and specially-abled young kids. Sometimes it becomes a major challenge for me to balance out volunteering work and to concentrate on my MBA studies. Mr. Bariya's diligent and vocal contribution in the social welfare is far beyond acclamation. He has been published for his extraordinary contribution in TOI, the Hindu, DNA. He says time management and the passion to spread awareness of social n environmental causes via art gives him a kick out of the work he does. Also, social networking and learnings from such volunteering is a major driver for him to keep excelling at the deed.
When I reached out to him via email he was very considerate in providing me all the thoughtful answers that I had been waiting for inspiration. He is an epitome of how a person can change his/her destiny if he/she has the grit and determination to do exactly what is planned and focused.
The interview  via email was conducted successfully and the following questions were asked:
●    One incident from your time in college/B-School that helped to shape your professional life.
"Never say No".  During college days, we did not have a telephone connection at home.  All my telecommunications used to happen through PCO booths or neighbour's household phone. In the first year of college, I got a call from professor Geeta Ved (Bhavans' college) in the morning around   11 am. I rushed from 3rd floor to 1st floor to receive a call.  She requested me to participate in one Art competition which was supposed to start at 2 PM. I rushed, participated and I won that competition as well. So I learned for the first time, one should have "never say no" attitude in one's life.  Similarly, during my IIM, Lucknow tenure when Prof. Mathur gave us an assignment at 5 pm and asking us to submit the assignment before 9 am next day morning, we spent time till 2.30 am in the library to submit the assignment. In entire class, my team was the only team which was able to submit the assignment.  To cut it short, this attitude of "never say no" has driven me long in my professional career. During my consultancy career, whenever I used to get queries from client or colleague which were alien to me, I used to say give me some time I will come back to you, but I used to give them solution rather than saying no.
●    One passion of yours that helps you to become better at your mainline career.
Art and volunteering towards social causes. As someone rightly said, Art, is a therapy.  It relieves me from office stress and energizes me for next hectic work. Also, it helped me to understand different moods of life. Volunteering made me more compassionate towards people from all strata. I learned how to take decisions in a difficult situation. It made me a team player and leader.  I was able to relate the PAC [Parent – Adult- Child] theory of Psychology in daily walks of my life including routine work at the office while dealing with team members ranging from office boy to owner of the Company.
●    When you are looking for people in your team, apart from specific skills, what kind of attitudes and approaches do you look for in candidates?
Apart from technical skills, I pay attention to the human or soft skill of the person. Ability to understand or express.  As technical skills, one can learn but human or soft skill one can't get through educational degrees. If a candidate is not at par as per technical requirement, but if he is having the right mix of human skills, I will prefer to take that candidate as we can teach him technical skills.  Also, I never see AGE as number or parameter for choosing high position candidates. Even, a person with a limited year of experience but having right mix knowledge and soft skill gets the priority in my interview process.
●    3 major learnings about career and the corporate world.
1.    Problem-solving with a commitment to deliver value
2.    Self-esteem and self-confidence in never saying no
3.    Interpersonal skills to work in a team successfully
The story of Mr. Bariya from being a student to being a judge at Ruia college annual festival. Being a CA, CS and now on a new career developmental path from IIM Lucknow is indeed inspirational and to me, he is my ideal professional in this corporate setup. He is the epitome of how not just theoretically but also practically one good deed a day can make a difference being professionally and socially responsible.
Bhisham Makhija
Currently pursuing a Post Graduate Programme in Business from SDA Bocconi Asia Center, Mumbai, Maharashtra. Core Committee of Social Club of SDA Bocconi Asia Center. Aficionado of art, Passionate to bring about a social change by contributing towards making an impact, Ardent deliquescent involving all my focus to my work. I worship my work with ethics and discipline.