Are you a start-up secretly nursing a desire of dethroning the 'Goliath' of your industry?
In the USA, in the beginning of 1964, a company - Blue Ribbon Sports, setup its business activity, manufacturing shoes for athletics. Its founders, Bill Bowerman & Phil Knight, secretly wanted to 'crush' the Goliath' of the industry they had entered– Adidas.
Take Your Career To The Next Level. Ask Our Experts Anything. We Will Respond Within 48 Hours.
Did they succeed? Of course, they did. Because 'When you want something, all the universe conspires in helping you to achieve it.'*
In 1971, Blue Ribbon Sports officially became 'Nike', a name inspired by Greek Goddess of victory & went on to dethrone Adidas & become the darling of the world!
What strategy did Nike pursue to realize this seemingly impossible dream?
1. A crisp & inspiring Mission statement, which it relentlessly pursued - 'To bring inspiration & innovations to every athlete in the world'. Nike strongly believed inside each one of us resides an athletic- 'if you have a body you are an athlete, in the world.'
2. Not scared of 'Twisting': Till 2008, Nike had built its business around categories – apparels, shoes etc. But from 2008, it jettisoned this strategy & 'twisted' to align its business around 'sporting endeavour'– Football, tennis, Cricket, Golf etc., which resulted in an explosive growth.
3. Match store DNA with Nike merchandise: A store could stock any-to-all Nike merchandise - whatever they desired from the Nike portfolio. This resulted in the stores engaging in a 'discount' war among each other to win sales! Discounting, needless to say, damaged Nike's Brand Equity! Nike taking cognizance of this reality took a strategic decision to 'allocate' merchandise according to each store's DNA– a football store was 'offered' 'predominately' football merchandise & discouraged from carrying, for example, Golf merchandise. The belief being that if a person enters a football store, her intention is to buy football-related merchandise … not Golf!
4. Investment to garner 'long term' competitive advantage: Nike invests almost, 10% of its revenue towards 'marketing' – no wonder Nike watchers maintain that if a Nike shoe is ripped open, only marketing will fall out! But it equally passionately invests in R&D – to create a transformational product that gives it a sustainable advantage. Take Flyknit – the lightweight seamless sneaker. Nike invested in R&D to develop this technology & today it is a billion dollar business.
5. Technology: Nike has relentlessly leveraged technology to win the hearts of its customers.
a. C = 1 (C= Customer): Nike is nursing a dream of 'serving 1 customer a time' – by providing, not mass customised but 'personalised' shoes to every customer. For this, it has set-up Nike.com. Through this platform, Nike hopes to reach directly to every customer & provide them with a personalised shoe.
b. Ringside View form stadium & an opportunity to engage with players: Nike is tying up with sporting bodies to deliver its fans the ringside view from the stadium. With Artificial Intelligence likely to go mainstream in 2016, Nike is betting on providing an 'immersive' experience to its fans by delivering an unforgettable 'ringside' experience from the stadium! This will be topped up by providing Nike fans an opportunity to connect with their sporting stars, engage them in a conversation & also access 'players stats' in real time!
6. User centric focus for decision making by relentless pursuing tenets of Design Thinking!
Bottom-line: Nike boasts of a Bottom line, which is 11% of revenue!
Business Lesson From Nike:
1. Mindset: Develop Nike's mindset which professes that there is no finish line in the journey to excellence.
2. Craft a Mission statement & pursue it relentlessly!
3. Be ready to 'twist' when required.
4. C=1 - serve one customer at a time by personalizing the merchandising.
5. Be user-centric – build a Customer Plan through which you should seek to deliver an 'enriching & pleasurable' experience to your customers so that they transform into Brand Advocates of your Brand.
6. Use Data Analysis to streamline your Distribution & merchandising Strategy.
7. Do not hold back your dream nor your want - 'When you want something, all the universe conspires in helping you to achieve it.'*
*Paulo Coelho, The Alchemist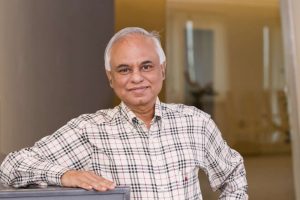 In this series, Rajesh Srivastava, Business Strategist and Visiting Faculty at IIM Indore gives you a regular dose of strategy case studies to help you think and keep you one step ahead as a professional as compared to your peers. Rajesh is an alumnus of IIM Bangalore and IIT Kanpur and has over 2 decades of experience in the FMCG industry. All previous Strategy with RS posts can be found here