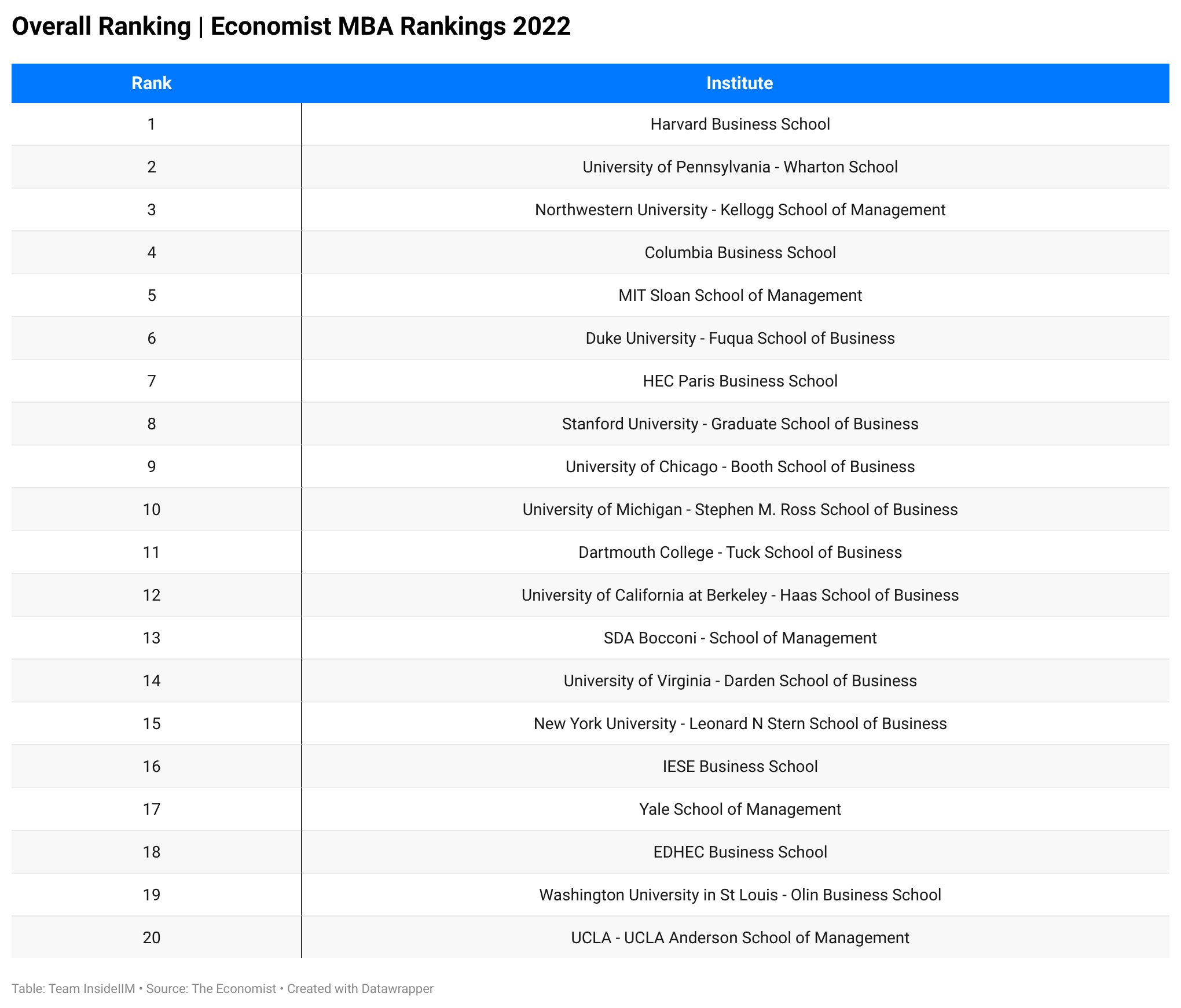 Only two Indian business schools—ISB and IIM Ahmedabad—feature in the top hundred institutes of the world, as per these rankings. IIM Ahmedabad is barely in this list, ranked 99th after losing an abysmal 48 places as compared to last year. ISB, ranked 75th, also lost a significant number of places, though much of this shuffling has been due to more American business schools wanting to be included in The Economist's rankings.
---
Job Guarantee Greatest at Indian B-Schools, Dartmouth's Tuck the Only Ivy League Institute in Top 20
In terms of job guarantees after an MBA, Indian business schools shine. In fact, IIM Ahmedabad ranks highest in this parameter, ahead of most revered global business schools. ISB too counts itself amongst the top five here. Their pre-eminence is rooted in the fact that these institutes have on-campus placements for their students and placements are a guarantee. This is unlike most American and European institutes, where jobs are obtained through fairs or through good old networking. There, placements aren't a guarantee—not by a long shot.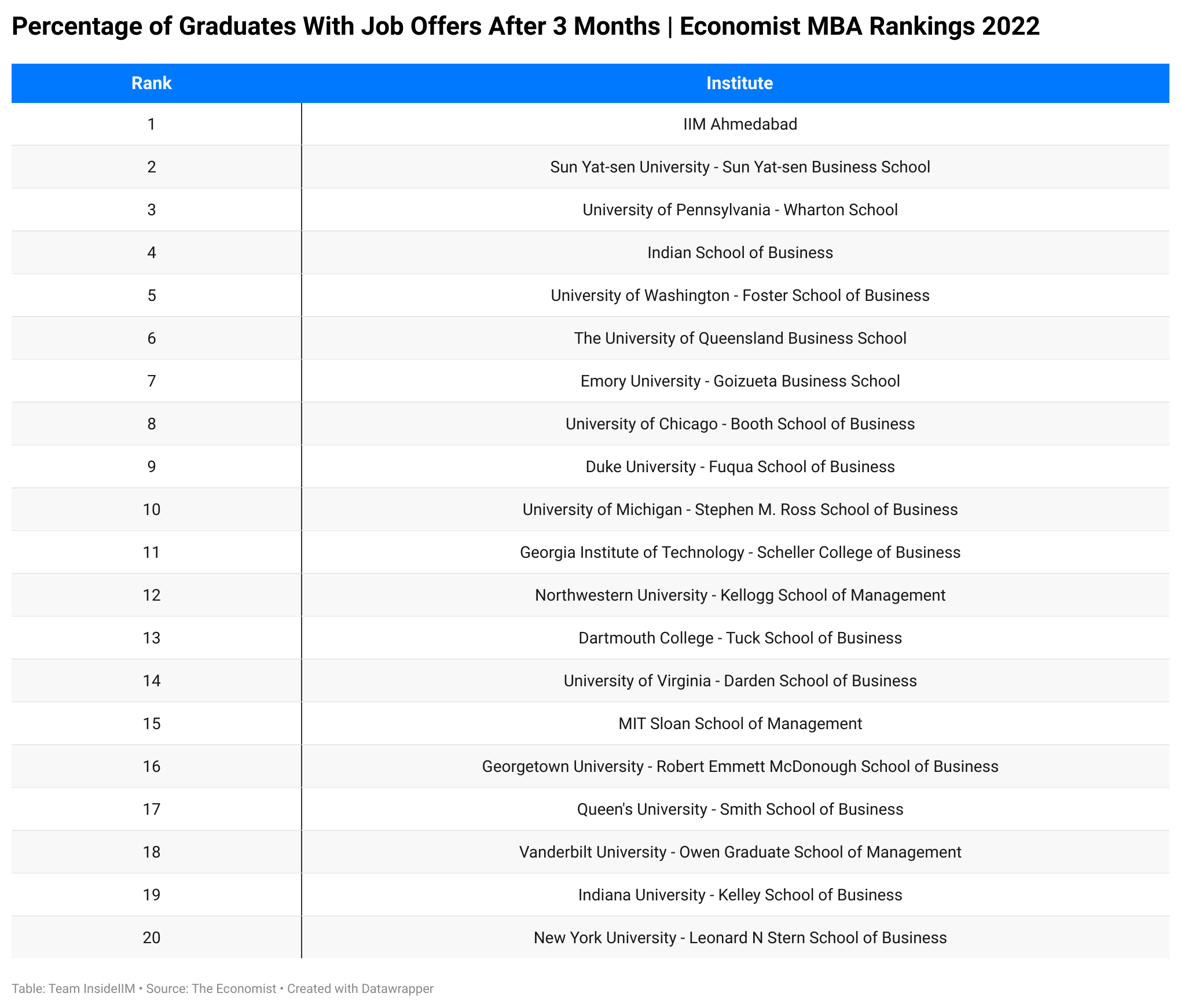 Other interesting names amongst the top twenty include China's Sun Yat-sen business school (ranked 72nd overall) and the University of Queensland Business School in Australia (ranked 49th overall)—institutes competing with the likes of NYU, MIT, Dartmouth, Georgia Tech, UPenn and other leading universities.
---
Harvard, MIT, Columbia Offers The Best Post-MBA Salaries
When it comes to salaries, Harvard Business School outshines its peers—both in terms of post-MBA salaries and even pre-MBA salaries for its batch. Harvard's batch of 2021 saw the median base salary go over $150,000, with 51 percent of the batch receiving a median of $30,000 as a signing bonus and a whopping 65 percent of the batch receiving a median of $37,000 as a performance bonus.
Other b-schools with comparable salaries include MIT's Sloan School of Management (median base salary of $150,000), and Columbia Business School (median base salary of $150,000). Surprisingly, Stanford GSB's median base salary for the batch of 2021 stood at $158,4000—marginally higher than HBS and arguably the top contender in The Economist MBA rankings.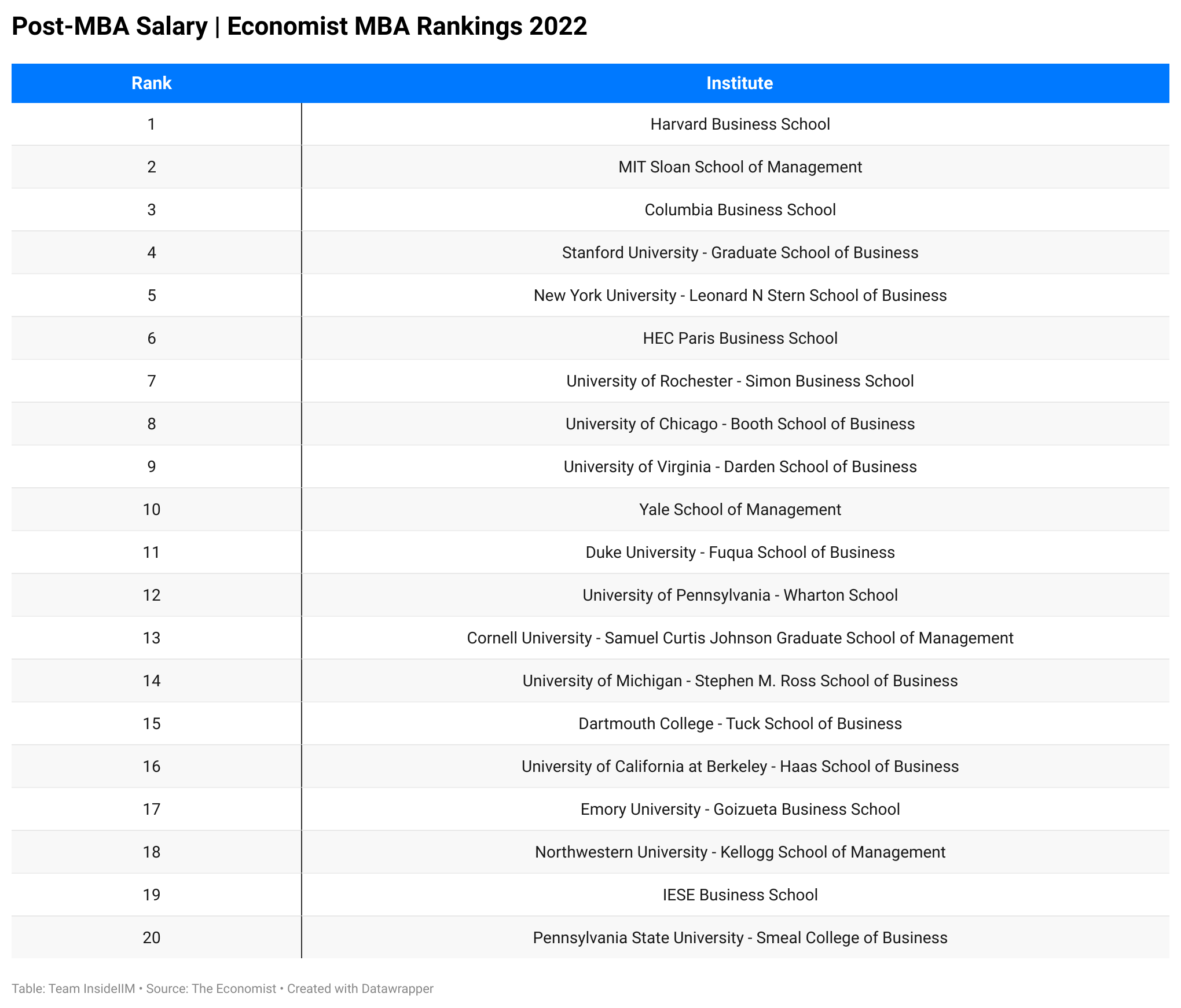 So where do Indian b-schools stand in terms of post-MBA salaries? Not even in the top 100. Indian MBA students do earn significantly lesser than other global institutes. For example, the maximum earning potential of IIM A's 2021 graduates was $71,000—less than half the median salary offered by most M7 business schools.
---
Stanford, Wharton, and Chicago Booth Have the Highest Average GMAT Scores
The GMAT exam is the most accepted standardised test by business schools across the world. Usually, the average GMAT score for a b-school is directly proportional to its ranking. For instance, at Stanford GSB, the average GMAT score is 738—approximately a 95th percentile score. At Wharton and Chicago Booth, the average GMAT score is 732, while at Columbia it's 729.
ISB, which has a class average of 720, is amongst the top 20 global business schools in this respect, higher than Fuqua's 713.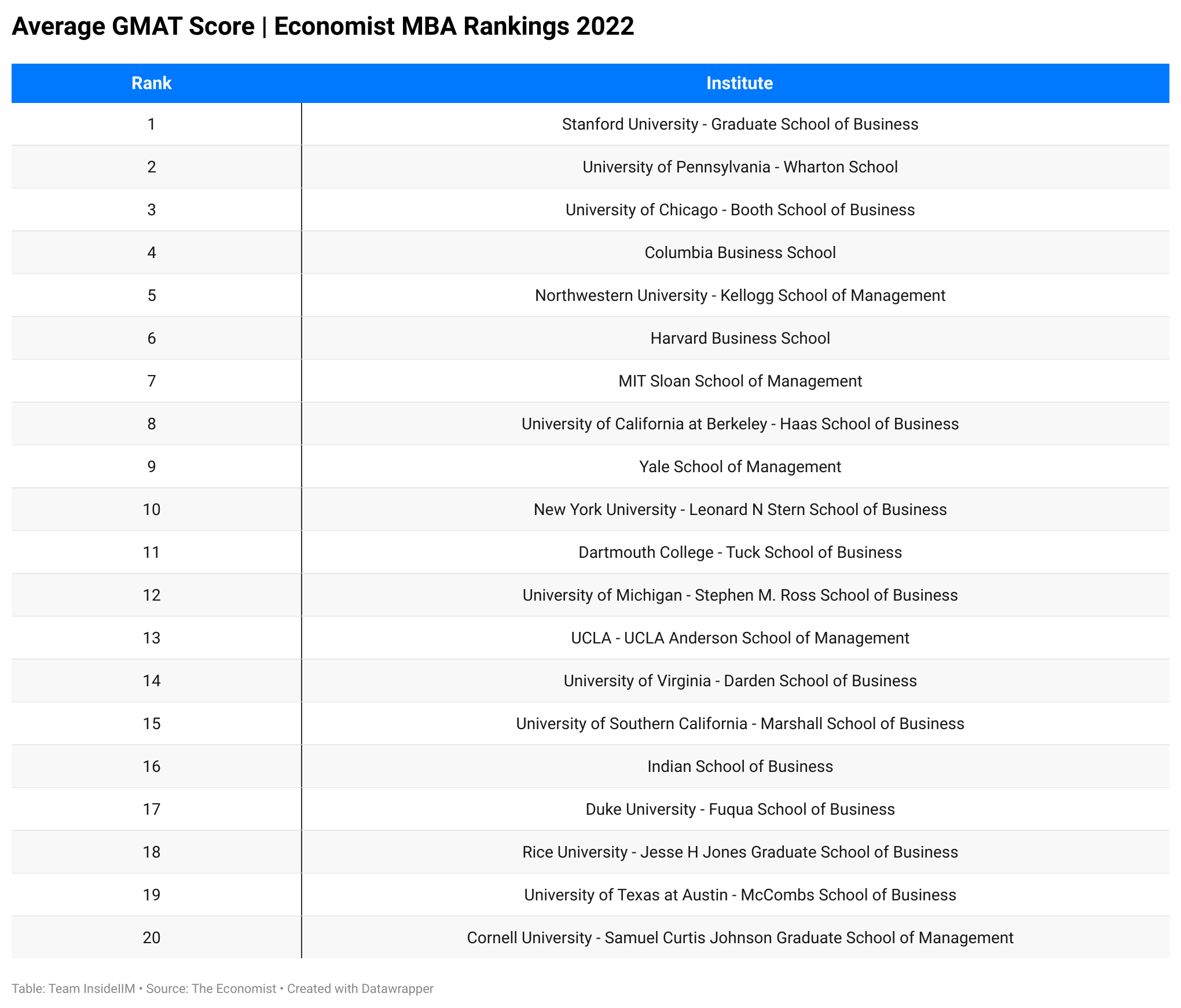 ---
Lower-Tier B-Schools Give Tough Competition to Bigwigs in Providing a Good MBA Experience
In terms of the actual MBA experience, lesser-known institutes are standing head to head with even the Ivy League b-schools. For instance, EMLyon—ranked 30th by The Economist and 89th by the Financial Times—is reported to provide more holistic personal development and educational experiences than even the likes of Yale, Dartmouth, University of Chicago, Columbia, Harvard, Stanford, and others. The same can be said for the International University of Monaco.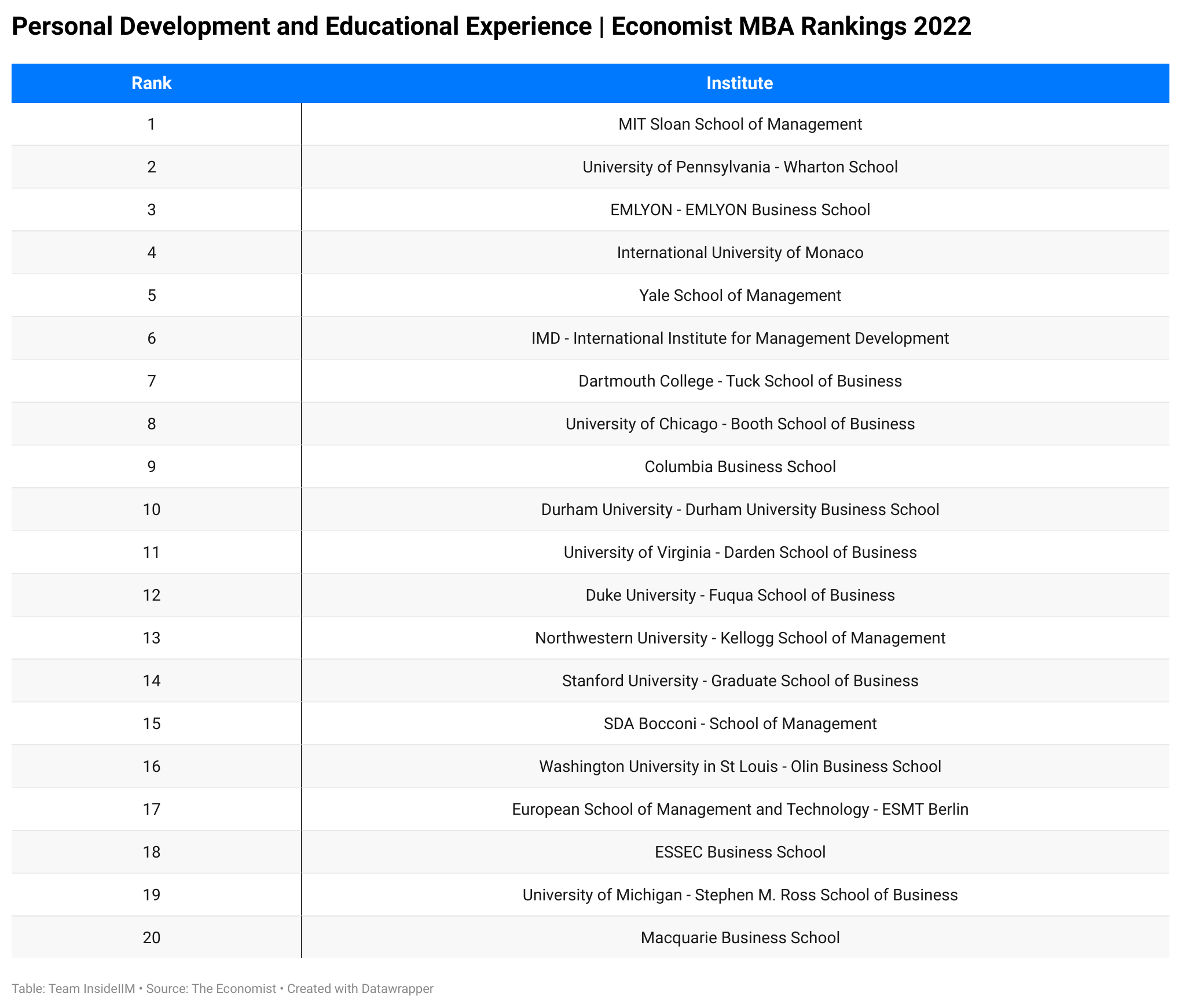 ---
Want To Build A Strong Network? Go To HEC Paris—Or York University!
Forming lasting networks is one of the key reasons why anyone enrols for a global MBA program. These networks can go on to get MBA graduates jobs in the future. The Economist quantifies networking opportunities to rank b-schools that provide the highest potential to network by calculating the ratio of alumni to current students, the number of overseas alumni chapters, and alumni effectiveness scores.
Based on these parameters, France's HEC Paris emerges as a b-school that offers a fantastic opportunity to create networks. Interestingly, Canada-based Schulich School of Business ranks ahead of many pre-eminent b-schools in this respect. Indian business schools, unfortunately, find themselves at the fag-end of the top hundred in this respect.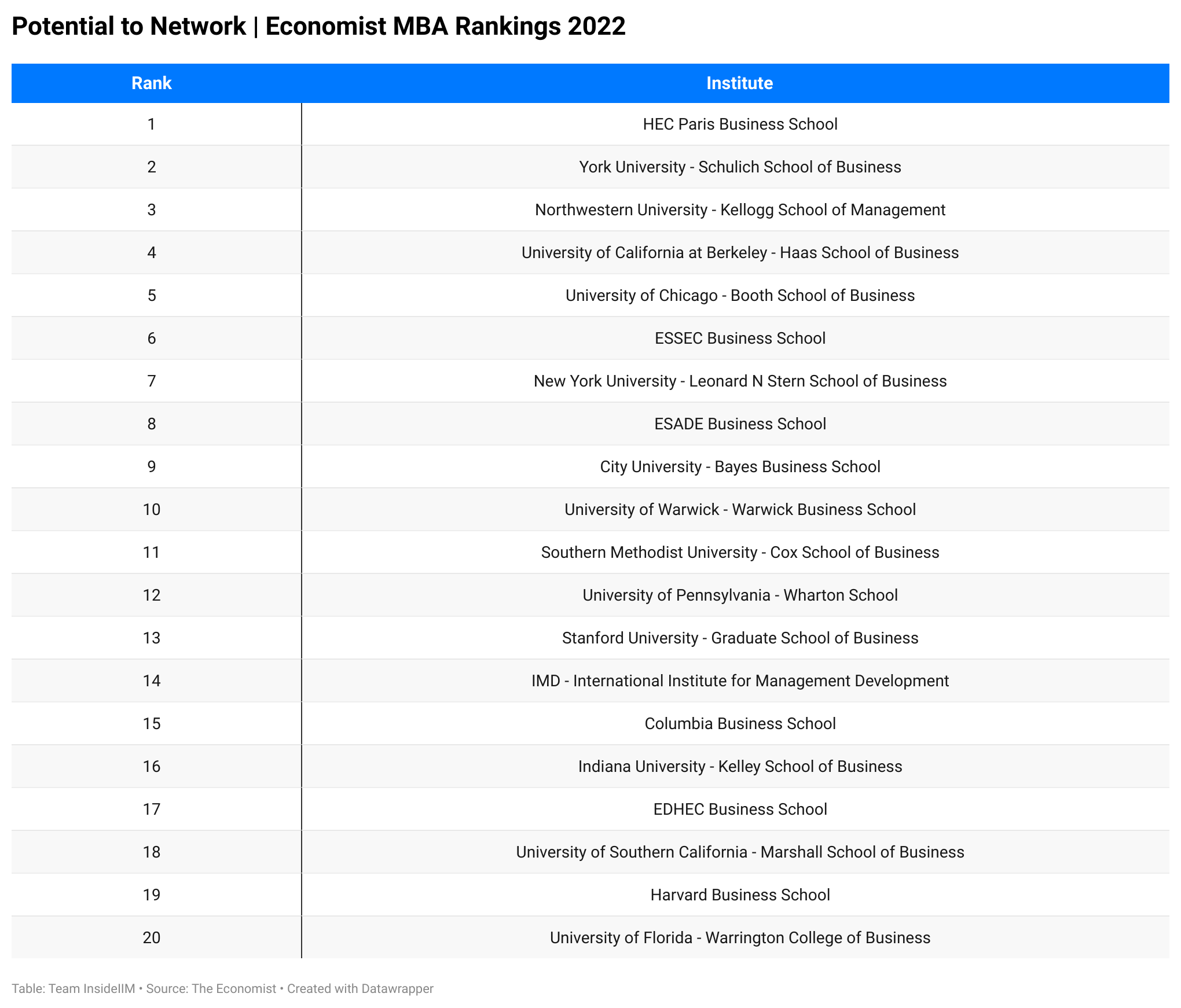 ---
Read Next → FT MBA Rankings 2022 - ISB Only Indian MBA College In Top 50