Cricket has experienced numerous rounds of development in the course of the most recent quite a few years. It began with only one format – Test Cricket. Excellence during this period requested characteristics, for example, tolerance, determination, specialized mastery. With the coming of the shorter ODI format, development, adaptability and a capacity to settle on speedy choices began to hold more noteworthy significance. Enter the time of Twenty 20s and the requirement for these qualities got amplified considerably more.
Advertising has experienced comparable rounds of evolution. Traditional Marketing revolved around broadened brand planning lifecycles, correspondence techniques that concentrated on clarifying the brand value propositions in a utilitarian way and the channels contained fundamentally of "push" based roads which overwhelmed clients with data with some barebones focusing on networks applied.
A time which can be contrasted with the laidback era of test coordinate cricket.
The following period of the marketing evolutionary curve revolved around "pull" based advertising with advancements, for example, On-ground Activations, Contest Based Lead Generation, and so forth, flourishing.
The subsequent more recent advancement was the Digital which enabled advertisers to precisely change their focusing on frameworks, spends, and marketing mix in real-time and settle on information-driven choices. A branch of this revolution was the introduction of "viral" advertising campaigns which in spite of not being legitimately "selly", drove lopsidedly high brand mentions and social traction for organizations.
While all the three particular formats/frames in cricket and marketing coincide today, they request broadly differing ranges of abilities from their professionals as condensed in the table underneath –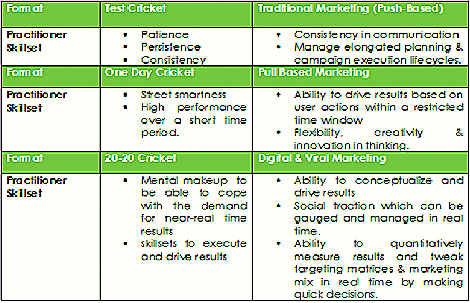 Notice the eerie parity in the ranges of abilities requested of the professionals in every one of the separate times of cricket and marketing. This is reflective of the evolution of society at large at each point in time and their respective tastes and needs.