Check CAT Results 2019 - Normalization - How To Proceed?
CAT Results 2019 are out today i.e. 4th January 2020. Here's everything you need to know.
Apart from every candidate being sent a SMS on their registered mobile no. containing the percentile scored, below are the steps through which you can download your CAT scorecard.
Go to the CAT official website i.e. iimcat.ac.in

Login using your CAT user ID and password which was being sent to you via e-mail and SMS respectively.

Go to "Score Card" tab and click download.

Two commonly heard terms around CAT (Common Admission Test) results and scorecards are"normalized score" or "scaled score". But what does it really mean, and how will CAT scores be "normalized"?
Normalization is a concept in statistics, which essentially means the adjustment of values on different scales to form one equal and common scale.
In CAT, this normalization process is applicable due to the difference in difficulty levels of the two slots in which the exam was taken by candidates across India. For those of you who already know your CAT scores due to a loophole on the official CAT website, you will have already observed a difference of 5-6 marks in scores of the two slots.
If you want to know the academic definition of normalization and want more information, refer to this article.
So how does CAT actually normalize scores? What is their magic formula?
Unfortunately, IIMs do not disclose their normalization process, but they do let you in on a little bit of information.
According to the official CAT 2019 website,
The process of Normalization is an established practice for comparing candidate scores across multiple Forms and is similar to those being adopted in other large educational selection tests conducted in India, such as Graduate Aptitude Test in Engineering (GATE). For normalization across sections, we shall use the percentile equivalence.
However, we can get a basic idea of how IIMs carry out normalization by taking a look at IIM Lucknow's scaling process to calculate composite scores: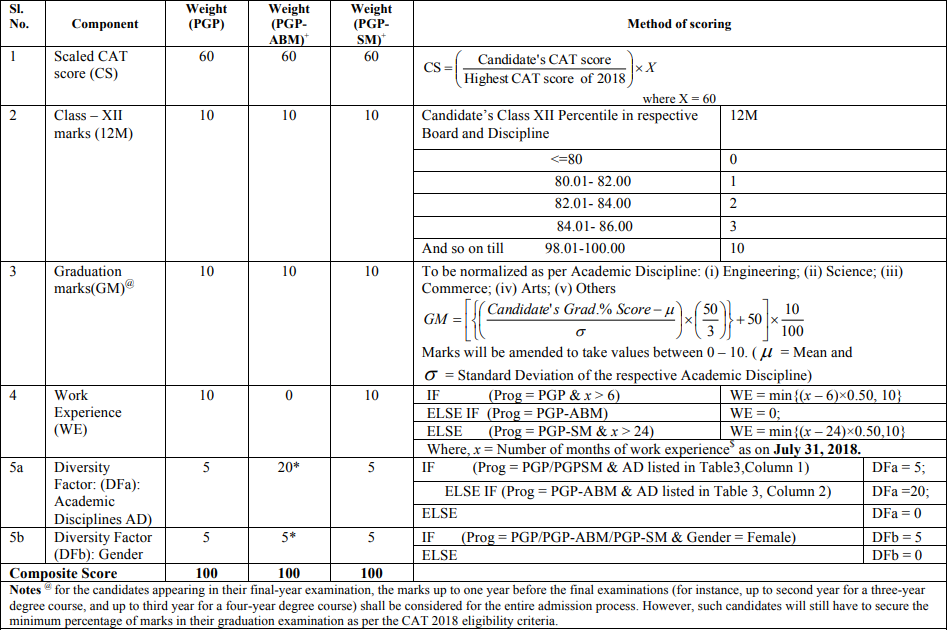 If you're interested in taking a look at a more in-depth but complex scaling process, take a look at IIM Shillong's selection process here.
Now that you have all this information, what do you do with it? What does this mean for you?
Let us take an example of a hypothetical candidate who scored the following marks:
| Slot 1 | VA-RC | DI-LR | QA | Total |
| --- | --- | --- | --- | --- |
| Raw Score | 70 | 30 | 30 | 130 |
| Scaled Score | 65.72 | 28.37 | 32.42 | 126.51 |
This candidate then finds out that another friend of his, who got the exact same raw score as him, actually got a higher overall score.
| Slot 2 | VA-RC | DI-LR | QA | Total |
| --- | --- | --- | --- | --- |
| Raw Score | 70 | 30 | 30 | 130 |
| Scaled Score | 75.28 | 32.63 | 28.58 | 136.49 |
What you can observe from this is that in Slot 1, the VA-RC and DI-LR sections were easier than Slot2, while the QA section was tougher. At least in theory, in this hypothetical scenario, Slot 2 was considerably more difficult than Slot 1, resulting in the difference in marks.
CAT 2019 was a complex, tricky exam which took everyone by surprise. With the Quantitative Ability and Data Interpretation section being much time consuming than expected, the overall CAT percentile for a lot of aspirants has come reduced. The story was exactly the same for CAT 2018, where the Quant section appeared as the villain.
It is frustrating to see months of hard work go in vain due to just one section - all those hours spent learning formulae, giving sectional and mock tests and hoping for a relatively simple paper.
As they say, "it's not worth crying over spilt milk". However, now the important question that arises is - What next?
Should you give CAT another shot? Or should you give up on it altogether?
To answer these questions, let us evaluate the Pros and Cons of appearing for the exam once again in 2019. We'll start with the bad news first:
Cons:
If CAT 2019 was your 3rd attempt at the exam, it is likely that you have accrued close to 30-36 months of work experience. By the time you appear for CAT 2020, you will have had 42-48 months of work experience, which creates a problem. As you gain experience beyond the 36-month mark, points for work experience drop in the IIM shortlisting selection criteria. Additionally, during placements at a business school, certain companies require 1-2 years of work experience (consumer goods) to be eligible for a shortlist. If you are an experienced professional in the BFSI or Consulting industry, then this work experience may work to your advantage. Therefore, before appearing for CAT '20, talk to alumni with the same work experience as yours and make a calculated decision. Ask yourself - Is it worth giving CAT with my total months of work experience?
---
CAT is a difficult exam and requires 6-7 months of dedicated effort to reach the cut-off percentile for IIM shortlists. If you're appearing for CAT again, then it is likely that you are a working professional, which implies that for these 6-7 months you will have to balance your work and studies on a daily basis. Now, this is easier said than done. Those working in SMEs and MNCs have 10-12 hours of work per day, excluding travel time. This means that you will have a maximum of 3-4 hours per day for CAT preparation. Weekends will have to be filled with studies, and social life may halt for a period of time. In other words, CAT will require consistency and sacrifices. Ask yourself - Am I willing to make sacrifices and balance my work and studies for months together?
---
With 2 lakh+ people giving CAT every year, only the top 2% get into the top business schools like the old IIMs and other private institutes. Therefore, it is highly probable that even CAT 2019 may not work out for you. This does not imply that you won't make it to the top 2-3% applicants. However, this does mean that you will have to ask yourself - Am I capable enough to handle the fact that I may not actually make it to a top business school next year?
Pros:
CAT, should you clear it and the subsequent interview rounds, can be a life-changing experience. If you manage to join a top IIM, or other management institutes such as MDI, FMS, IMT-G, MICA etc., you can be guaranteed top-notch management education, massive networking and peer-learning opportunities, and if your CV permits it, stellar placements at the end of the two-year course. As difficult as it may be, CAT is not the demon everyone makes it out to be. Ask yourself - Am I interested in management at all? If yes, am I capable enough to crack this exam in the next 11 months?
---
If you're stuck in a job you don't like, a career that you don't enjoy, a work-life that you want to move on from, then CAT can be an answer to all your woes. Once you graduate from a top management institute, a lot of doors open up for you. From supply chain management at Amazon to investment banking at Goldman Sachs, career opportunities increase many folds. Don't misunderstand CAT to be a gateway to the perfect life - it isn't. Your job will still be highly demanding (even more so as a Manager), but you will shoulder much more responsibility, handle large teams, and will advance faster in your career. Ask yourself - Am I happy in my professional life? If not, where do I want to be and how can getting into a B-school via CAT help me?
---
You have already appeared for CAT at least once. It is likely that you had at least 1 strong suit amongst the 3 sections of CAT. It is likely that you had an above average score in another section, and messed up entirely in another. Therefore, all that hard work was not in vain. You understand the exam, you know what it demands, and you possess months of knowledge that you can build on in the next 11 months. Even if your CAT 2019 performance was abysmal in all three sections, you still have 11 months to improve your basic concepts.Ask yourself - How can I use the knowledge I gained for CAT '19 and build on it for CAT '20?
Here is some advice from those who have been in your shoes before:
Should I Take CAT Again - Advice From The Founder Of InsideIIM
How Many Times Should You Appear From CAT - Tips From An IIM Student
Three CAT Attempts And An IIM Admit - Keep Calm And Never Give Up
Did you know - You chance of getting into a top IIM just went up! Find out more here.