A Complete Guide To GMAT 2022
The GMAT (Graduate Management Admission Test) is an entrance test for some of the top business schools across the world. This computer-adaptive exam tests the writing, analytical, verbal and quantitative reasoning abilities of the candidate.
Last Updated: Aug 24, 2022
Register
and stay updated with
gmat
preparation.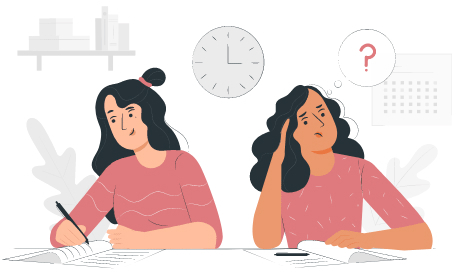 The GMAT (Graduate Management Admission Test) is an entrance test for some of the top business schools across the world. This computer-adaptive exam tests the writing, analytical, verbal and quantitative reasoning abilities of the candidate.
GMAC (Graduate Management Admission Council) is responsible for the design and administration of the GMAT. It decides the GMAT format and paper pattern. Today, more than 2100 universities across the globe accept GMAT scores for admissions into their MIM (Masters in Management) and MBA (Masters in Business Administration) programs.
Read on to get all the detailed insights about the GMAT exam.
GMAT 2022 Highlights
Particulars
Details
Name of Exam
GMAT (Graduate Management Admission Test)
Conducted By
GMAC (Graduate Management Admission Council)
Official Website
https://www.mba.com/
Most Popular For
MBA Colleges in India and Abroad
Mode of Exam
Computer-Based Adaptive Test
GMAT Fee
US $275 (INR 20,600 approx.)
Score Range
Min 200, Max 800
Duration of CAT Exam
2 Hours since 2020
Contact Details GMAC Office
Details:

GMAC/GMGC India Office Gurugram, India, Phone: +91 124 4945270
Graduate Management Admission Council (India) Private Ltd. CIN: U74140HR2010FTC041751
Graduate Management Global Connection (India) Private Ltd. CIN: U74900HR2015FTC054366
Purpose Of The GMAT Exam
As per GMAC, the GMAT exam is the most trusted, proven and well-understood predictor of academic success. The exam provides admissions officers with access to the largest pipeline of candidates committed to graduate business management studies and allows them to build a diverse and successful class.
Further, More than 7,000 programs at 2,300 universities and organizations in 110 countries use the GMAT exam as part of the selection criteria for their programs.
GMAT Eligibility
As per GMAC, there are no fixed GMAT eligibility criteria. Every year, students in huge numbers appear for the GMAT exam in more than 100 countries. Read on to know more about the GMAT exam eligibility criteria 2022 in detail.
Age Limit For GMAT:
There is no fixed upper limit for the candidates who want to appear for the GMAT exam. The minimum age requirement is 18 years, however, children from 13 to 17 years of age can also appear for the GMAT with written approval or consent provided by their legal guardians or parents.
Language Requirement:
English is the mode of language in which the GMAT exam is designed. Hence, aspirants are expected to have a decent understanding and fluency in the English language. Also, to qualify for the test with a high score, aspirants need to be credible to comprehend the verbose questions. Basic comprehension and grammar skills are a must for the GMAT.
Qualifications:
As per the GMAT eligibility criteria 2022, aspirants are required to have a bachelor's degree as the basic educational requirement. There are no restrictions on the academic background for the GMAT. Anyone from any academic background, nationality, religion, age, gender, or race can appear for the exam without any discrimination.
There are special facilities available at the test centres for the differently-abled candidates also. One has to provide medical certifications for that, and they are kept secret by the GMAC.
How Many Attempts of GMAT Are Allowed?
Candidates can appear for the GMAT exam as many times as they wish to, however, there needs to be a break of 16 days between two attempts. One can appear for the GMAT only 5 times a year and 8 times in total.
| | |
| --- | --- |
| Gap Between Two Attempts | 16 Days |
| Maximum Attempts for a Year | 5 Attempts |
| Lifetime GMAT Attempt Limit | 8 Attempts |
Registrations Details 2022
Candidates can register for the GMAT application anytime between 6 months and 24 hours before the exam date. The number of GMAT applicants is increasing immensely every year, and thus, getting a preferred GMAT slot becomes more difficult. Hence, it is advisable to take the GMAT exam Registration 2022 at least 3 months before the planned test date.
GMAT Registration Fee:
The GMAT exam fee is US $275 (approx. 20,600 INR). If the candidates want to reschedule the GMAT exam date, the fee is US $50 at least. Also, candidates will be charged the US $150 at least as a GMAT cancellation fee if they cancel the exam.
*How To Reduce The Cost Of Your GMAT Preparation
GMAT Reschedule Fee:
| | |
| --- | --- |
| 1 to 14 days before the appointment | $150 |
| 15 to 60 days before the appointment | $100 |
| More than 60 days before the appointment | $50 |

GMAT Cancellation Fee:
| | |
| --- | --- |
| 1 to 14 days before the appointment | $200 ($50 refund) |
| 15 to 60 days before the appointment | $175 ($75 refund) |
| More than 60 days before the appointment | $150 ($100 refund) |

GMAT Registration 2022 Dates:

As such there are no specific GMAT test dates. The GMAT exam is conducted multiple times a year. Candidates should go for the GMAT Exam registration at least 3 months before the planned date.
Registration Process
GMAT registration can be done throughout the year as per the candidate's convenience. It is advisable to have a proper preparation strategy in place before registering for the GMAT test.
Also, it has to be noted that the rescheduling of the next attempt can be done only after 16 days of taking the first attempt.
Steps to register for GMAT 2022:
Step 1. Visit the authorized GMAT official website's registration page and click on "Register now"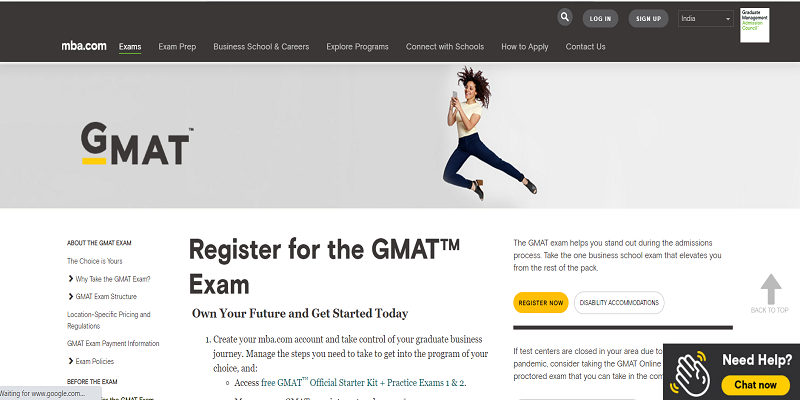 Step 2. Create an account on the GMAT official website.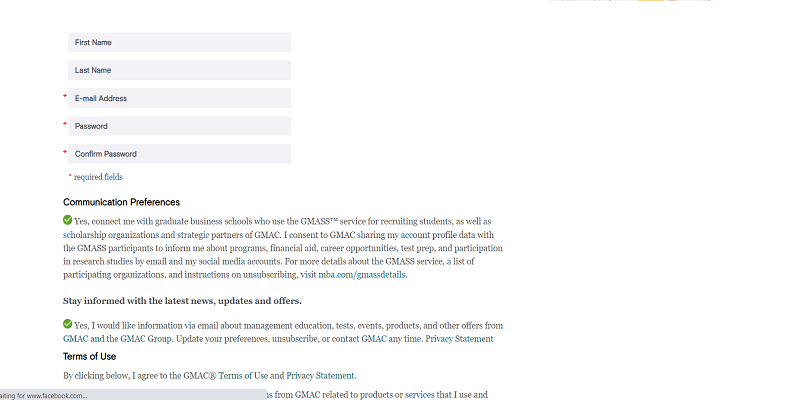 Step 3. Give your details like Name, address, along with the address, Date of Birth, Preferred way of Communication (SMS or Phone), Which Courses and Countries are interested in, etc.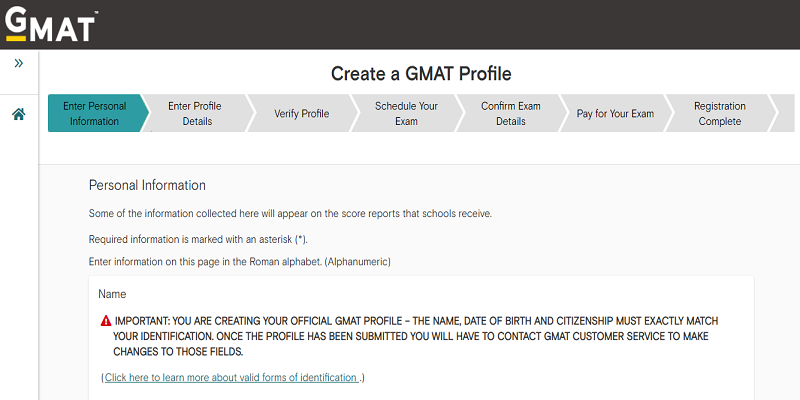 Step 4. Schedule your exam. You can choose up to 3 test centres near you. Tick the options. Choose the date and time available.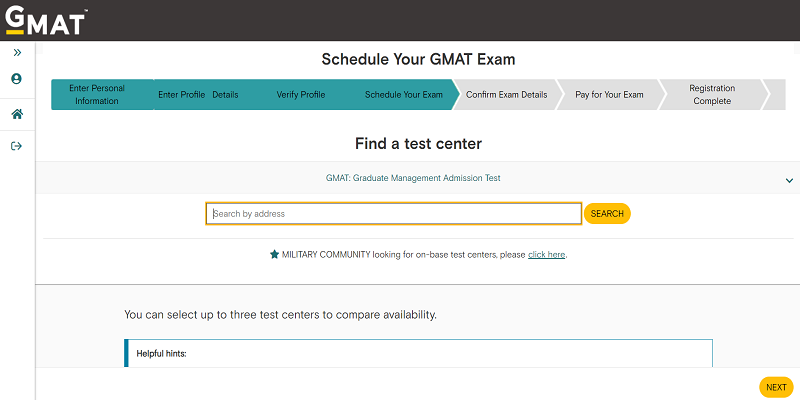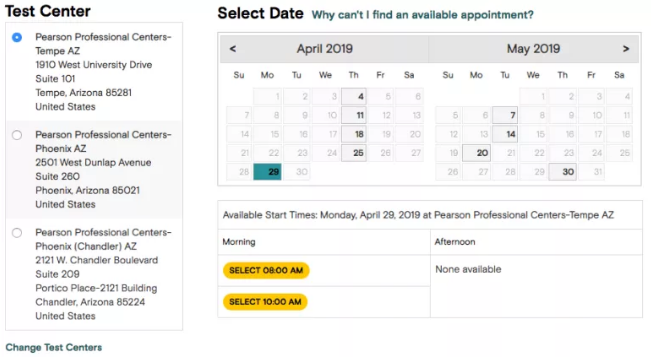 Step 5. Make the online payment in the next step. The GMAT fee is $250. You can make online payments through credit card, debit card, or net banking; according to your convenience.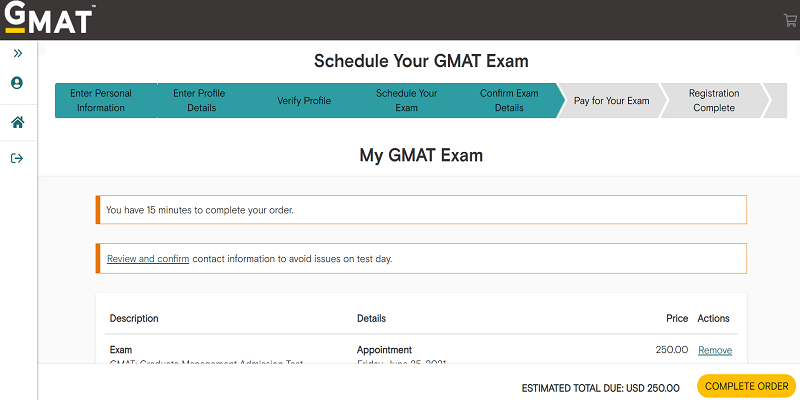 After payment, you will be notified of the exam date and test centre via your mode of communication.
GMAT Slot Booking:
Based on one's plans and level of preparation, one can appear for the GMAT test. After registering for GMAT, you need to book a slot every time to fix the GMAT exam date 2022.
Steps to book a slot for GMAT 2022:
Step 1: Visit the official GMAT website
Step 2: Choose the test centre
Step 3: Enter your preferred country
Step 4: Select a GMAT test centre from the given list of test centres (You can choose up to 3 test centres)
Step 5: Now select the preferred GMAT exam date 2022
Things to know before booking a slot:
| | |
| --- | --- |
| Gap Between Two Attempts | 16 Days |
| Maximum Attempts for a Year | 5 Attempts |
| Lifetime GMAT Attempt Limit | 8 Attempts |

GMAT Test Center:
For the GMAT exam registration, you need to search for a GMAT test centre based on the distance, test centre infrastructure and your comfort. The GMAT test can be given only at designated Pearson VUE test centres across the globe. GMAT test centres are there in all the major cities of the country. The GMAT exam in India is conducted in the following cities- Hyderabad, Visakhapatnam, Delhi, Ahmedabad, Amritsar, Ranchi, Bangalore, Bhopal, Cochin, Dehradun, Indore, Noida, Gurugram, Guwahati, Pune, Nagpur, Manipal, Mumbai, Mysore, Chennai, Lucknow, Jaipur, Kolkata, Pilani, Surat, Vadodara, Vijayawada.
Exam Pattern
The GMAT exam pattern has four section types to assess the analytical writing, verbal, quantitative reasoning and reading skills of the candidate. The GMAT sections are
Integrated Reasoning—which measures the ability to analyze data and evaluate information presented in multiple formats
Quantitative Reasoning—which measures the ability to analyze data and draw conclusions using reasoning skills
Verbal Reasoning—which measures the ability to read and understand written material, to evaluate arguments and to correct written material to conform to standard written English
Analytical Writing Assessment—measures the ability to think critically and to communicate ideas
All You Need To Know About The GMAT Structure
Analytical Writing Assessment (AWA):
The Analytical Writing Assessment is generally known as the "essay" section. It assesses the writing skills of a candidate. This section has only one essay writing. This is the only segment of the test that is not multiple-choice based. These essays are marked by a human grader and a computer grading system. The score is then averaged for your final score. You will be given 30 minutes to complete this section. The scores are marked in the range of 0-6.
You will be provided with a short argument. Instead of presenting your viewpoint, you are required to criticize the argument and analyze the accuracy of the author's evidence and reasoning.
GMAT Integrated Reasoning (IR):
This section consists of a total of 12 questions which may have multiple parts. These are multi-source reasoning questions. A time duration of 30 minutes is given to complete this section. The scores are marked in the range of 0-8.
Data Sufficiency:
Data Sufficiency question type consists of a question with two statements. You have to determine whether the given statements provide sufficient data required to answer the question. GMAT math requires you to recognize quickly the information you would need to solve the problem and to capably eliminate answer choices. There are 17 or 18 questions of this type.
Problem Solving:
Problem Solving is a typical test question type. You'll be provided with a question and five possible answer choices for it. This question type uses the math of high school–level up to algebra and plane geometry. This is to test your critical thinking skills. There are 19 or 20 questions of this type.
Verbal Reasoning:
The GMAT Verbal section is designed to assess your command of written English, and ability to analyze arguments and read critically. You will be provided with 75 minutes to complete this section. The scores are marked in the range of 0-60. There are a total of 41 questions in this section. There are three question types in this section:
Critical Reasoning:
GMAT Critical Reasoning questions test the skills in making, comprehending arguments, and devising a plan of action. You will be provided with a short argument or a sequence of statements and a question relating to it. To score well in the GMAT Critical Reasoning questions, you need to understand the structure of arguments and need to have a thorough logical analysis of the relations between evidence and conclusions. This section contains approximately 11 questions.
Sentence Correction:
In this type of question, you will be provided with typically long and involved sentences. A part of the entire sentence will be underlined, and you are required to find the best adaptation of the underlined section out of the original or one of four alternatives. The sentence may contain no or one, two, or more errors. This section contains approximately 16 questions.
GMAT Reading Comprehension:
These types of questions assess your critical reading skills. More specifically, these questions assess your ability to summarize and comprehend the main idea, make conclusions based on information in a text, analyze the logical structure of a passage, and infer the author's tone and attitude about a topic. You will be provided with an academic reading passage on a topic related to social science, business, biological science, or physical science. You will then have to answer approximately 14 questions about the text.
GMAT Syllabus
Before you decide to appear for any exam, it is essential to understand the area of subjects and what they cover. Therefore, the GMAT exam Syllabus is what you should be most aware of if you are looking forward to applying for a business and management university abroad.
GMAT is one of the most widely taken exams by graduates. It stands for Graduate Management Aptitude Test. Many of the Top B-Schools in the world have GMAT Scores as their eligibility criteria. GMAT syllabus and eligibility, both are important to know before you book the exam. Here we are talking about things included in the Syllabus of the GMAT. Before that, here are some of the useful links:
There will not be a different GMAT syllabus for MBA or any other course, all the candidates applying for master's courses will have to face the same syllabus of GMAT. Knowing what you will be facing in your GMAT exam is important, to prepare it accordingly. The GMAT question pattern has 4 sections, which are explained below in the syllabus.
GMAT Analytical Writing:
This section will have topics, on which the candidate will have to write, or a passage may be given and the candidates have to answer the questions based on it. The GMAT pattern and syllabus for this section are huge and varied as the topic of the passage could be any topic of general interest. You should focus on the structure of the answer and not the arguments presented.
What to Expect?
GMAT Analytical writing is an assessment of English language abilities and how one can analytically think over an argument or statement provided to them. It is important to put your ideas into words and communicate clearly. Keep in mind you do not have to put your views to the test, but the best analytical argument and counter-argument in this section.
You will have a time of 30 minutes for this section. (Detailed information at GMAT Exam Pattern) You can take the first few minutes to think and roughly understand how you will be structuring your essay. Use your time optimally, as you will also need to time reread and correct the essay in the end. . Now you know about the GMAT exam pattern of the Analytical Writing section.
How will it be evaluated?
There are two ways analytical writing is assessed by GMAT.
An Electronic system will evaluate the structure and language of the essay. It also evaluates the relevance to the topic in your writing piece.
Then there is a group of trained evaluators who assess the section, keeping these factors in mind: important features of the argument, how one has organized and developed the ideas, and if the candidate has used logical reasoning and examples to prove their point or not.
GMAT Quantitative Section:
The GMAT Quant syllabus comprises the math of the high-school level. GMAT math syllabus comprises the following topics:
Arithmetic – topics such as fractions, integers, roots and powers, probability, statistics, etc
Algebra – knowledge of variables and functions, as well as how to solve different kinds of equations.
Geometry – the properties of geometric objects, including triangles, quadrilaterals, solids, circles, cylinders, etc as well as coordinate geometry.
Word problems – a combination of arithmetic, algebraic, and geometric principles to solve problems.
These 4 types of questions are covered in the GMAT mathematics syllabus. This section must be prepared well by practising as much as you can, otherwise, a minor mistake will affect your overall score. Get more information here: Complete Guide for GMAT Quantitative Aptitude Section.
What to Expect?
According to the GMAT Syllabus, there are two types of questions asked in Quantitative Aptitude. Problem Solving and Data Sufficiency. Both the questions can be solved using the topics given above paired with some analytical skills and reasoning skills. However, those parts are minor and Mathematical skills are emphasized. In GMAT quantitative syllabus you have to emphasize Mathematical skills.
How will it be evaluated?
There will be five options given for each answer and the grades will be rewarded for the right answer. Keep in mind that you are not allowed to use the calculator in this section. This is the Quantitative Section of the GMAT preparation syllabus.
Verbal Skills:
The next section in the GMAT exam 2022 pattern and syllabus is the Verbal Reasoning section. The GMAT verbal syllabus comprises the following topics:
The rhetorical construction of the sentences
Critical reasoning
Reading unseen passages
Sentence correction related to finding an error or omission
Misplaced modifiers
Subject-verb agreement
Countable Vs Uncountable
Parallelism
What to Expect?
Here is the GMAT detailed syllabus of the Verbal Reasoning section. There are three types of questions in Verbal. Reading Comprehension, Critical Reasoning, and Sentence Correction.
Reading comprehension has passages from physical and biological sciences, social sciences and humanities, and business-related fields. The goal is to interpret the text given and answer the questions that follow that.
In Critical reasoning, a short passage is given to the candidate and one has to choose an answer from the options given below.
In sentence correction, there are many types of questions. The emphasis on sentence correction would be on Grammar.
Integrated Reasoning Section:
This is the newest addition to the GMAT Test Syllabus. This section will have questions of the following types:
Multi-source reasoning
Table analysis
Two-part analysis
Graphics interpretation
What to Expect?
GMAT Integrated reasoning is one's ability to take in large amounts of data and interpret them to reach the decision best for a hypothetical outcome. The question can be a combination of all three, therefore the type: Multi-Source. Table Analysis and Graphical Interpretation are on the same lines. (edited and bullets)
In Multiple Source reasoning, the data to interpret would be from tables, graphics, diagrams, and text and answers.
Table Analysis has data in the excel sheet form.
In graphical interpretation, there may be charts, graphs, bars, and other visual representations of Data.
Two-Part Analysis covers a wide range of topics. It has problems combining subjects like verbal and quantitative
The GMAT, an entrance exam syllabus of the Integrated Reasoning Section is all about interpreting exactly and making a decision. For practice: GMAT Integrated Reasoning Sample Questions
GMAT Preparation Books
There are different GMAT study materials available for the test takers to prepare. One can get GMAT prep books and join online GMAT forums, which help you prepare for the exam. Some of the popular books used for GMAT preparation are:
GMAT Official Guide 2022
Manhattan Prep GMAT Strategy Guide Set
Kaplan GMAT Complete 2022
PowerScore verbal trilogy Bible
Veritas Prep Complete GMAT Course
Best Resources To Prepare For GMAT And GRE- A Complete Guide
GMAT Score
Each of your five GMAT™ exam scores is reported on a fixed scale and appears on the Official GMAT Score Report that you and your designated score recipients (graduate business programs) receive. The GMAT score range between 200 and 800, with 800 being the highest GMAT score possible. GMAT is scored in increments of 10. About 70% of the test takers score between 400 and 600.
How Is GMAT Scored?
One needs to pay attention not only to the Total score but to the other sectional scores also. Those scores offer you and the programs receiving your scores insight into your strengths and areas for development.
Section
Scoring
How the Section is Scored
Analytical Writing Assessment
0.0-6.0
Essays are scored using professional essay raters and a machine algorithm. The score is reported in intervals of 0.5
Integrated Reasoning
1-8
The Integrated Reasoning score is based on the number of questions answered correctly. For questions having multiple parts; you must answer all parts to a question correctly to receive credit for that question.
Scores are reported in intervals of 1.
Quantitative and Verbal
6-51
The scores for these sections are based on three factors:
1. Number of questions you answer
2. Questions answered correctly
3. Level of difficulty of the questions you answered scores are reported in intervals of 1 and the standard measurement error is 3 points.
TOTAL
200-800
Total Scores are based on the Quantitative and Verbal Reasoning sections.

Scores are reported in intervals of 10. The standard error of measurement is 30-40 points.

On the GMAT exam day, the testing computer calculates and displays your unofficial results as you finish the test. After this, you have two minutes to decide whether to report your results to business schools or cancel them. The official GMAT Exam result 2022 can be downloaded after 20 days from your account on the GMAT website.
Here's the data you need to know to put your GMAT score into perspective - GMAT Score to Percentile
Here is a comparative table of your scaled score to percentile:
| | |
| --- | --- |
| GMAT score | GMAT percentile |
| 800 | 99% |
| 790 | 99% |
| 780 | 99% |
| 770 | 99% |
| 760 | 99% |
| 750 | 98% |
| 740 | 97% |
| 730 | 96% |
| 720 | 94% |
| 710 | 91% |
| 700 | 88% |
| 690 | 85% |
| 680 | 81% |
| 670 | 80% |
| 660 | 76% |
| 650 | 72% |
| 640 | 66% |
| 630 | 64% |
| 620 | 61% |
| 610 | 57% |
| 600 | 53% |

Average GMAT Scores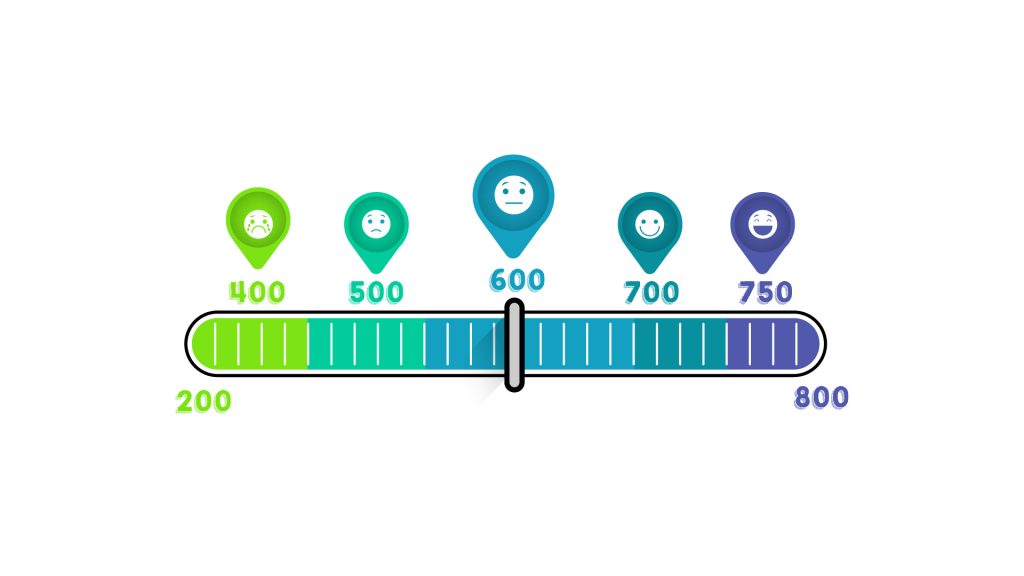 Check out the average GMAT scores for all test-takers:
| | |
| --- | --- |
| SECTION | AVERAGE GMAT SCORE |
| Verbal | 27.11 |
| Quantitative | 40.38 |
| Integrated Reasoning | 4.51 |
| Analytical Writing Assessment | 4.45 |
| TOTAL SCORE | 564.84 |
Source: GMAC
GMAT Exam 2022 FAQs
Q1. What is the GMAT exam?
Ans. The GMAT (Graduate Management Admission Test) is an entrance test for some of the top business schools across the world. This computer-adaptive exam tests the writing, analytical, verbal and quantitative reasoning abilities of the candidate.
Q2. Who Conducts the GMAT?
Ans. GMAT is conducted by GMAC. The Graduate Management Admission Council ®(GMAC®) is a global non-profit organization of leading graduate business schools around the world. GMAC is the owner and administrator of the GMAT®exam, the first and only standardized test specifically designed for graduate business and management programs.
Q3. How Does the Computer-Adaptive Format of the GMAT Work?
Ans. The quantitative and verbal reasoning sections of the GMAT are relative in terms of difficulty. The sections begin with a question of average difficulty. Then, the questions continuously vary in difficulty, depending on a test-taker's accuracy.
Q4. How is the GMAT different from the GRE?
Ans. Read on to know the detailed difference between GMAT and GRE.
Q5. What is the Examination Fee?
Ans. 250 US Dollars
Q6. How many times can I take the GMAT?
Ans. You can take the GMAT up to 5 times a year. But there must be a gap of 15 days between two successive attempts.
Q7. Which Indian Colleges accept GMAT scores?
Ans. Some of the major Indian colleges accepting GMAT scores for the normal MBA are:-
Indian School of Business, SPJIMR, MDI, IMT, IMI, XIMB, TAPMI, GIM, Great Lakes, MISB Bocconi, For Executive MBAs, all the IIMs accept GMAT scores.
Q8. Do I need Work-Ex to appear for GMAT?
Ans. No, you can even take the GMAT when you are in your final year or before. The score is generally valid for 5 years (though it depends on the college to which you are applying)
Testimonials
Shubham Jha
Hello Inside IIM team! All thanks to your blogs, videos related to CAT and XAT, which helped me a lot. Especially scoring around 80 percentile in VARC in CAT (although overall being 99+), I wasn't happy that much about my VARC scores. And then this 1 month gap, i followed your blogs which constantly motivated me throughout this journey. And thus led to this! Thanks a lot ❤️. And thus led to 99 percentile around in VARC with overall of 99.3. Thanks a lot to inside IIM team.
Kanthan Narayanan
Hi team! Kanthan this side. I have seen a lot of your youtube videos when I was preparing for CAT and some of them have really motivated me in my prep journey. I have gotten a decent score of 99.45 percentile (99.66/98.5/94) in CAT 21 and believe some of the credits should go to you guys. Thanks a lot! If you need any help from my side, please feel free to ping me up.
Shorya Singhal
Now, some of the comments would look like Insideiim bik gya But guys if we see the positive side, Out of 2.5 lac only around 40-50k student get into top 50 b school so what about others, they also have a right to join a decent b school, so this series of insideiim help them a lot Thank you insideiim
Anonymous
If we look back at the time when the websites were only limited to CAT Percentile cutoff, intake capacity, fees, and placement reports of the top Bschool, InsideIIM has lived up to its name. This is the first website to talk about what goes inside a Bschool. This platform has given us a lot of insights around types of careers, placement processes, and also beyond Bschool. Also, InsideIIM reinforces the person's purpose of 'Why MBA?'. Also, it prepares us beforehand for the beginning of Bschool.