Goa Institute of Management (GIM) to host Tata Crucible Campus Quiz 2015 regional finals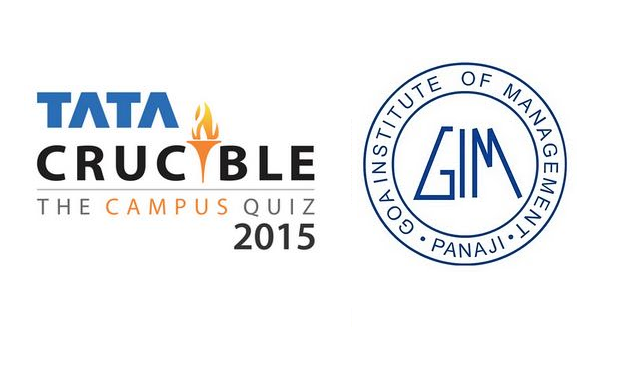 Tata Crucible Campus Quiz 2015 , India's largest and highest rated inter-collegiate business quiz is back with its eleventh edition, to challenge young minds with its edge-of-the-seat quizzing across campuses in India from February 3. Entering its second decade, this intelligent quizzing platform promises to enthrall students with intriguing and stimulating questions that encourages them to push their boundaries and showcase their out-of-the-box thinking.
The Goa chapter of the regional finals would be held in Goa Institute of Management (GIM), Sanquelim campus on 12th February, 2015. Ace quizmaster Mr. Giri Balasubramaniam a.k.a 'Pickbrain', will conduct the quiz as he has been, for the last decade.The chief guest for the event would be Father C. Joe Arun , Director of GIM.
Last year, some really high quality answers by the duo from BITS Pilani Goa (Bhargav and Ananth) took them past the team from Goa Institute of Management (GIM) which also looked very good and capable of winning. This year the stage seems set for the Goan teams to battle it out once again for a chance to represent Goa in the western zonals.
Tata Crucible Campus Quiz Rules:
There is NO ENTRY FEE
Each team would comprise of two members from the same institution
Team composition cannot change once the prelim has been taken
ANY NUMBER of TEAMS from the same institution can take part in the quiz
Teams can participate only from the city where the college / institution they represent are located.
If a team is from a city where the event is not being held then the closest city (by geographic distance) would be the location of participation.
Tata Crucible Campus Quiz Format
The participating campus teams will go through a preliminary written elimination round at a common venue
The top four teams from the written prelims will qualify for the regional stage rounds
If there are large numbers of teams participating, 2 more teams will be selected from one or two wild card rounds. The rules for this will be explained by the quizmaster at each venue. In all, six teams will make it to the regional finals
The regional winners from each of the cities will participate in the Zonal Finals in their respective zones
The top two teams from each Zonal Final will participate in the National Finals to be held in Mumbai.
Prizes
The winners of the regional finals will win cash prizes of Rs.100,000/-* while the runners-up will receive Rs.50,000/-.* Winners of the national finals will be awarded with a cash prize of Rs.700,000-/* and the coveted Tata Crucible trophy.  Rs.25,000/- and Rs.15,000/- from the Regional Winners and Runners up prize respectively and Rs.2 lakhs from National Winning team's prize will be donated directly to a charity of the team's choice.
*Subject to tax deduction as applicable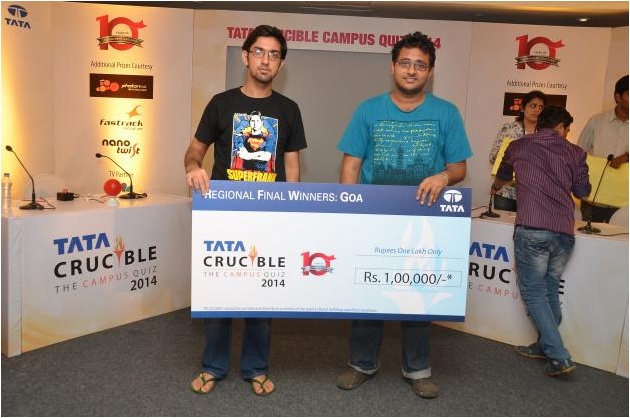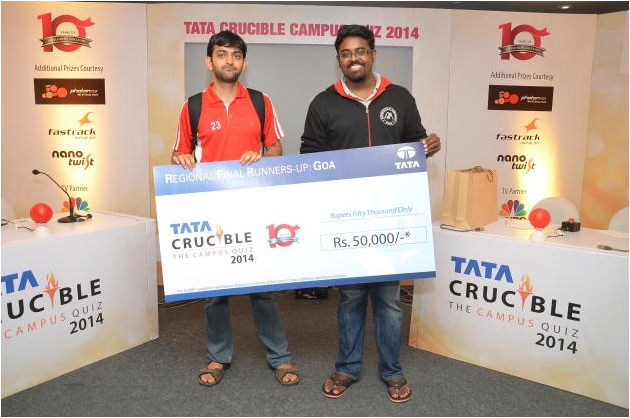 For quiz registration, detailed terms and conditions please refer to www.tatacrucible.com
Stay up to date on all of GIM's activities via Facebook , Twitter , official GIM Blog and the Website. For any PGDM admission 2015-17 related queries , join Facebook helpdesk  and Pagalguy helpdesk pages.
GIM Student PR Cell Goa
Goa Institute of Management: We don't just teach. Our students learn. What our faculty do is to enable a learning environment in in which learning is done with an ease. The focus is on learning. Our faculty also learn. They learn to evolve new and innovative pedagogies. That they do by understanding the nature and composition of students we have. In our two year full time, residential, PGDM programme, two year full time residential PGDM in Healthcare Management (HCM), and in three year part time EMBA, we direct our energy to focus on quality and excellence to form responsive and responsible leaders. Come and see, and learn.