Innovations In Marketing Promotion Through Digitization – Sharat From XLRI

In the recent years, the rapid rise of internet and digitization of processes has forced the businesses to basically rethink their marketing strategies and make major changes in them. Here we are going to critically analyze the future of digital marketing with respect to research and practices. In past, we have seen that how marketing environment has been transformed by the internet in umpteen ways and if we look ahead marketing strategy will make extensive use of the internet to reach their target audiences.
The marketplaces for a large number of products is evolving from predominant physical marketplace to a hybrid of physical and electronic marketplace – internet aided market environment. The digital revolution has also made an impact on the marketing practices for the non-information products also due to digitization of their information attributes. This has resulted in paradigm shift through innovations in interactive marketing, B2B marketing and Mobile marketing and here we will speculate on their future. The terms internet marketing and e-commerce are widely used in the business world but it actually means internet enabled marketing. The internet has played a major role in multiplying the impacts of peer to peer marketing on all the technological platforms. The primary mode of communication with the customers used by marketers is internet but it is implemented by in tandem execution on channels like Television, Radio and telecom, mobile and print media.
One good example is, reality shows on TV channels in India. They promote on all the channels, get the votes through SMS, website, apps. Kaun Banega Crorepati changed the way silver screen used to promote their shows. Amazon.com another example of the use of interactive marketing where it monitors the buying behavior of the customer through heuristics and algorithms to gauge their preferences and show recommendations based on that information.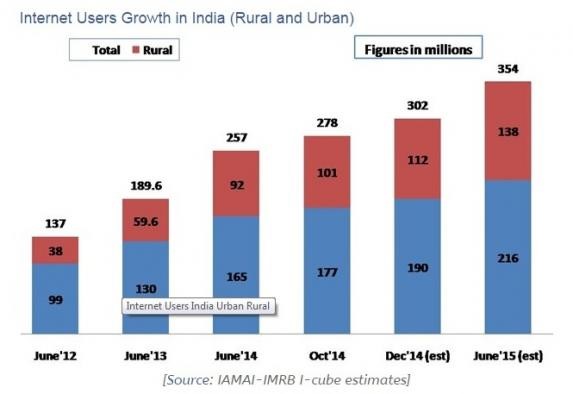 The future of the internet enabled marketing paints a bright picture (Above graph). At the end of the first half of 2015, India added 52 million internet users and out of which half of are from rural India. So the rural market is now also open to interactive marketing. This tremendous increase in internet penetration and high customer involvement will cause a paradigm shift in the field of interactive marketing in India. This growth rates will slow down in future years but India is slated to have one of the highest internet user base in the world.
Unique aspects of digital marketing
There are a number of unique aspects about the promotion of a service or product which has resulted in the rapid shift of marketing industry to the digital world. Some of these are listed as below:
Interactive functions
The dynamic nature websites and apps allow the vendor to provide with customized content as per customer visiting the website. The user can interact with the user and provide important data to the businesses even if doesn't make a purchase as that data can be used for data mining to gauge buying behavior for the consumer.
Multimedia capabilities
Visually appealing content always attracts consumer thus ability of the websites to provide animation, sound and videos. These can be leveraged to communicate the information in a completely different way. According to research, it has been proved that visuals increase readability.
Feedback mechanisms
They also provide a two way communication between the vendor and the customer. It provides the users with the information about the products and services to the user and also gives chance to the customers to provide information to the vendor through tools like surveys, emails and quizzes.
Mobile marketing
Currently, his is the most talked about thing in the field of marketing because there is a rapid shift of users from personal computers to mobile and tablets for browsing internet. There will be 90 mobiles for 100 people in India at the end of 2016 and the number will be more than the number of people by 2019-20. The graph below shows S-shaped growth pattern and high growth phase will continue during 2015-16. This growth is now moving to rural markets and is not stopping anytime soon.
Mobile phone in today's world has become significant to the lives of the people especially the younger generations and for them it is not only to stay connected socially but also a reflection of their personalities which makes them an important marketing channel. However sometimes, marketer become over enthusiastic and send unwanted promotional messages and calls to consumers, can backfire. Thus it becomes important to understand the wants of consumers, beforehand to develop successful mobile marketing strategies.
Before, SMS based push practices were used extensively in mobile marketing but the scenario has completely changed after the introduction of smartphones and the approach has now become pull based. Latest innovations like smartphone apps such as Google Shopper, Amazon's Price Check enables a user to scan the barcode of a product and important information like reviews, price comparison etc. has completely revolutionized the mobile marketing allowing high level of customization, convenience and  efficiency. Simple phones offer services like call, text, camera and organizer. However, smartphones with big touchscreens provide consumers a lot of features viz. apps, multimedia messaging, GPS. Telecom carriers are also providing attractive data plans to consumers to promote smart phone use. Thus these apps on smartphones provide an attractive channel of pull base marketing to marketers. With the prices of data plans going down, the time spent by user on smartphones is going to increase further thus it becomes imperative for marketers to keep an eye on this.
Colgate Kumbh Mela Campaign:
Colgate wanted to promote their toothpaste in rural areas by providing oral health education to the consumers and communicate benefits of regular brushing of teeth with toothpaste in comparison to natural substitutes used by them. They chose the platform of Kumbh mela, a huge gathering of Hindu pilgrims to target these consumers via mobile and location based technology. A virtual network sphere was created using 3 mobile towers in nearby areas and whenever pilgrims entered the area, they received a phone call from a Indian Radio speaker, Amin Sayani asking them to visit Colgate booths to get free toothpaste and win prizes. This is a niche promotion technique and this was a one of its kind campaign in India.