Internship Diaries | Zycus | Marketing | XIMB | 2018-19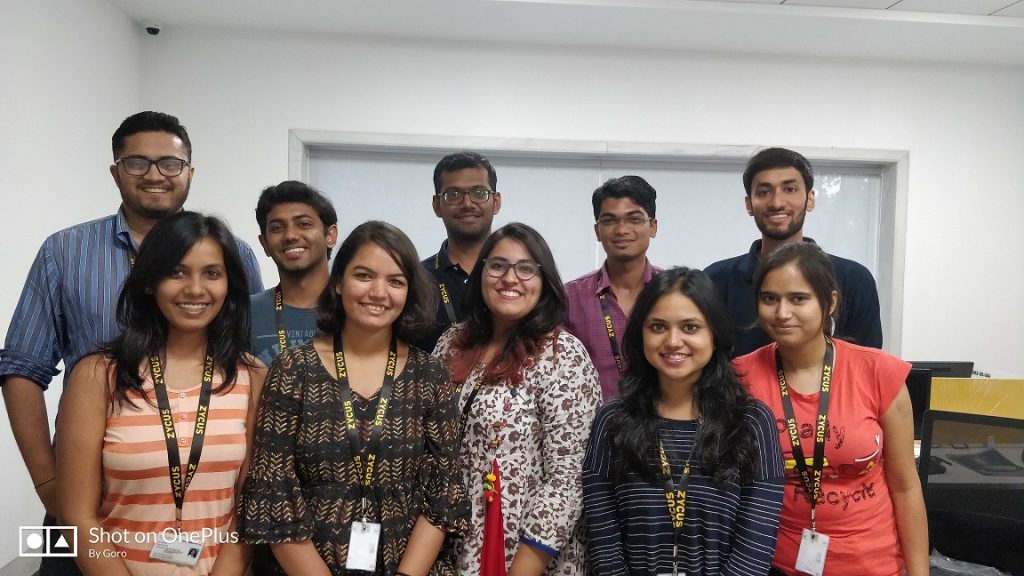 Mr Jeeva Shankar, a marketing intern at Zycus who developed a re-targeting strategy for Zycus's potential client base, shares his internship experience:
Q1)  How does one prove his/her mettle in a short span of two months?
Two months seems to be a short span of time but actually, it is eight long weeks to prove yourself in front of a senior manager. Many times, it's not the intelligence but basic common sense that sets you apart from the rest of the crowd. Attention to this particular detail itself helps you achieve the set goal.
Q2) Were you able to implement the knowledge gained in classrooms on a practical front?
During my internship, I came across a lot of new concepts that were not taught in the first year of MBA and proved to be new and essential learnings as there is always some gap between the academia and the industry.
Along with the new learnings, we also learn how the theoretical concepts that we learned are actually implemented practically
Q3) What was the most challenging thing that you had to do during your internship and what did you learn from that experience?
One of the most important things was to get hold of my mentor/manager. I was reporting directly to the Sales-VP, which is as high as it gets in the department. To get his time was the most challenging factor as meetings and doubt clearing sessions usually happened while he was travelling, in-between meetings and cafeteria breaks. Since time was a crucial factor, we needed to keep our points and doubts as brief as possible to avoid wasting his time. This again helped to gain favour over other interns in terms of interaction with the senior management.
Q4) Was the learning curve steep during your internship? How difficult it is to learn and apply the concepts in such a short duration?
The initial phase of learning was to get to know the products. As Zycus is a product based company, you need to know about the products and their uses. After that, the learning would be about getting to know the niche areas so that we can better market the products and tailor a better campaign or re-targeting strategy.
Q5) Was the job profile and work environment better or at par with your expectation from the internship?
When it comes to the work environment and the profile, Zycus has one of the best B2B profiles offered on this campus. So for someone looking to enter this sector, Zycus would provide a great platform and you will be mentored by the top professionals in the marketing domain since all global marketing operations of Zycus are handled from the headquarter in Mumbai. The work culture there is pretty relaxed. As long as you meet your deadlines and are efficient in your work, the work culture will be suitable for you.
Q6) What were your main takeaways from the internship?
The biggest myth that learning happens up until a particular age was broken and I realized that learning is a continuous process. I even saw the vice president at Zycus learning, adapting and also interacting with young people for new ideas. Apart from the marketing concepts, industry knowledge, and deeper insights, this is my takeaway from the internship.
Q7) What will be your advice to the first years so that they can be better prepared for their internships?
My advice would be to keep your options and eyes open throughout the internship. You may not get the best profile and the best company but the learning will still be immense, as every profile has something unique to offer. You should focus on maximizing from your current opportunity and try to gather as much knowledge as you can. The two months of the internship will be an enriching experience in your life and offer practical knowledge that the first year of MBA may not be able to give. Buckle up and put your best foot forward and learn the maximum that you can in these two months!
Xavier Institute of Management Bhubaneswar
Xavier Institute of Management, Bhubhaneswar is one of the most coveted B-schools in India. Established in the year 1987, XIMB is known for quality education in the field of Management and creation of future entrepreneurs. XIMB offers to its students three prestigious programmes; Business Management, Global MBA and Executive-MBA. 30 years and still going strong, XIMB strives to achieve its mission of making managers with a human face.