Numbers – HCF& LCM – InsideIIM Virtual Class with CPLC's Parag Chitale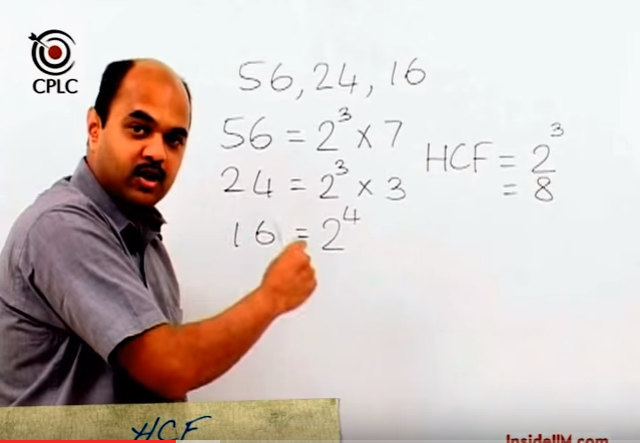 CPLC 's Prof. Parag Chitale systematically deconstructs the problems which make quantitative aptitude seem ridiculously simple. In this video, he explains the basic topic of HCF & LCM, Fractions and more. It's one of the most basic topics in quantitive ability which you need to know before you start your preparation in full-swing.
 HCF & LCM
Whether it is CAT or GMAT, this series on InsideIIM is comprehensive and covers the fundamentals of all possible problems under the Quantitative Aptitude area. You can watch the entire course here
We will also try and post some classic problems to be solved in this area from time to time in the comments section. Use the comments section for any discussion on this topic.
About CPLC
If you are a student studying in one of the colleges of Western Suburbs, then Prof. Parag Chitale should be a household name. The reason being, for over five years CPLC was known as 'Parag Chitale's Classes'. It is only recently that it was rechristened in the current form. CPLC stands for 'Chitale's Personalized Learning Centre'. Justifiably so, it's a breather from the crammed, packed, impersonal classrooms that most CAT coaching classes provide. With just 25 students in a batch, it is more like personal tutoring, with all books, courseware and tests provided to the students. Founded in December 2002, it has trained over 6000 students for various competitive business school entrance exams and within 10 years of its personalised and dedicated training to students, CPLC has established itself as one of the leading training institutes.
CPLC caters for various national competitive examinations like MBA entrance examination including CAT, CET, XAT, NMAT, SNAP etc and International exams like GRE and GMAT.
Our students know CPLC as an institute of quality, choice and personalised attention and value our honesty and integrity. CPLC combines the best teaching talent and the most efficient practice processes with constant updating of the content and solving every single doubt of the students to help the student in every possible manner.
If you wish to schedule an appointment with Prof.Parag Chitale, please fill the form here.
If you are in a hurry, then please do not hesitate to get in touch with folks at CPLC on 9702015999 or 9702702888
You can visit CPLC's website on www.cplc.net.in
You may also be interested in : InsideIIM PrepZone – Virtual Class
Please take the InsideIIM Recruitment Survey 2012
Our facebook page : InsideIIM
Follow us on twitter here : @InsideIIM