Prabandhan Sansthan Se Karodpati Banne Tak! – MDI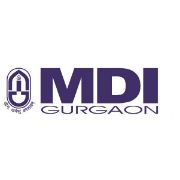 My life in MDI so far has been a roller coaster ride. A lot of false expectations have been corrected initially and lots of new thought processes and perspectives have been introduced at the same. I realized each and every day that works in a social setting can never be done alone, not because I am not capable enough, but because businesses require that many perspectives and inputs to be implemented successfully. From case study discussions in marketing planning class to public speaking extempore sessions in managerial communication class, everything has been an enriching experience so far and I have a long way to go. Apart from the academic rigor, managing time is something I am learning and failing each day to and trying the subsequent day again only to succeed. I have met a lot of amazing people with different cultural and educational background and I believe it will only help me in gaining one of a lifetime experience. In the end, I will only say that I may leave MDI after 2 years, but MDI will never leave me.
The ABG Company I want to join would be Idea cellular. I think I would be able to leverage out my engineering knowledge in the field of electronics and communication in this company and bring in new perspectives through the HR. Also, with the Vodafone-Idea merger I think it would be a perfect opportunity for me to work in an environment where company structure and culture both would be changing and have a great learning experience as to how various verticals of an HR work – be it use of HR analytics for employee engagement, organization policies or talent acquiring and retention.
It is the third largest Indian private conglomerate which in itself says a lot about the company Idea cellular. It will provide me a platform where I can blend my technical, HR managerial and communication skills to become an indispensable resource of the company. Adding to it, the purpose is not to just be good in the HR part of the company or good at the technology part but be good at managing the holistic business and seeing the big picture.