About the Webinar
Have you ever dreamt of working in an industry which will triple its market valuation to USD 150 billion in the next 5 years? If you have your eyes set on a career which will take off like sail to the wind, you're looking at FinTech. The growth trajectory of India's FinTech sector has been exhilarating with 2100+ companies in India alone, of which a whopping 67% have been set up in the past 5 years. It is in fact, the 2nd highest funded sector in India after E-Commerce.
The new government initiatives & regulations like UPI, Jan Dhan Yojna, recognition of P2P lending FIs as NBFCs, etc. & other factors like funding environment, smartphone & technology adoption, etc. are some of the core drivers of the booming FinTech industry. India has the highest FinTech adoption rate globally of 87%, which is significantly higher than the global average rate of 64%.
To facilitate this growth, the industry requires a workforce who can function with efficiency in an ever-evolving landscape and also have necessary functional skills. India has witnessed an 8% spike in the number of job opportunities in the Q2 2021 compared to the Q1 and most of these have been driven by the FinTech organizations. There are more than 15000 job openings in the FinTech industry posted in the last 7 days on Naukri.com across domains!
If you are looking to make an early switch to the industry, grow your career exponentially with the industry and become a FinTech subject matter expert, AltUni by InsideIIM brings to you a Certificate Program in FinTech* in collaboration with Aditya Birla Capital! This program is 3-month long with 45+ hours of live sessions delivered by experts from Aditya Birla Capital, Mastercard, Visa, American Express & CoinFantasy. With this program, you get,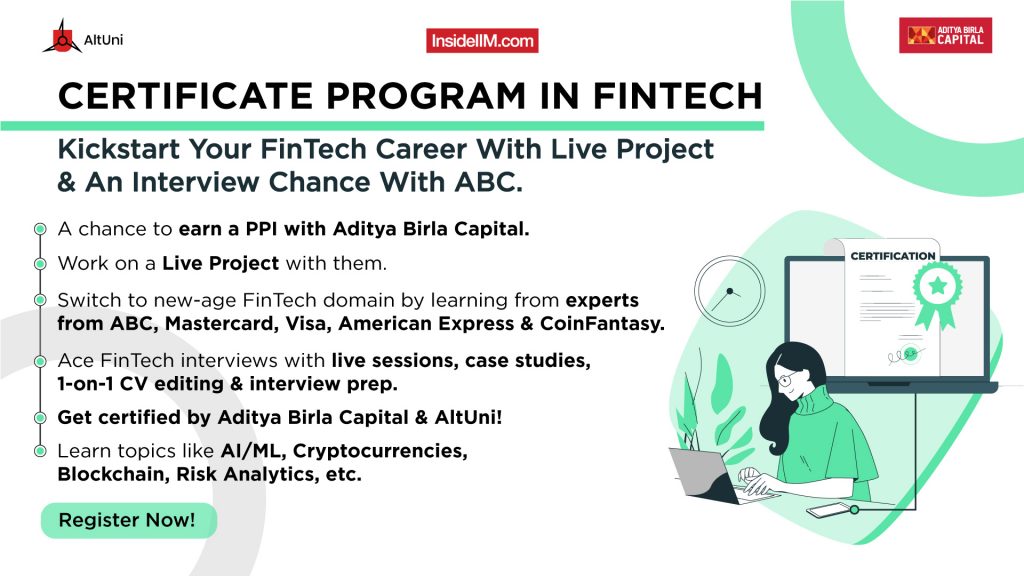 - This program is taught by 10 of the country's most experienced FinTech experts and stalwarts, who've worked in companies like Aditya Birla Capital, Mastercard, Visa, American Express, CoinFantasy, HSBC, etc. who will deliver 25+ live sessions
- The participants will get certified in FinTech by AltUni and Aditya Birla Capital of Aditya Birla Group, featured in the Fortune 500
- Get invaluable industry exposure, simulate your concepts and ideas in the real world with a Live Project with Aditya Birla Capital
- Switch early into the FinTech domain by mastering the FinTech concepts and stand a chance to earn a PPI from Aditya Birla Capital
- Learn in-demand concepts like FinTech, Blockchain, Cryptocurrencies, Risk Analytics, AI/ML in Finance, etc. from top industry experts
- Get access to job postings exclusively for AltUni alumni with job search assistance. Ace all your FinTech interviews with the AltUni Career Services; 1-on-1 CV Enhancement, 1-on-1 Mock Interview & 1-on-1 Career Coaching
How Can You Enroll?
1. Application Form - Apply by filling a simple application form that asks about a few personal & professional details that will help us personalize your experiences
2. Application Review - We will review all the applications and shortlist candidates based on their profiles & the details in the application form
3. Admission Offer - An admission offer will be made to selected candidates
4. Join The Program - Once we receive your fees, we will share the program details, content & session details with you before the program starts.
*Please note that this is a paid program.